Discover easy ways to update your kitchen! Dive into affordable, stylish upgrades that enhance your kitchen's aesthetics and home value.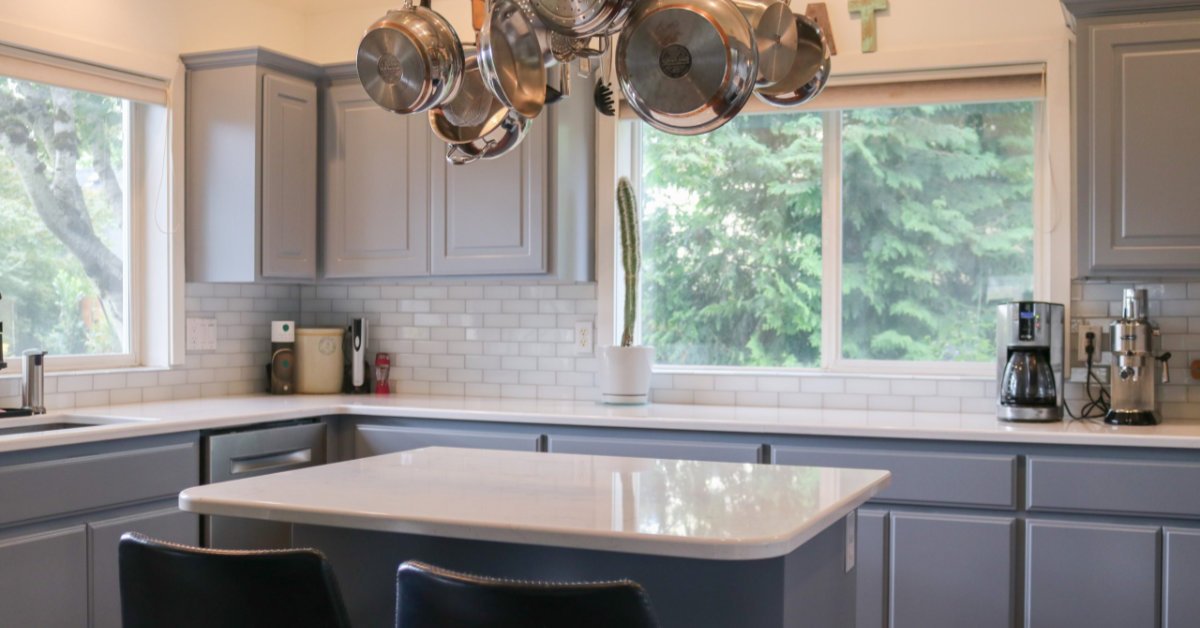 Your kitchen is the welcome center of your home. A space where you cook, share meals, and create cherished memories.
However, over time, it may lose its luster and appear dated. After all, a kitchen only has a design life of about fifteen years.
If a complete kitchen overhaul isn't feasible right now, fear not – there are affordable and stylish ways to refresh your kitchen's design while also enhancing your home's value.
Keep reading to discover four budget-friendly ways to breathe new life into your kitchen.
1. Paint Your Kitchen Cabinets
Painting your kitchen cabinets is a brilliant way to achieve a remarkable transformation without the hefty price tag of cabinet replacement – especially if you tackle the project yourself!
You have the creative freedom to choose from a vast spectrum of colors, allowing you to establish a design theme that suits your style.
For instance, you can opt for a fresh, crisp white to create a clean and airy atmosphere. Or go bold with a deep navy to add a touch of drama. These choices can instantly breathe life into your kitchen's design.
White is an easy way to make your kitchen feel cleaner and brighter. It's also a safe design choice as it's timeless and will work in all styles of kitchens. It instantly will make the kitchen feel open and more inviting.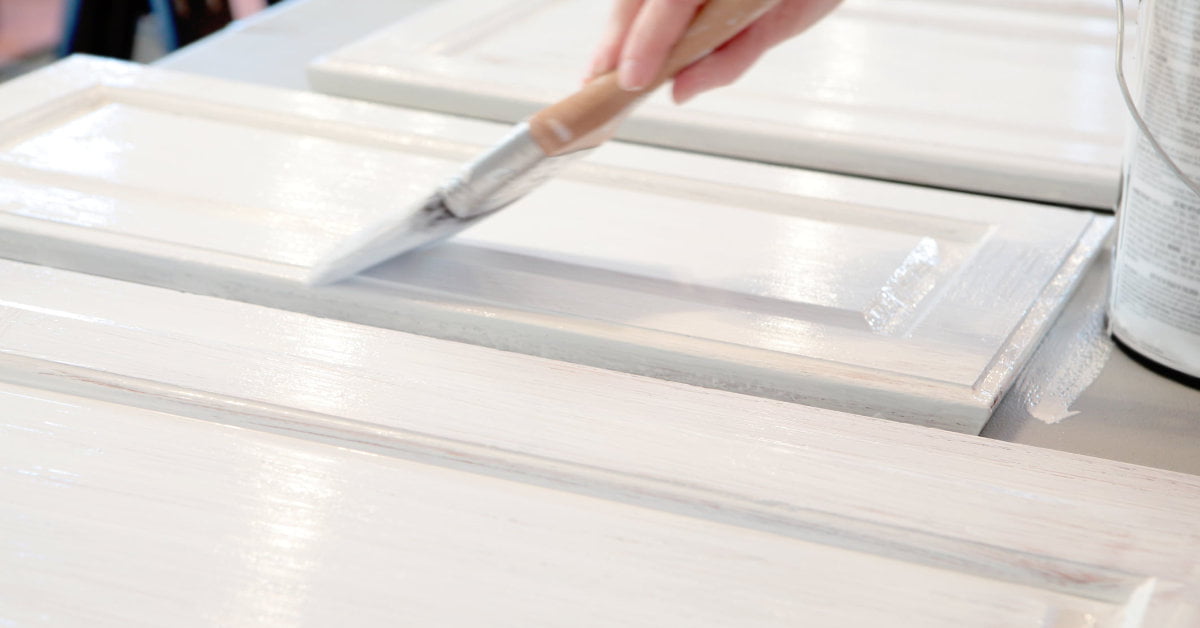 Gray is another excellent choice if you want a touch of sophistication and elegance. Lighter and softer hues of gray will offer a soft and calming feel to your space. If you opt for darker shades of gray, it will add more depth and drama.
The colors that continue to trend are the blues and greens. This adds a little more personalization and follows the trend of bringing the colors of nature into our home spaces.
There are so many beautiful choices here. For instance, choose from muted tones (which are better for resale) or brighter hues (which will personalize the space).
By revitalizing your cabinets with a fresh coat of paint, you increase your kitchen's appeal and boost your home's resale value.
Prospective buyers are often willing to pay more for a kitchen that looks updated and well-cared for, making this a wise investment in your home's overall worth.
Also Read: How to Paint Kitchen Cabinets Yourself (In 7 Easy Steps)
2. Add a New Backsplash
A new backsplash can be a design game-changer in your kitchen. It serves functional and aesthetic purposes, protecting your walls from splashes and adding visual interest.
With countless tile options in our showroom, you can choose a pattern, color, or material that complements your kitchen's design.
Whether you opt for classic subway tiles, elegant glass mosaics, or trendy patterned cement tiles, a well-chosen backsplash can tie your kitchen's decor together and make it feel more cohesive.
Be sure to check in with our designers on all the latest tile trends. We see trending backsplash designs reaching the ceiling to create a tile wall. This adds texture, drama, and sophistication to the space.
Also, look for more artisanal tiles and the resurgence of the 4X4 tiles. They're everywhere in design magazines and blogs!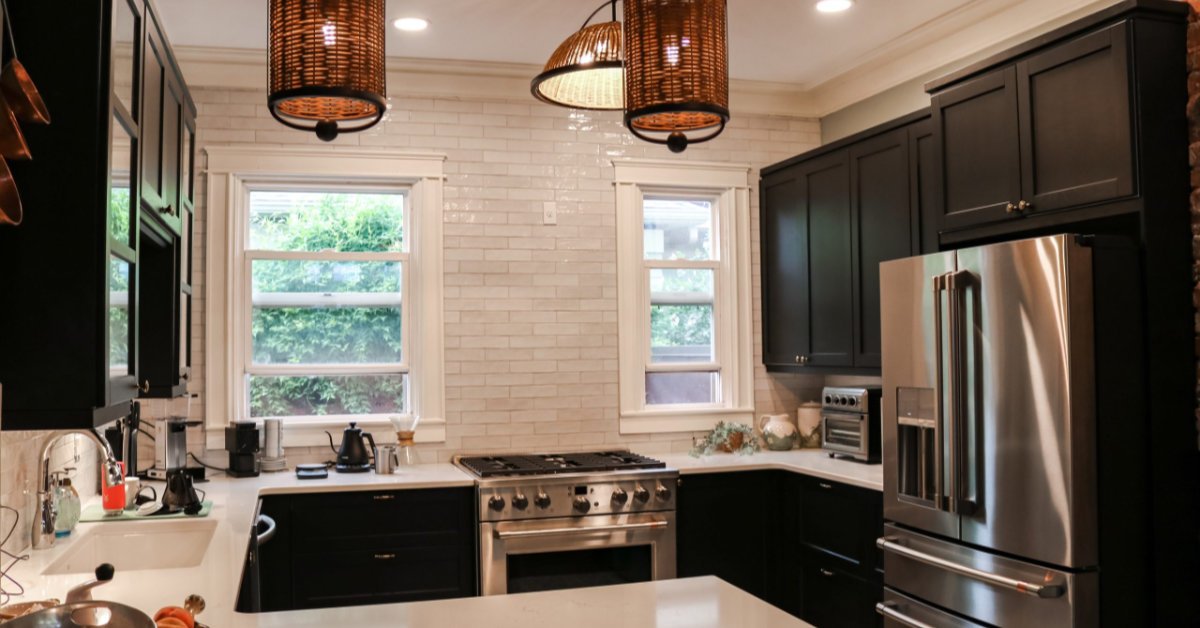 Updating your backsplash can make a huge impact on the look and feel of your kitchen. Plus, it's a quick and easy job. It alone can bring your space into the current design times!
3. Swap Out Cabinet Handles
While cabinet handles may seem like a minor detail, they can significantly impact your kitchen's overall design.
Swapping outdated or generic handles for stylish and modern ones can give your cabinets a fresh and cohesive look. For instance, sleek brushed nickel handles can provide a contemporary feel, while vintage-style knobs can add a touch of nostalgia.
These small changes contribute to the kitchen's overall aesthetics.
Updating your cabinet hardware is also easy. It usually takes a screwdriver and an extra hour or two of your day.
The handles and pulls in your kitchen are like the icing on the cake. They're often overlooked but can instantly transform and update your space.
Black continues to trend in the design world, offering a clean and modern look, especially when paired with white cabinetry. Antiqued brass is also popular as it adds warmth and sophistication to your kitchen.
Also Read: 3 Things To Consider when Deciding On Kitchen Hardware
4. Update Your Kitchen Sink Faucet
A new kitchen faucet can serve as a stunning focal point in your kitchen. Modern faucets come in various styles, finishes, and features, allowing you to choose one that complements your kitchen's design.
A sleek and high-arc faucet can add a touch of elegance, while a commercial-style pull-down faucet can enhance functionality and visual appeal.
These design upgrades can make your kitchen feel more sophisticated and current.
We've all seen the kitchens with very dated faucets. It instantly makes the whole space feel old and stale. Investing in a high-quality kitchen faucet improves the aesthetics of your kitchen instantly!
Besides sprucing up the look, it also adds functionality. The newer faucets have features that will make cooking and cleanup easier.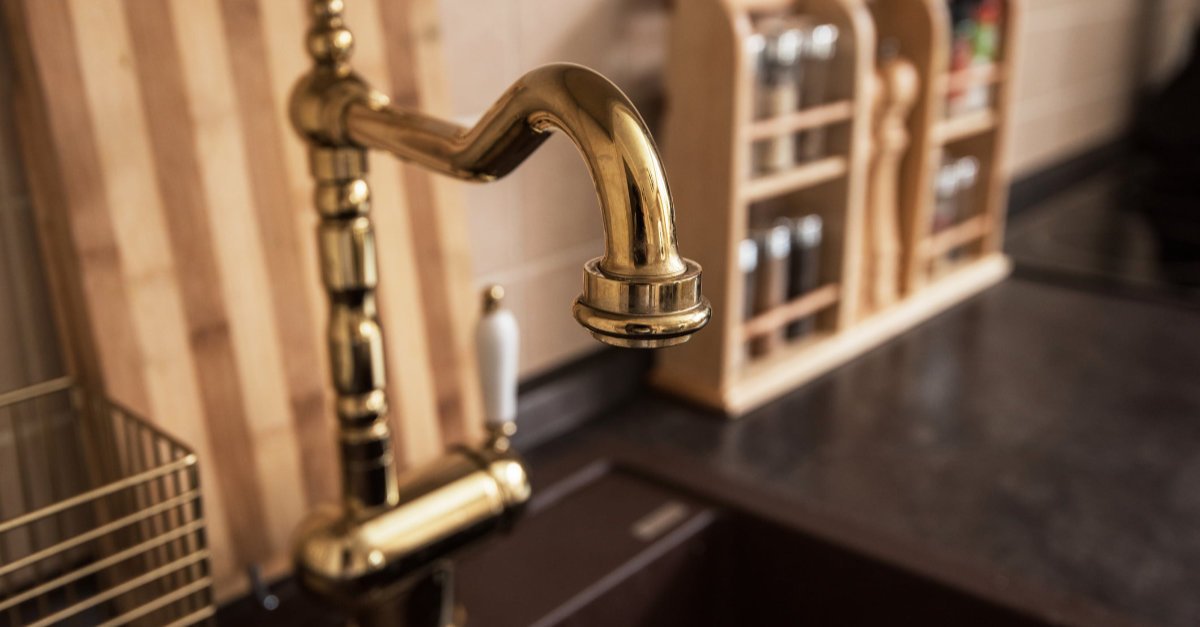 5. Update Your Kitchen Countertops
Of course, we can't leave without mentioning new countertops! 
Although a heftier investment than a quick faucet swap, changing your tops will hands down be the biggest thing you could do to upgrade your kitchen. 
We rearranged our slab gallery, making it easy to access and compare our large selection of white quartz. We also have a large selection of beautiful natural quartzite, marble, and granite. 
Be sure to visit our showroom to see how new countertops can make you feel like you actually did renovate your whole kitchen!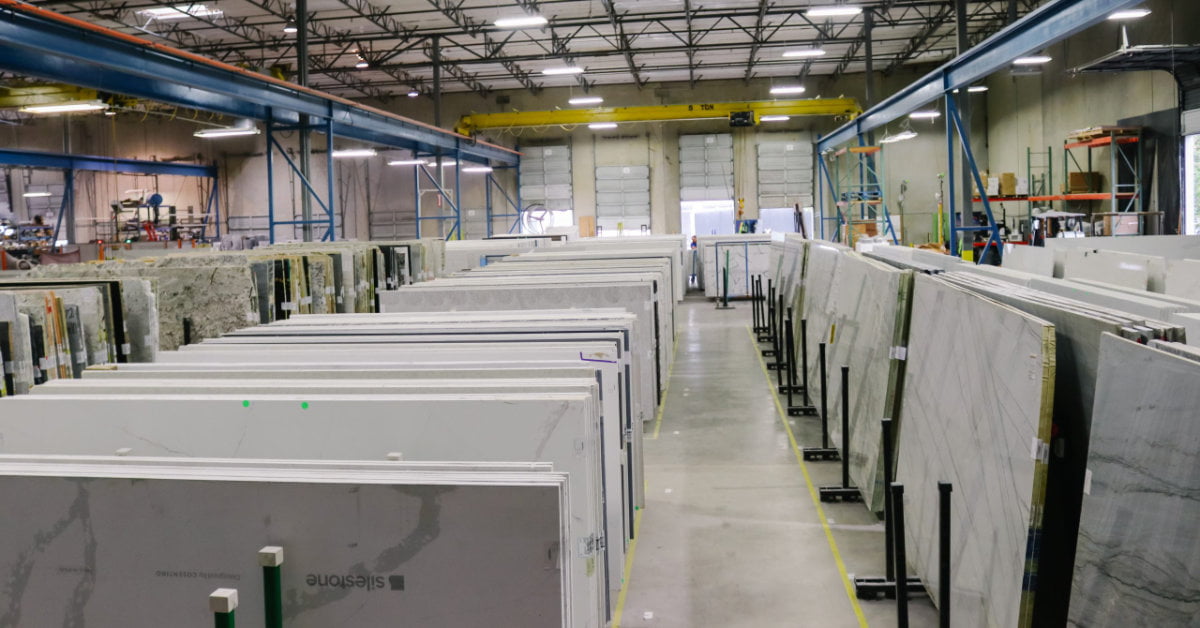 Ready to Update Your Kitchen?
In conclusion, transforming your kitchen's design doesn't need to be expensive.
You can easily paint the cabinets and add a new backsplash. Changing out cabinet handles and upgrading your kitchen faucet can also make a big difference.
Lastly, replace those old countertops to give your kitchen a fabulous new look without a complete overhaul.