Sustainability means different things to different people and industries.
At Precision, we are finding ways to deliver the best countertops with the least amount of impact on the environment.
One significant way we have committed to sustainability in our production process is through implementing a closed water loop system.
Countertop fabricators throughout the world use substantial amounts of water during their production. Our cutting machines require water to cut and polish the hard stone slabs. Our shop alone uses 6,000 gallons of water a day. This equals roughly 1.8 million gallons a year. Thanks to our closed loop system, we recycle all the water used in our shop, only losing a small amount to evaporation. 
Many of the companies we deal with are putting the environment at the forefront of their business strategies. For instance, Silestone recently launched a new line of quartz using its patented process, HybriQ+. Silestone says, "HybriQ+ is the result of more than three years of intense research and development.
The manufacturing process reflects Cosentino's philosophy of a circular economy of production, exchanging the typical cycle of make, use, dispose in favor of recycle and reuse. To achieve this, the production process uses 100% renewable energy and 98% recycled water."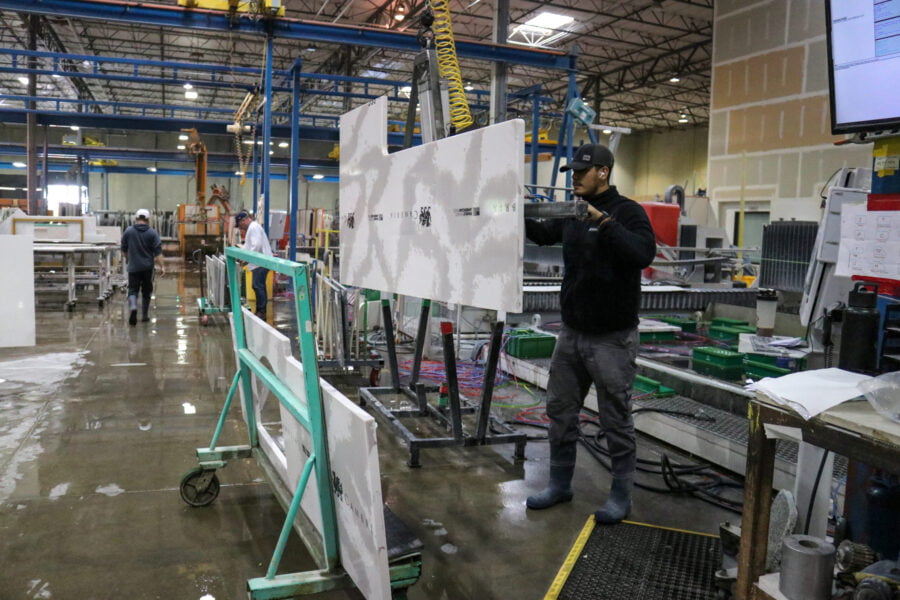 Cambria is another quartz manufacturer that we partner with that has taken its sustainability goals seriously. They own their own quartz mines and when the sites are retired, they're backfilled, and the land is restored. They also utilize a train system to transport their raw materials directly to their plants, reducing trucking pollution. Cambria also has an excellent scrap recycling program.
They have a crushing facility that processes any scrap material for reuse. The material that can't be utilized in making new tops is repurposed for community roads and construction needs. 
Sustainable countertops through design
How do you define sustainability through design? Sustainability can also mean choosing thoughtful, timeless finishes. We recently spoke with designer Kayti from Studio Rioux to see what sustainability means to her as a designer.
One way to achieve a more sustainable home is to pick quality and durable materials that won't have to be replaced for a very long time. Kayti adds, "The firm I worked with before had a great philosophy on sustainability that focused on the architectural integrity of a project. Picking finishes that align with the era and architecture of the home, so they become more timeless.

"When you go for super trendy materials, most likely they will have to be replaced by the next homeowner. When you choose more classic materials, that align with your home's architectural story, the more likely these products will stay in place over many years"
Top 3 sustainable countertop materials
Kayti helped us come up with three countertop classics that have proven their longevity through many lifetimes of trends. These are materials that have been in kitchens throughout the centuries and are still relevant in today's design.
Carrera Marble
If you've ever been in a century old home, restaurant or bakery in Europe, most likely you will see Carrera marble dawning the workspaces and display cases. It is a classic that hasn't lost any ground in the design world since its inception. The beauty of this marble is also its versatility.
It can look fabulous with all the paint colors in a sample deck. From bright red to navy blue…this marble remains relevant. It also looks gorgeous with natural wood of any stain. Carrera marble has subtle veining and coloring that feels sophisticated and elegant and at the same time can still fit in perfectly with a farm style home.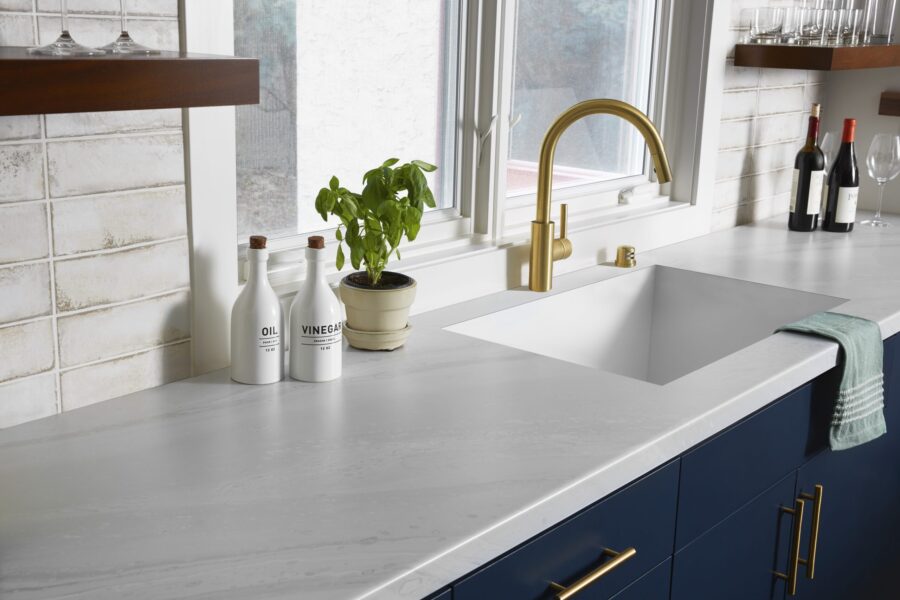 If you are wanting to add a touch of timeless to your space, yet don't want to commit to a full marble countertop, you can always use this beautiful material in a backsplash application. You can also consider substituting a quartz option that mimics Carrera, however, you will miss out on the originality and feel of a natural marble.
Soapstone
Soapstone has never had a huge moment where it was the center of a trend. Its subtlety and class are what make it a timeless star. Soapstone colors can range from a light, uniform gray to nearly black with white, narrow veins running through.
Other than it's timeless quality, we love this natural stone for two reasons. Firstly, any color changes or etching can easily be made uniform with an application of mineral oil.
Secondly, it has a unique softness to it, hence the name, soapstone. Although soapstone is hard, it is more likely to etch and scratch. Both can be fixed with a light sanding and an application of oil.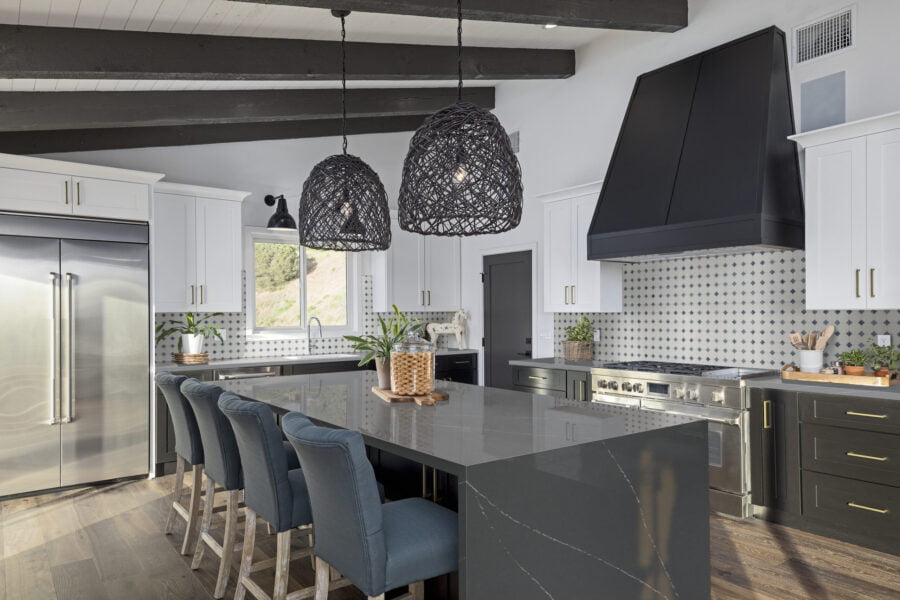 The caveat with soapstone is you must embrace imperfections and changes over time. This countertop will age and patina. While this is a plus for many homeowners, others want it to be more consistent. 
If you want something that will not change over time, consider Silestone's quartz product called "Charcoal Soapstone". This quartz mimics the darker soapstones with the thin, white veins. Try quartz colors that mimic concrete if you really appreciate the soapstones that read more lite gray.
Wood
As we've written about many times before, the biophilia (or love of nature) movement continues in house design. Wood is getting increasingly showcased in kitchens and countertops are no exception.
Wood adds instantaneous warmth to a space and also adds an organic appeal in the grain. Although wood countertops are trending right now with the farmhouse and cottagecore styles, they have been around for centuries and will outlast any specific trend.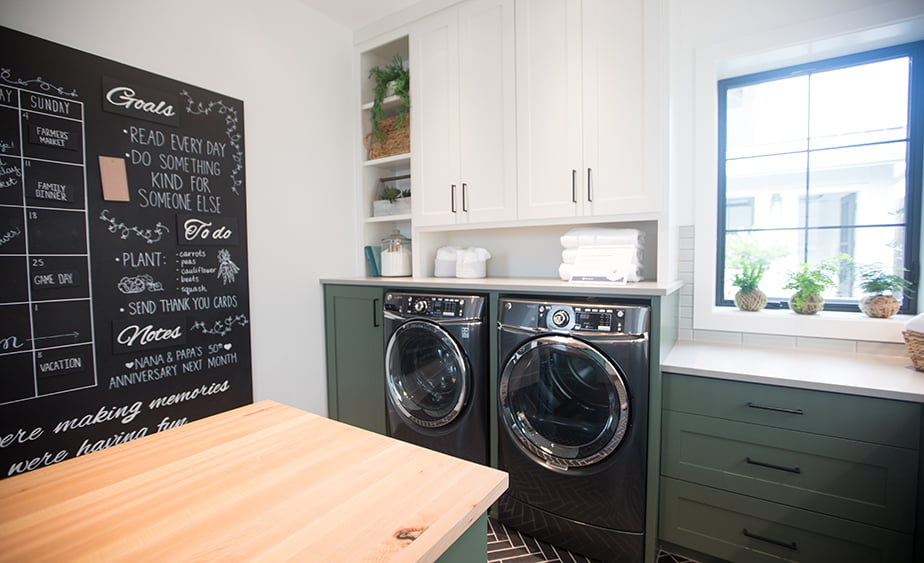 Wood countertops perform very well over time and when there is a knick or a scratch it can easily be sanded out. Kayti recommends using a farm sink with wood countertops as the front of an undermount sink may have a lot water exposure.
Sustainable Countertops and Timeless Design work Together
Remember if you are wanting to create a sustainable kitchen it's important to consider timeless materials that can be sustainability manufactured.
Timeless countertops are one way to ensure no matter what design scheme or paint color crosses the countertop's path…it shall remain!