Hardware can totally transform the look of your kitchen…read on to learn more!
A beautiful kitchen is a series of well-chosen details. Even if picking your countertop color was a no-brainer, you have many other decisions that will play an integral part in the overall look. Sinks, flooring, faucets, cabinet color, tile and hardware…just to name a few. 
One aspect of your kitchen that's important but often overlooked is the hardware you choose for your doors and drawers.
Marilyn, one of our veteran designers agrees, "Cabinet hardware can transform the look of any room.  It has a powerful visual impact that adds both beauty and function."  This final decorative touch will pull the whole project together but more often than not, it becomes an afterthought.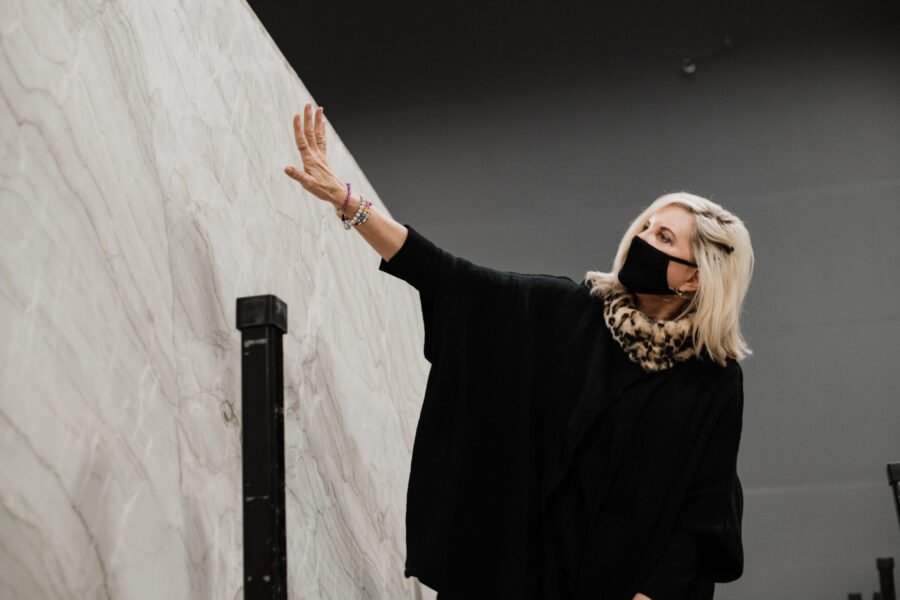 The color, quality and design you choose for your cabinetry hardware can make all the difference. Since many people tend to look at hardware later in the game, we recommend going through this list and making a decision right after choosing your cabinetry paint color and countertops. Here is our quick buying guide to help you navigate your many options! 
There are three main points to consider when deciding on what hardware to buy. 
If you are custom ordering hardware, sometimes it can take up to 8 weeks for the product to ship…it would be a shame to push out your timeline waiting on knobs and pulls!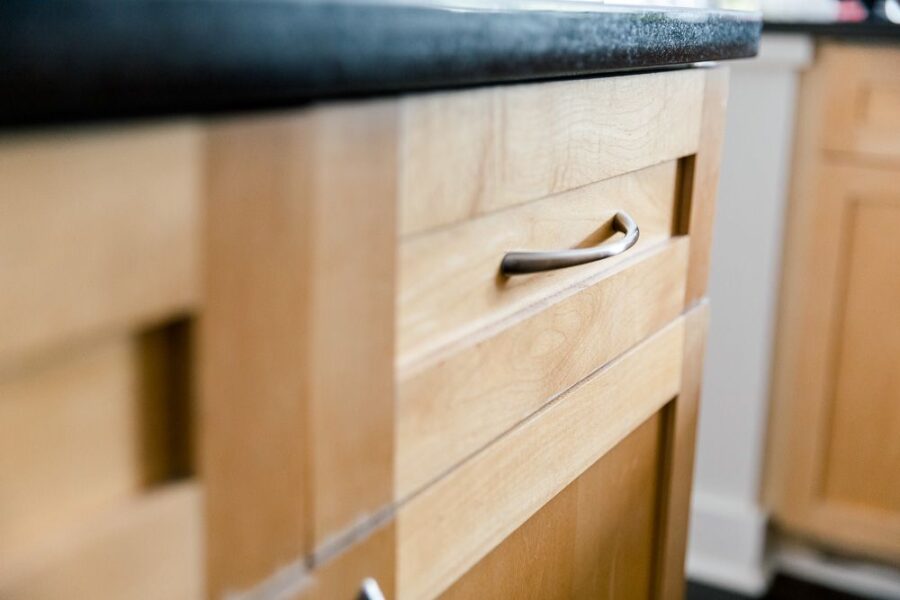 Pull vs Knob
Historically, kitchens have had pulls on the drawers and knobs on the doors. This rule of thumb has changed over the years and kitchens are now showing up with all knobs or all pulls.
We are also seeing mixing the two throughout the kitchen to create visual interest.

We suggest no more than two styles and recommend maintaining the same positioning throughout the space. For example, all drawers will have two knobs and all doors will have a horizontal pull.

We also suggest to try the different styles and see how they feel to your hand.  Knobs and pulls are one of the highest touch spots you will have in your home, so choosing the right weight and feel is important.
Positioning
After you decide on the pulls and knobs you must decide on the positioning of them on the cabinetry. Changing up the position can create totally different looks. For example, if you choose to use pulls on all of your cabinetry and position them all horizontally, it takes on a sleek and modern look. 
The proportion and balance is something that must be considered as well. An oversized door needs a large piece of hardware for functionality or perhaps two pulls instead of one. A good rule of thumb is if the drawer is more than 18 inches it may require two knobs or a longer pull. 
If you have a traditional or transitional styled drawers you would generally choose a pull that is 1/3 the length of the drawer. If you are opting for a more contemporary or or modern look, then the pulls would be larger, as much as 2/3 the length of the drawer. 
Material 
Most cabinet pulls are made from one of these four materials; metal alloys, brass, stainless steel, and bronze in many different finishes. The lower grade metals are metal alloys and the highest quality is bronze.
Since kitchens are a high-touch surface, it's important to choose a metal that will age well and have the weight and quality that will perform over the years. Cabinet hardware comes in many different finishes and each hardware company will have their own names for them. Aged brass, brushed nickel, burnished antique, oil rubbed bronze, polished chrome, polished nickel and lacquered brass.
These are just a handful of finish colors and the nuances between some of the colors can be so slight that it's hard to tell the difference with an untrained eye. Just like positioning of your hardware can create totally different styles, so can the finish of your knobs or pulls. A hand hammered oil-rubbed bronze would look fabulous in a rustic kitchen but wouldn't fit in too well if you were trying to create a traditional look. 
Brass hardware has been trending for quite some time as it carries a classic old world feel that can read traditional and modern. However, the hottest trend right now is black hardware. It makes a clean statement and adds weight and class to any space. 
After interviewing three different hardware companies for this article, I strongly suggest you take the time and visit a store that specializes in cabinetry hardware.
The raw material and finishes can become very confusing and a store like Winks in downtown Portland have experienced sales people that can walk you through the process of choosing the right hardware for your project.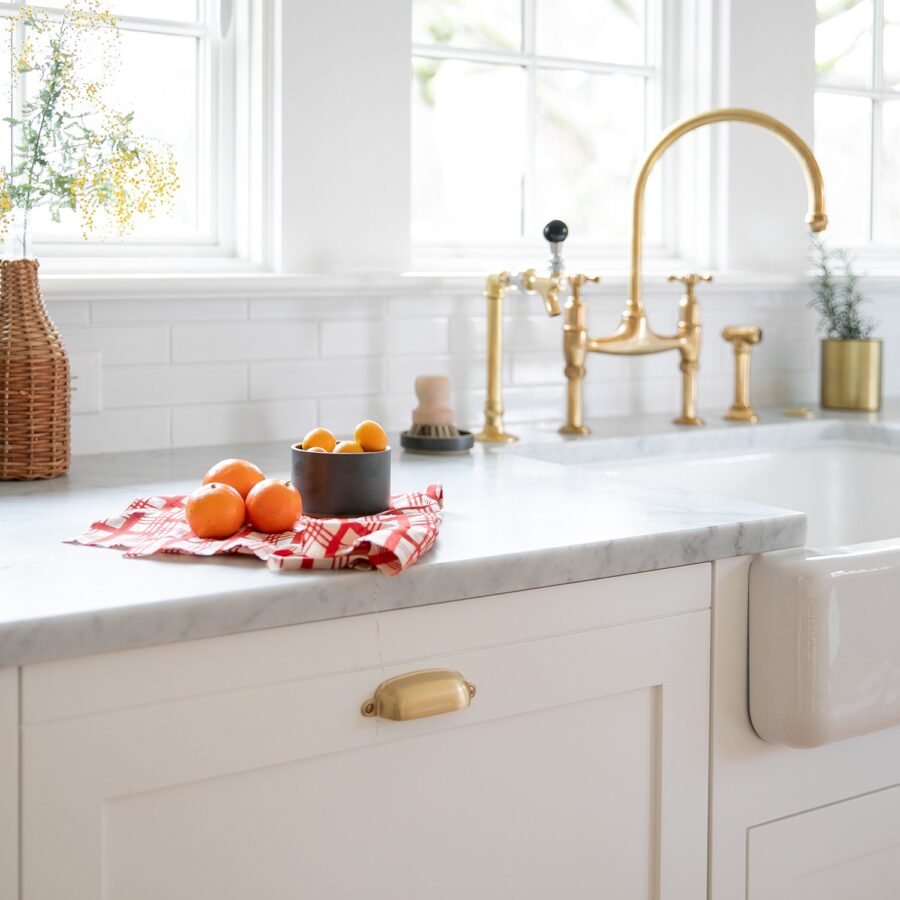 Don't Forget – Hardware Consideration is Important!
Think of knobs and pull as the jewelry to your kitchen masterpiece…the icing on the cake! We suggest you have two things ready for your hardware appointment.
First, bring samples of your countertops and cabinetry color. Having samples will help you choose just the right color and look for your project.

We also suggest you have a kitchen style in mind (contemporary, traditional or rustic for example).

Having an idea of your budget also proves helpful, as hardware has a wide range of price points. 
All of these components will help the designers narrow down your search and point you in the right direction for choosing the perfect hardware for your kitchen. Happy shopping!