Should you renovate your kitchen before selling? Find out the ROI on a kitchen remodel and two easy ways to renovate a kitchen at low cost.
Should You Renovate Your Kitchen Before You Sell?
A renovated kitchen can change the look and feel of your home. Investing in an upgraded kitchen may result in a faster and more profitable sale.
The kitchen is the heart of the home and it's also the heart of your ROI when you are looking to sell. Also, kitchens are what buyers pay the most attention. If the kitchen needs an update most prospective buyers get nervous.
Is It Worth Remodeling a Kitchen Before Selling?
When you are trying to decide how much money to invest in updating your kitchen before selling, it's important to remember may not get 100% return on your investment. However, there's good news for Pacific Northwesterners! We have one of the highest ROI rates on minor kitchen remodels in the United States. According to Remodeling Magazine, our region recoups 92.9 percent of dollars spent on our kitchens.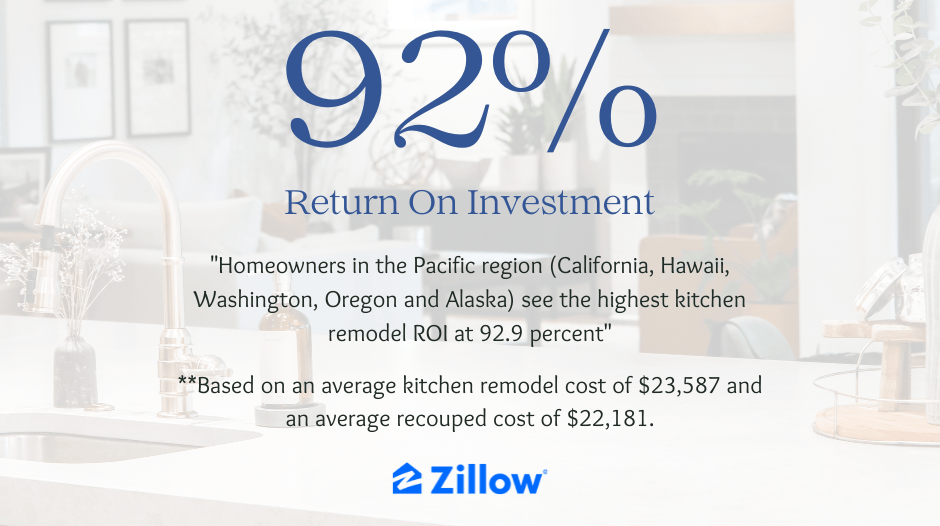 2 Easy (Low Cost) Ways to Renovate Your Kitchen Before You Sell
If you are doing a kitchen renovation for the specific intent to resell, you want to make sure you do two things: 
1. Determine the Level of Remodel and Budget
Determine what level of remodel must be done and what budget you have to work with. If you do a major kitchen overhaul, new cabinets, new countertops, flooring and appliances, it will be challenging to maintain a decent ROI and the price tag could be shockingly high. 
While analyzing how much you must do to make your kitchen more marketable you need to consider what other comparable houses on the market look like. Is it worth investing money if other houses' kitchens are in the same shape as yours? 
If you decide it's time to move forward with some improvements decide on what needs to be updated. Here are some small changes that will have a big impact:
Update lighting in the space. If your island pendants were builder grade from the 80's, updating those will do wonders.

Fresh paint can literally transform a space. If your cabinets are looking old and weathered it really dates a kitchen. A fresh coat of paint will freshen up things and make it feel like it's new. See our blog about how to paint your kitchen cabinets.

Replace cabinet hardware with updated pulls and knobs

If your appliances have seen better days, or worse, don't match…be sure and swap them out for new ones. 

Add new plumbing fixtures. These are easy for a plumber to switch out and again, will have a positive visual impact on the space. 
Most of these things can be DIY or can be an uncomplicated project for a handyman. It's amazing what a few tweaks can do for increasing the appeal of your kitchen. 
If your countertops are dated, stained or cracked it's a good idea to replace them. The "ick" factor can turn a buyer away quickly especially if they are damaged or dirty. This leads us to:
2. Pick Countertop Finishes That Appeal to a Broad Base of Home Buyers
If you decide to replace your countertops and backsplash, choose popular finishes that will appeal to a wider base of new home buyers.
We asked our buying team what's been our most popular countertop material.  They shared over the past few years Architectural Surfaces' (formerly Pental) Misterio has been at the top of the list. Knowing this is an extremely popular color helps ensure that most prospective buyers will love it! 
Besides Misterio, the rest of our top colors are white quartz with some element of gray veining. They all are mimicking that Old World Italian marble that's been popular for centuries. 
Also Read: 10 Ways to Bring "Cozy" Into Your Kitchen
Ready to Renovate Your Kitchen for 92% ROI?
If new countertops and quartz products are not in your budget, we have several materials that look very similar but cost less. 
One such product is Wilsonart's new Thinscape. It's very durable, modern and comes in at a lower price point than quartz. 
We also have solid surface and laminate that mimic the Italian marbles. They are also less expensive than natural marble or quartz. 
New countertops mean new tile backsplash, and the majority of our top tile styles fall into the subway category. Subway tile can get a bad rap as many designers believe it's overdone – but why does it continue to be used in project after project? 
It's a classic and tile manufacturers have come up with beautiful, artisanal tiles that take the normal flat subway tile up 10 notches. They not only have hand glazed finishes they are also making them in different sizes. 
Designers are also suggesting you take subway tiles and set them different ways to create very different looks. For example, running them on the horizontal or in a chevron pattern. You can also add darker grout to make the tile backsplash more graphic. 
Keep in mind for resale it's important to stay neutral. There may be a gorgeous pink tile that will look great in your space but it may be too much color commitment for a potential buyer. 
Our Tile Program Manager shared our top three selling tiles:
It's a big decision to remodel or not remodel. We hope this article helps you decide what is best for your house. Our designers are always here to help and give advice. They not only know kitchens, they also know what sells! Schedule an appointment today.