Are you feeling intimidated by your over zealous neighbors who have been harvesting lettuce since April? Fear not, there is always plenty of time to get your garden started, especially if you are planning a container garden!
Container gardens are an easy way to get plants now without the weeding, pests and time commitment of a full-fledged garden..and you'll be reaping the sweet rewards in no time! 
We popped into one of our favorite nurseries, Stafford Ridge Nursery (formally Kordell's) which is off the Stafford/Rosemont roundabout across from Luscher Farm. This nursery is not only teeming with a bountiful supply of herbs, vegetable starts, fruit plants/trees, shrubs, flowing plants, and pots (it boasts one of the best curated pot collections in the area)…it is also full of cheerful and extremely knowledgeable staff.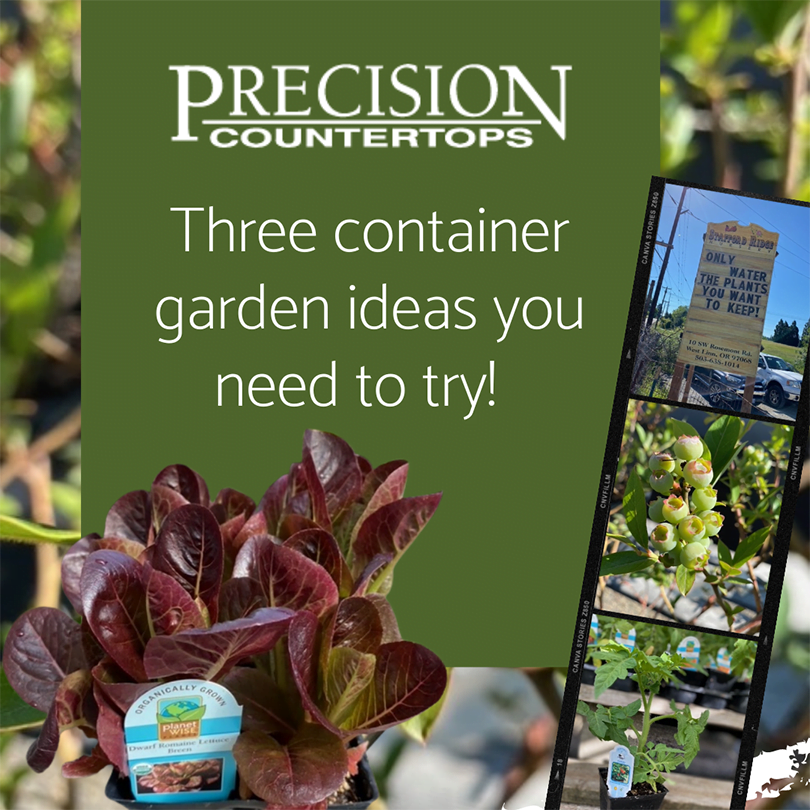 We found one such employee, Peyton, and when we asked her what was her take on the gardening scene these days, she said, "All I know is that everyone and their mother are getting into gardening!" So true. The nurseries have been buzzing with new and seasoned gardeners starting or fine-tuning their gardening hobbies. 
While the options for planting a container or patio garden are only limited by your imagination and space, she shared there have been some popular themes emerging. Get your garden gloves and containers ready….these are easy projects that can be completed in a few hours but the enjoyment will endure throughout summer. 
The Hummingbird Garden
Nothing is more satisfying than watching one of nature's biggest show-offs at close range. 
Some flowers are super attractors because of their color and high production of nectar. Here are few that do well in containers and will boost your chances of getting repeat hummingbird sightings.
Bee Balm is a perennial flower that usually grows 2-4 feet tall, but we recommend the dwarf variety which will top out at 12 inches tall. It has cheery and colorful blooms that will add a lot of personality to your containers. The hummingbirds love the bright, tubular and shaggy blooms.
Salvia is another perennial that can grow quite successfully in containers. It has tall spikes of delicate purple flowers that are 18-36 inches tall. These tall stalks burst with color and although the most common color is purple, they can also be found in mauve, pink and blue. 
Two annuals that can fill in your planters as well as attract hummingbirds are Zinnias and Petunias (these are full of nectar!). Both come in many different vibrant colors and they can be added around the taller centerpiece plants. 
Fun Idea! If you plant a large container full of giant Zinnias (County Fair variety) it is a showstopper. It looks like a basket full of bright punches of color…just gorgeous, and the hummingbirds will be happy!
Some hints to keep your feathered friends coming back…hummingbirds are attracted to red, so be sure to use red as much as possible. Dead head the dying blooms to encourage more, fresh blooms to take their place. And of course, water when needed. As Stafford Ridge Nursery's reader board sign outlines, "Only Water The Plants You Want to Keep!"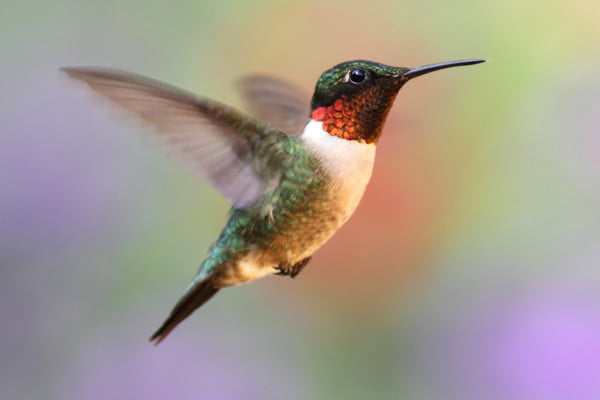 The Cocktail Garden
Next up is the very popular cocktail garden, or bartender's garden. This is simply the best way to make the freshest garden-to-glass drinks as possible. It's not only fun to pop out to your patio to grab your ingredients for your shaker, it also saves money. These herbs can be found in small plastic containers in the produce section and will cost between $3-$5, the same amount to buy your own plant and have an endless supply all summer long. Here are a few popular choices for your bartender's garden. If you need inspiration and recipes, this list of 16 recipes all use herbs in the mix up. 
Mint is the most poplar herb to flavor cocktails. It's cool and refreshing and goes well with almost anything. Mint Juleps, Mojitos and Minty Moscow Mules are all common cocktails where mint is the star. Mint is an aggressive plant, so it's best to plant alone in the container. Try Pineapple Mint or Mojito Mint. 
Basil has a distinct licorice flavor and has been a fashionable addition to cocktails lately.  It offers a flavorful punch to cucumber cocktails as well as a great partner to mint. Basil is an all purpose herb that is seen used in drinks that use gin, tequila and rum. Be sure and harvest frequently to keep the plant looking healthy and to prevent it from going to seed later on in the growing season. 
Rosemary carries a rich, pungent and woody scent and can be infused in simple syrup. A little goes a long way here and it's best used with citrus. Think of a vodka lemonade with a sprig of rosemary to stir. It offers a wonderful aromatic and makes quite a statement as a garnish. 
Lavender Daiquiri anyone? Lavender is being used by mixologist to add a floral depth to cocktails. Lavender is best prepared in syrup form but also makes a lovely garnish. This too pairs well with citrus flavors and can be used in many types of cocktails.
"Hot" Tip….if you have room, be sure and plant a Jalapeño pepper plant in one of your containers. They make for a fun kick in these Jalapeño Margaritas from Ina Garten.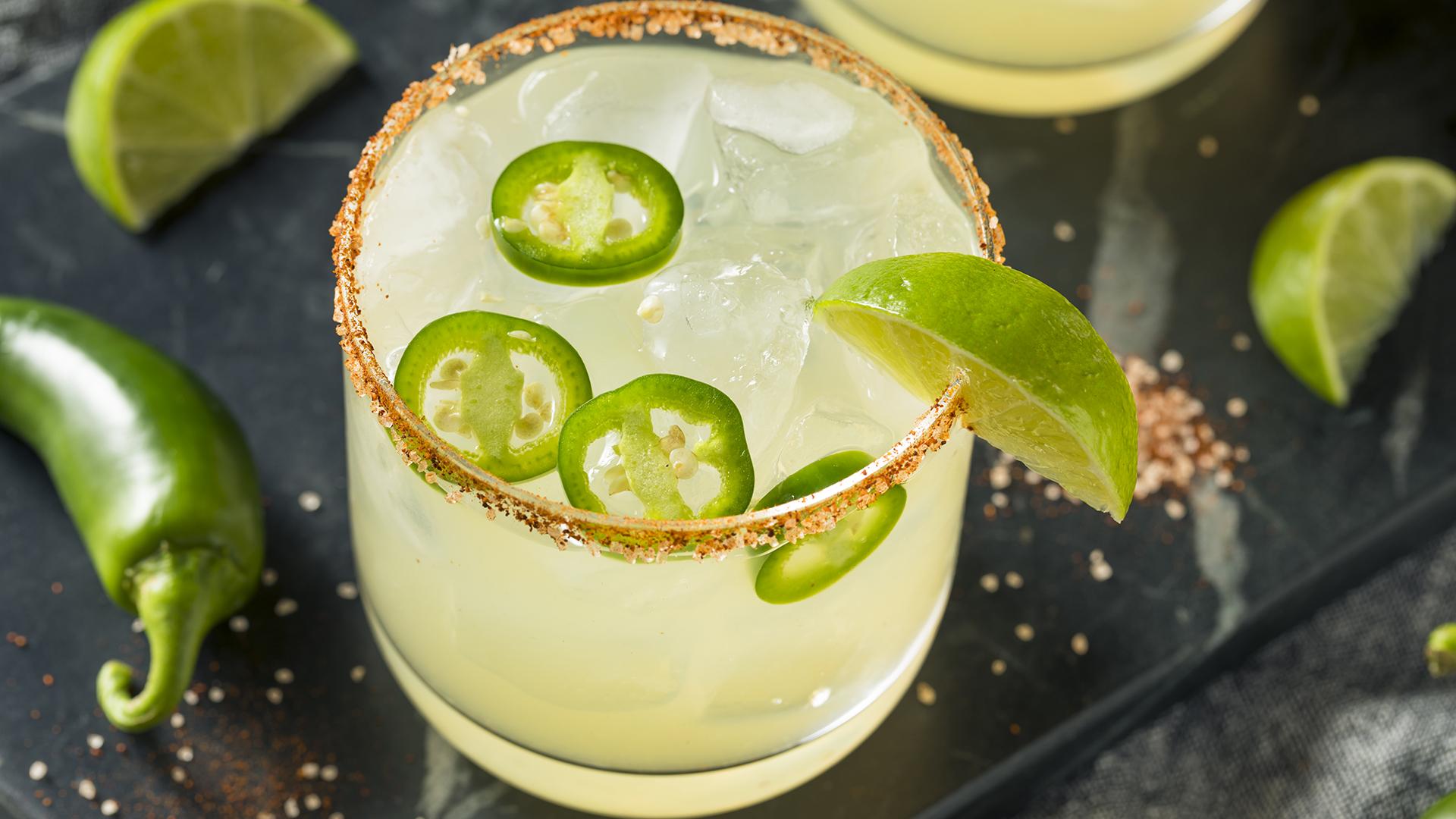 Patio Fruit Containers
For those of us who don't have a lot of garden space but really want to experience picking our own fruit, Stafford Ridge Nursery has some wonderful dwarf options of some summertime favorites.
The Sunshine Blue plant is only 3 feet tall, but they turn out a lot of richly sweet medium sized berries. The berries will be ripe and ready to pick late July or early August. Besides being small enough and container friendly, Peyton also added it is self pollinating so there is no need for multiple bushes to have a successful berry crop.
A Raspberry Shortcake bush may be small but they are mighty. Growing to 3 feet, its compact nature and rounded growth are perfect for patio containers. A bonus…no staking required and it's thornless! Fun for little hands to pick.
Although tomatoes generally get thrown into the vegetable category, this Patio Tomato is worth mentioning as it produces juicy tomatoes with no staking required. The sun, pools and the beach are all wonderful parts of summer, but one of the best experiences of summer is biting into a warm, garden tomato that bursts with juicy sweetness.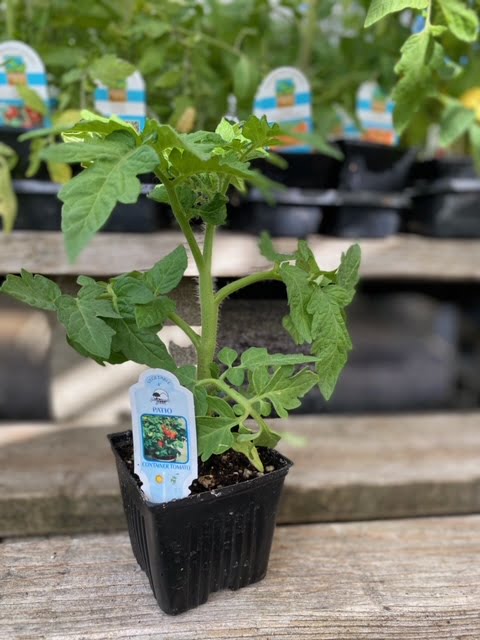 If you have some space under these bushes in your containers, consider tucking in some Miniature Romaine around the edges to offer even more culinary delights. These remain small and tender and can be harvested as needed.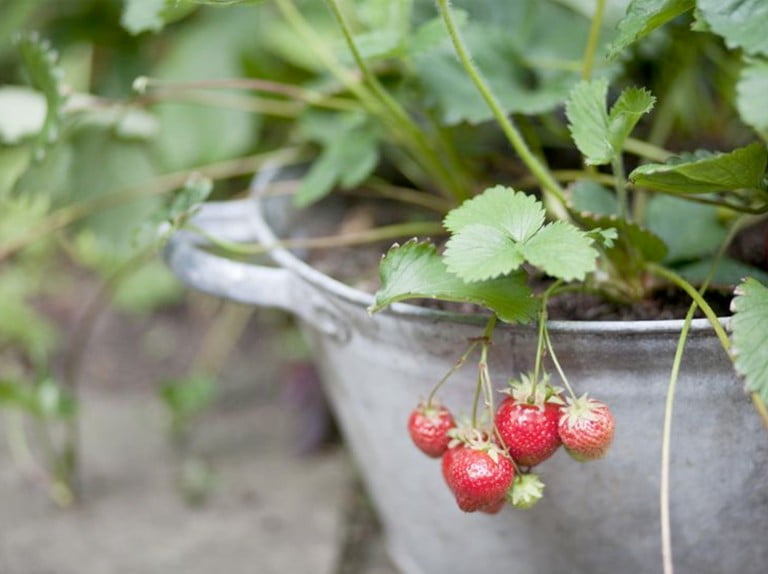 We hope you are loving your patios as the weather warms up. We have seen a rise in our customer's creating beautiful outdoor spaces with the help of some of our materials that can withstand the extremes of the Pacific Northwest's seasons.
Swing by the showroom to check them out and in the meantime…..Happy Gardening from Precision Countertops!
For more outdoor ideas, check out this post!