At Precision Countertops, we get excited when new products or colors come onto the scene so we can share them with you!
One product everyone is talking about is Caesarstone's new collection of outdoor quartz surfaces.  House Beautiful recently named it number one on their list of "Best New Renovation Products for 2020".
Read on to see why…
If you have perused the latest home magazine or visited a recent Street of Dreams, you can see the covered patios and the generous outdoor seating and kitchen areas point to one thing. Bringing the comforts of the indoors to the outside is what consumers are demanding. As more and more people dream of extending their living spaces outdoors, the demand for new products that withstand the environmental elements while mimicking what we love indoors is on the rise. Caesarstone has answered this demand with their innovative new outdoor collection, Solaris, which brings the luxury and durability of quartz onto our patios.
Outdoor countertop selections have historically been limited.
If you put a natural stone outside, they'll have issues with cracks and fading due to long term exposure to sun, heat and freezing temperatures. Quartz in particular had not been a great candidate for placement in outdoor applications as the resin that binds the material together would react to the UV rays, causing it to fade or discolor. As we discussed in a previous blog, ultracompact was the sole choice for outdoor use on the market for quite some time, but it isn't without limitations.
Ultracompact colors are printed just on the top of the material, so it lacks the depth and dimension that Caesarstone Solaris offers.
This can be particularly noticeable in undermount applications. Since the colors run only on the surface of ultracompact, you run the risk of not carrying the look of the top of the material into the vertical edge that surrounds the sink. When using Caesarstone outdoor quartz surfaces, you get the depth, artistry and dimension without compromising on the integrity of the material.
One has to wonder…how did Caesarstone pull off this feat of offering a material that's just as strong and impervious to stains as its indoor counterparts? I had the pleasure of speaking with Amy Bright, territory account manager for Caesarstone, about just this. She said, "The products were tested in rigorous conditions. Solaris underwent over 2,000 hours of exposure to extreme heat, UV rays, salt and water..and the result was zero change in the integrity and color of the material." She also added, "Our resins have always set us apart in the industry, and the designers and consumers kept asking us to innovate our existing materials to withstand outdoor applications. We developed a special resin with a UV enhancement to enable Solaris to maintain its integrity under the most extreme conditions." After taking a look at this video, you can see the relentless research, development and testing that took place over the last few years to bring a product to the marketplace that performs.
The outdoor collection not only boasts the same qualities we love in quartz (luxury and durability), but it also provides three colors that cover a broad spectrum of design schemes.
Caesarstone Solaris has patents pending on these three colors: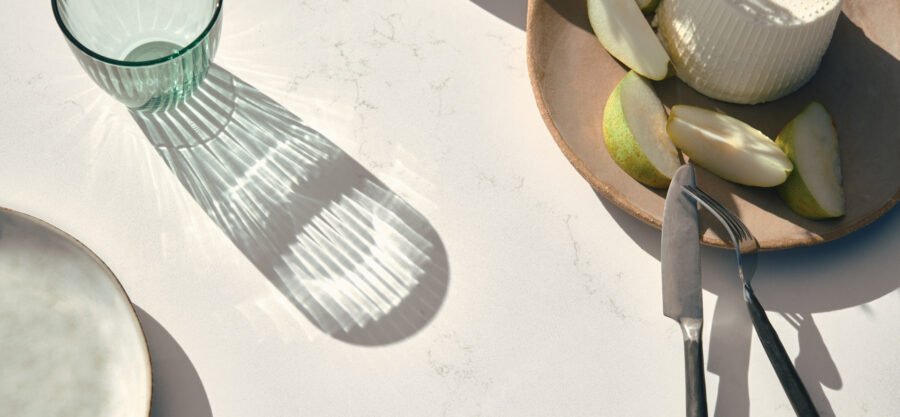 Palm Shade mimics the classic look of a white marble. Caesarstone describes it as having, "graceful charcoal veins that traverse a perfect milky white base adding subtle sophistication and an earthy depth." From a distance, this material could read almost pure white, but as you approach you see the depth and detail of the veining. This color could pull off butting up against an organic stone or show off the bright color punches of summer.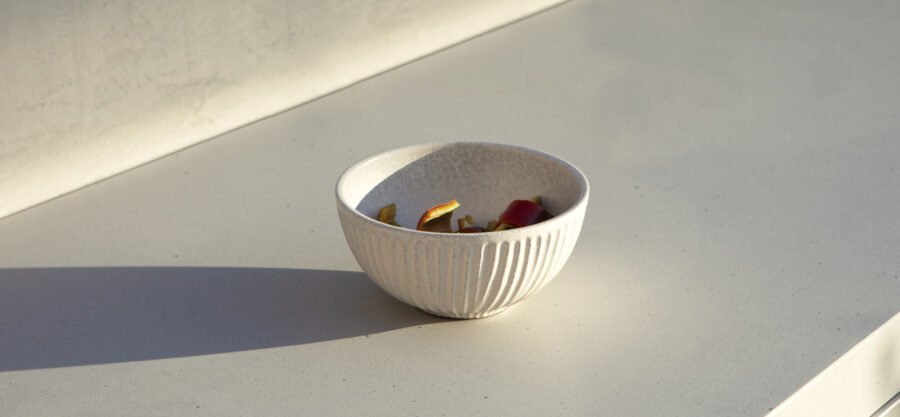 Clearskies "has a smooth concrete gray base enlivened by a scattering of various tiny flecks. The rugged, yet refined, contemporary design palette of Clearskies is grounded in a natural setting." This beautiful color can be used with natural elements or can pull off an industrial look as well.
Midday color plays a bit between the above two. The sophistication and modern look of lighter materials, but with the organic addition of flecks. Caesarstone explains Midday as "a sandy white surface that is embellished by warm gray and soft white flecks adding texture and depth to its' neutral facade. It has an organic look that correlates with the beauty of nature."
The new Caesarstone Solaris outdoor quartz surfaces offer these beautiful colors as well as a 10 year limited warranty to back them up. That speaks a lot to their dedication to perfecting this new product and their ability to stand behind its long-term performance. Precision Countertops has fabricated and installed Caesarstone for almost 20 years, so we know first-hand they are a trusted leader in the industry.
When artistry and durability combine…the possibilities are endless.
Caesarstone Solaris opens doors for all sorts of exterior applications. Think beyond your typical outdoor countertops surrounding the barbecue. This can be used to top an outdoor dining table, as a poolside bar top or to clad walls or create shelving.