Making a decision about kitchen island pendants can be daunting.
To add to the pressure, they contribute quite a bit to the overall look of your kitchen. We're here to shamelessly plug one of our favorite materials that we're seeing a lot more of these days – rattan lighting.
Arlyn Hernandez of the popular design website Apartment Therapy says, "Whether or not you realize it, we're living in a rattan renaissance with no signs of the trend fading… not that we'd want it to."
We've been writing about trending themes such as cozy, organic and coastal, and rattan, which hits every one of these design notes.
Where rattan lighting used to be associated with a more bohemian look, it now plays a role in many styles including but not limited to farmhouse, coastal, mountain modern, and even mid-century. It has many looks because it adds sophistication, warmth, and texture with its organic woven pattern. Also, rattan fixtures offer a special quality of light.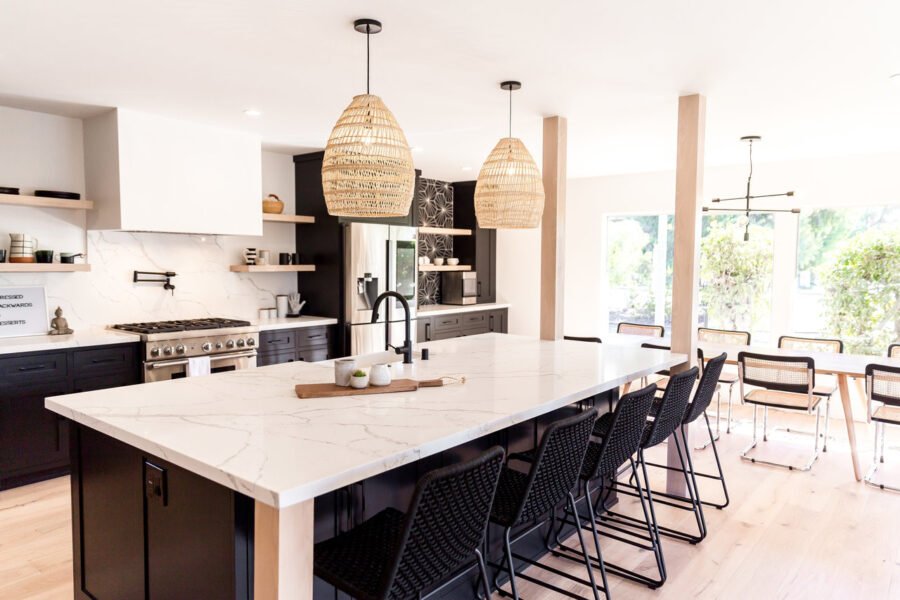 5 Rattan Lighting Ideas for Your Kitchen Island
Here are five favorite rattan pendant lighting ideas that will look fabulous hanging over your kitchen island, breakfast nook, or anywhere else in your house that needs an elegant boost!
Although there are hundreds of places to source rattan lighting, we wanted to curate this list to reflect different styles and price points.  Some are traditional, whimsy, geometric, or organic. All are on trend and ready to elevate your space.
Also Read: 10 Ways to Bring "Cozy" Into Your Kitchen
Transform Your Space with Rattan Lighting
We hope this is a good starting point for your search for the perfect rattan lights for your kitchen or home. And remember, don't just think of rattan in a classic straw color. Many rattan fixtures have a sprayed black or white look for some drama. You can also stain them to look darker and warmer. 
Rattan Pendant lighting above your kitchen island really serve as spotlights that shine down on your beautiful countertops! Swing by our showroom to see all the beautiful materials for yourself and get expert advice on tiles, paint colors, lighting, and of course countertops!