We know once you have your new countertops installed, you

'

ll want to invite some friends over to show them off!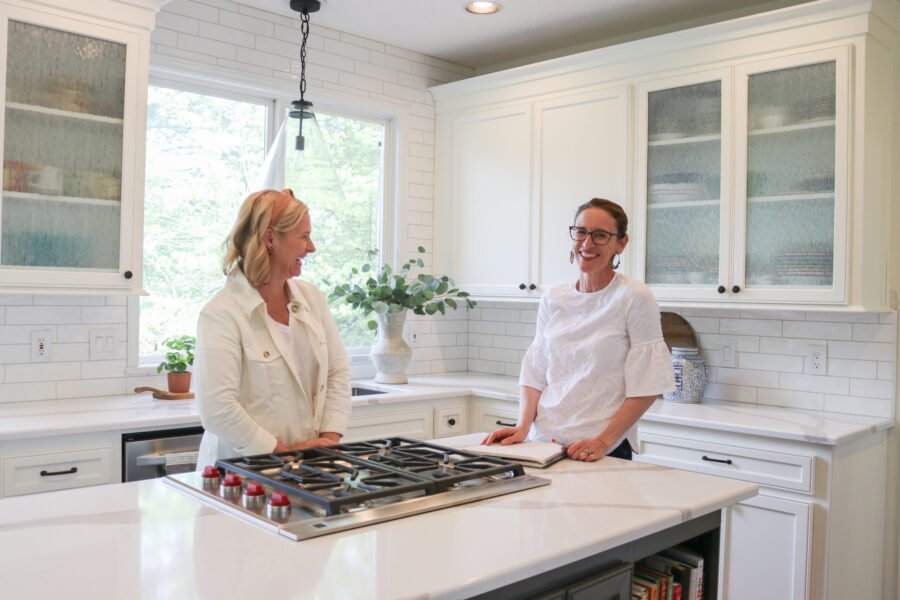 We've got you covered on the new countertop part and we have a great meal in mind for you to easily whip up.  It's always great to hook into a recipe that you can have on the table in 30 minutes that's also good enough to share with company. This one pan chicken recipe with roasted romaine is just the ticket to mix efficiency with a little gourmet flair.
Three things we love about this recipe:
This chicken recipe accomplishes the impossible…it produces a chicken breast that is juicy enough to cut with a fork. No dry, leather chicken meat going on here. And no extra chewing or water required to get it swallowed! I have used this same method with other chicken breast recipes and now I don't cook them any other way.
The second thing we love about it is the golden top. No need to dip the chicken breast in an egg wash, then coat with crumbs. This can be messy and time consuming. It can also tend to make the bottom a bit soggy. This recipe's simple savory crumb is quickly pressed onto the top of the chicken breast. The parmesan, garlic and Panko team up to give you a savory, crunchy burst of flavor…yum!
The third thing is the ease of a one pan meal. No extra stirring or mixing over the stove while trying to carry on a conversation. It's all getting done in one place and on one pan. This also makes clean up a breeze. Not to mention, it looks beautiful coming out of the oven all together….golden chicken with slightly charred romaine.  
Parmesan Chicken with Caesar Roasted Romaine
Prep Time 15 minutes Total Time 30 minutes (
Serves 4)
4 7-ounce skinless, boneless chicken breasts

Kosher salt and freshly ground pepper

1/2 cup grated Parmesan, Pecorino or Asiago Cheese (about 1.5 ounces)

1/2 cup Panko breadcrumbs

4 Tablespoons extra-virgin olive oil, divided

2 Tablespoons chopped Italian parsley (flat-leaf parsley)

2 Garlic cloves, chopped or minced, divided

2 Hearts of romaine, halved lengthwise

4 Anchovy filets packed in oil, drained and chopped

1 lemon, cut into 8 wedges
Preparation
Preheat oven to 450° degrees. Line a large rimmed baking sheet with parchment paper. (Foil works if you don't have parchment paper on hand.) Season chicken on both sides with salt and pepper and then place onto the baking sheet. Space them out evenly.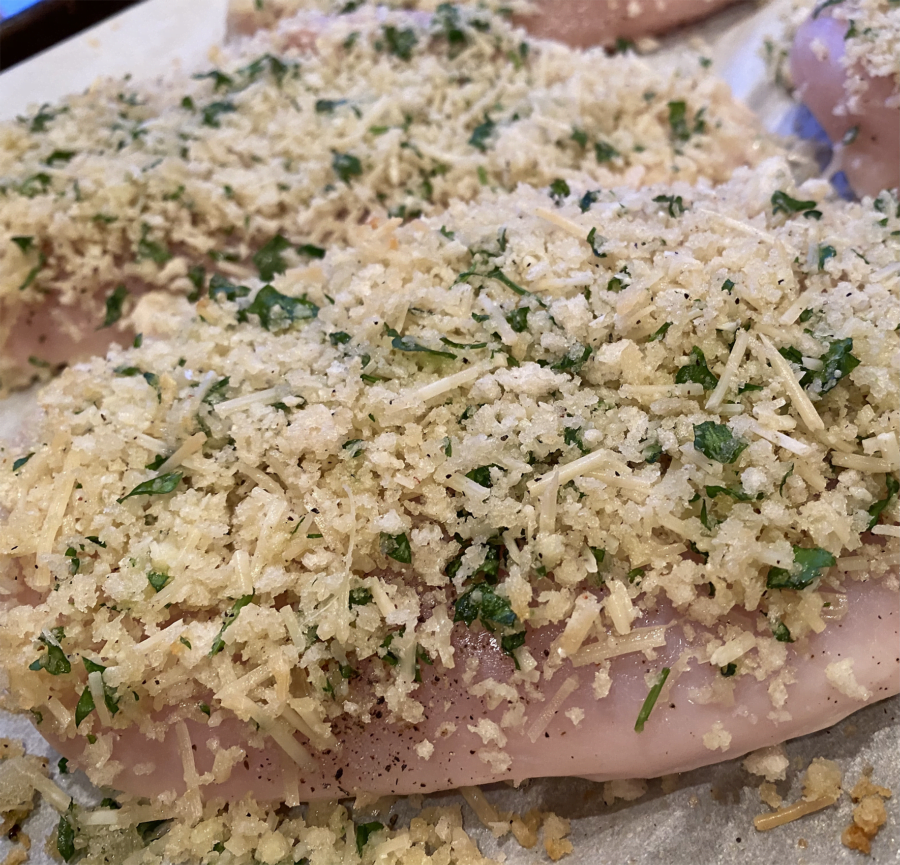 Combine cheese, Panko, 2 tablespoons olive oil, parsley and 1 garlic clove in a medium bowl. Season mixture with salt and pepper. Pat this mixture onto each breast, dividing it evenly among the four pieces. Put pan in the hot oven until crumbs begin to turn golden, about 10 minutes.
Make dressing. In a small bowl combine 2 Tablespoons oil, the anchovy and the remaining garlic clove (If you love garlic, add another clove!) Squeeze one wedge of the fresh lemon into the dressing. Season with salt and pepper and mix well.
Remove sheet from oven and arrange romaine wedges around chicken. Drizzle dressing over the four wedges of romaine. Roast until chicken is cooked through and lettuce is browned on the edges, about 5-7 additional minutes. Divide the chicken breasts and romaine among four plates. Garnish with a few grates of cheese and fresh pepper. Serve with lemon wedges. 
We hope you enjoy this dish as much as we do. Need some wine? We suggest a Willamette Valley pinot noir. With its charred romaine edges, sharp cheese and salty dressing, a complex pinot will complement it at every turn. Our current favorite is Twill Cellars 2018 Stormy Morning Vineyard Pinot Noir. Avalon Wines (northwest-wine.com ) describes it as, "Loaded with energy and aliveness, this is absolutely our kind of Oregon Pinot Noir." We couldn't agree more!
A wonderful recipe paired with a fabulous local wine…cheers!