White quartz is dominating the countertop world.
75% of Precision Countertop's jobs are using white quartz. There is a reason for this, as white quartz is the epitome of livable luxury. You get a clean, versatile and on trend look with the dependability and longevity of quartz. 
Time and time again we get visitors in our showroom that say they are just looking for a white quartz. The "just" is important here, as many customers assume they have already marked off the box on their list for their countertop choice. What they don't realize is how many white quartzes they will have to wade through before finding the right color for their project.
The closest equivalent I can think of would be if you were to walk into a cheese shop and ask for  just "cheese". The cheese monger would begin to pinpoint your order with a myriad of questions….goat or cow? Hard or soft? Veined or not?
Just like the cheese monger, we also have a few questions ready that will aid you in narrowing down your search.…so you are not totally overwhelmed by our wall of white quartzes!
Choose your Vein
White quartz can run a large gamut from zero veining to long, thick rivers of dark gray veins. So the first choice you must make is how much veining you'd like your quartz to display. There are essentially four categories.
Zero Veining
This is a solid white color or there may be very small flecks of crystals. When looking at a piece of white quartz with zero veining, it is clean, crisp and bright. Examples of these colors are Vivid White by Caesarstone and White Zeus Extreme by Silestone.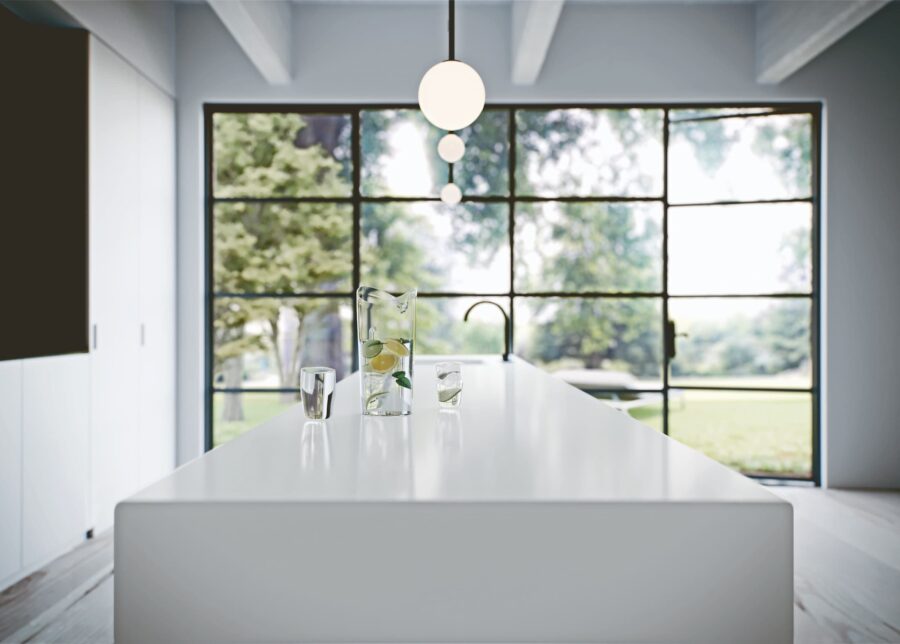 Fine Veining
The next level of veining has short and thin veins that mimic the look of the natural marble they often would carve statues out of in Italy. These veins have a more scattered, organic look and none of the veins will go from edge to edge. The veins generally don't stretch beyond a few inches. This level of veining does not catch the eye when gazing at a kitchen countertop from a distance, however, when you approach you can see the movement and depth. The color of the vein can vary widely here, from almost pure black, to navy to just a light hint of gray. Statuario by Silestone and Muse by LGHausys are some examples of this white quartz style.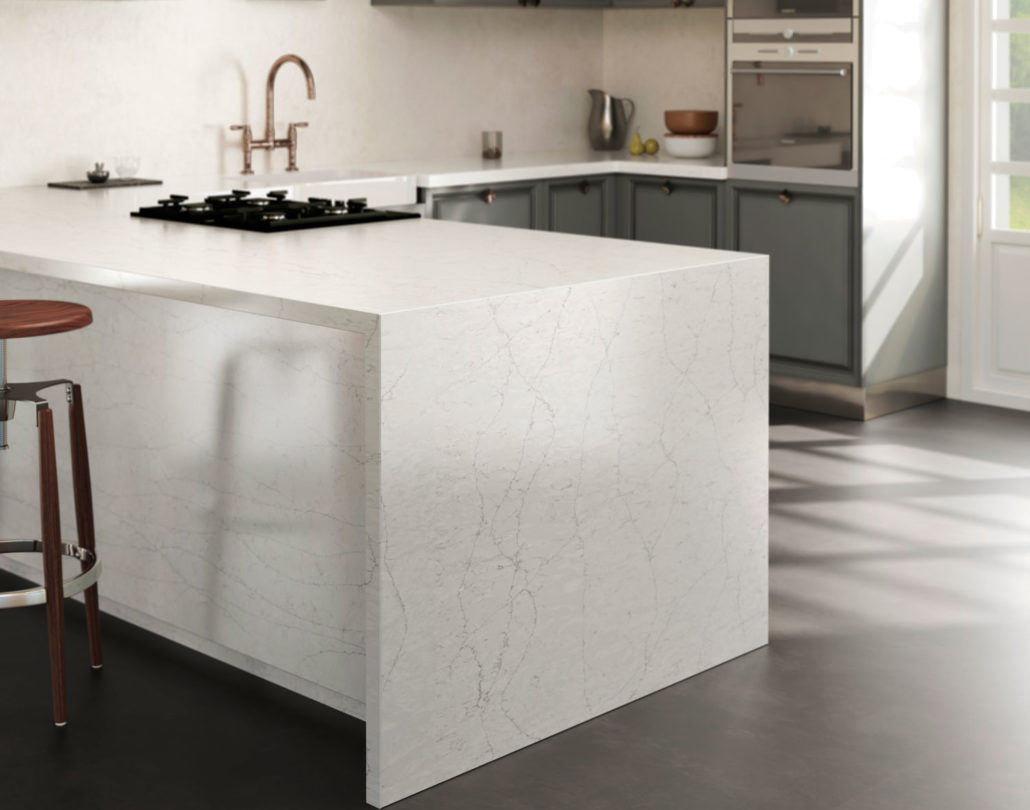 Sporadic Veining
This veining pattern is cloudier and thicker has the look of a classic Carrara marble. The vein edges are more blurred and less defined.  They can either run the length of the slab or be shorter and less linear than a Calacutta veining pattern. A white quartz that has this pattern can almost read a soft gray. As you take a closer look, you can see the depth of the colors and movement and realize the white is the reigning color, with the gray veins dancing among the backdrop of white. Some popular colors that display this veining pattern are Rococo and Soprano which are both manufactured by LGHausys. Soprano is a warmer take on this pattern, displaying more golden tones.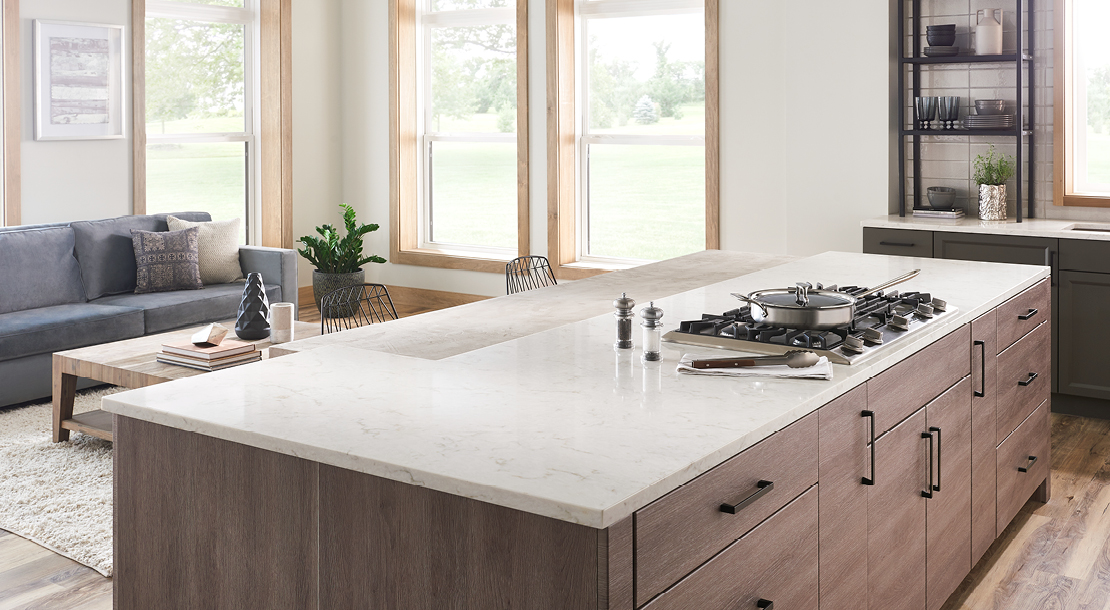 Calacatta Veining
This type of veining is very popular right now. The veins in this pattern are wider, bolder and longer than any of the other patterns. These pieces are often seen on a large island and used as a full wall backsplash. These types of colors that have the bold, linear veins are usually what designers and homeowners will use for the bookend application. Common colors that are used are Bianco Calacatta by Silestone as well as Calacatta Maximus by Ceasarstone.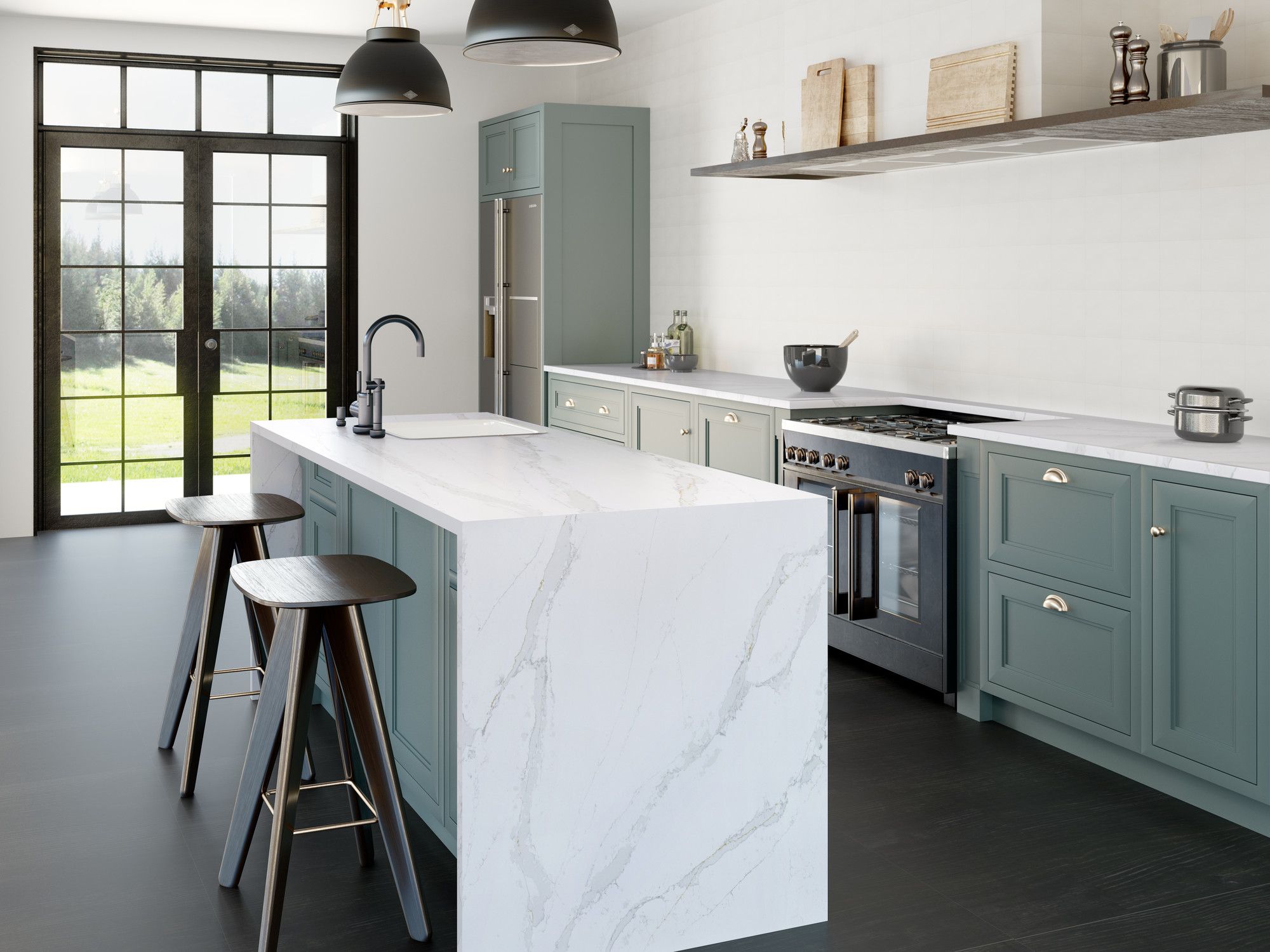 Choose your Tone
Because we are talking about white quartz, one could assume the quartzes would all be cool tones of white and gray. Most of our customers are very surprised how the different white quartzes can present much warmer than you'd expect. Quartz manufactures have done such an excellent job in the last few years creating more depth and subtle color changes in the white background. It makes the white quartzes come alive with light reflections and movement.  These small nuances can make a big difference in the slab's tone. Customers may be choosing between three slabs with identical veining patterns but those three slabs will display totally different cool or warm undertones. It can be daunting. An example of this variance in warmth can be seen when comparing Caesarstone Empira White, which has a bright white undertone versus Viaterra Clarino which has a warmer background. 
Keep in mind, not only does the background have differing degrees of warmth, the actual veins also present in many different tones. There are some veins that have warm, honey colors and others will have an icy blue hue. 
Bring It All Together
When you are considering white quartz, the more pieces of the design story you are able to bring with you to your appointment at the showroom the better. Paint colors, tile ideas, cabinet samples or floor samples will all be a tremendous help in the decision making process. Even bring in magazine clippings or your Pinterest board! 
Don't forget we also have an extensive tile program that includes managing your install. Our showroom has lots of tile design boards to match your white quartz slabs.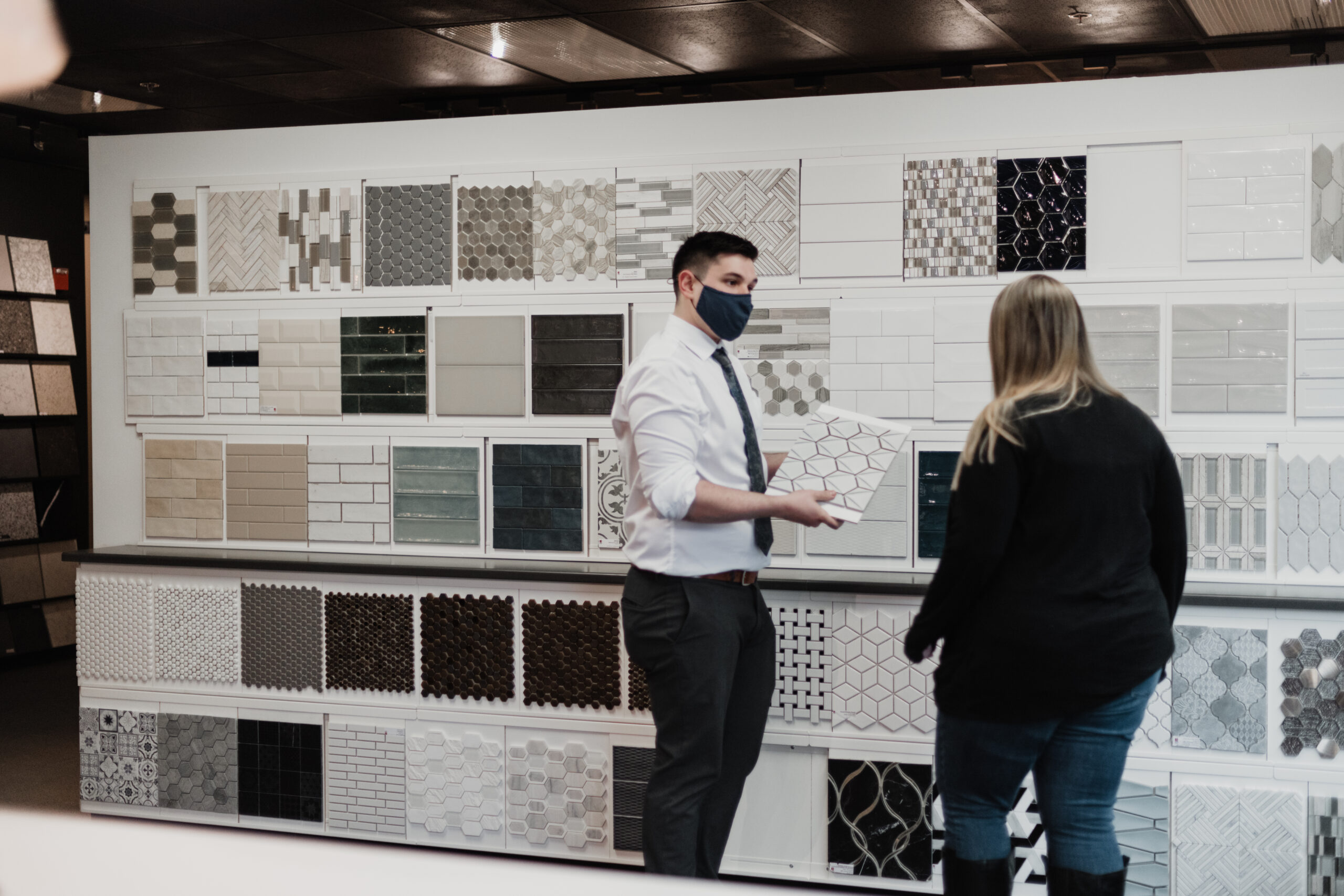 Like we mentioned before, you can't believe the variance in white quartz when it comes to warmth and tone. You can see this on our samples in the showroom and it is always helpful when you have the opportunity to view the whole slab to see how the colors and patterns play out. 
Although white quartz seems like a decision already made, you will soon find out that under its umbrella are hundreds of choices. Please book your complimentary design consultation with one of our experts…they are pros at taking the overall look you'd like to achieve and finding the perfect white quartz for your project.