When your business is housed in an outdated building and your clientele is rapidly growing…something has to give.
Such was the case for the VCA (Vet Centers of America) Battleground's campus. The VCA veterinary hospitals number over 1,000 locations in the United States and Canada and they are known for their innovative care as well as their dedication to their local communities. As you walk into their brand new building you quickly realize that no detail was spared to create a space filled with calm, beauty and efficiency for their furry clientele (and their owners!).
Precision Countertops was honored to be part of this project.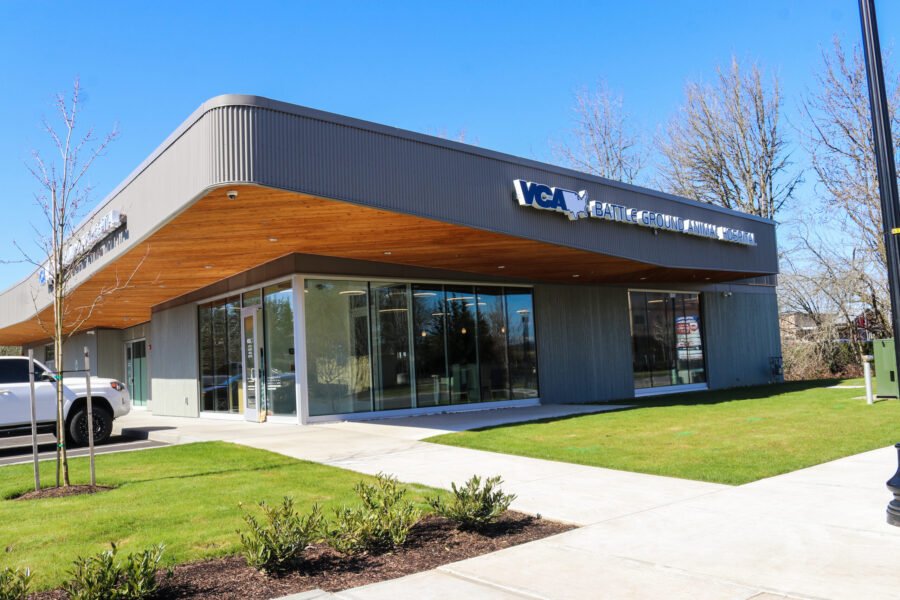 The clinic is a modern building boasting a cantilever roof with its underbelly lined with natural warm wood. This deep roof line is not only a beautiful architectural touch, it also provides ample shelter from the elements as patients are walked into the building. The main entry is flooded with natural light that easily makes its way in through the large paned windows.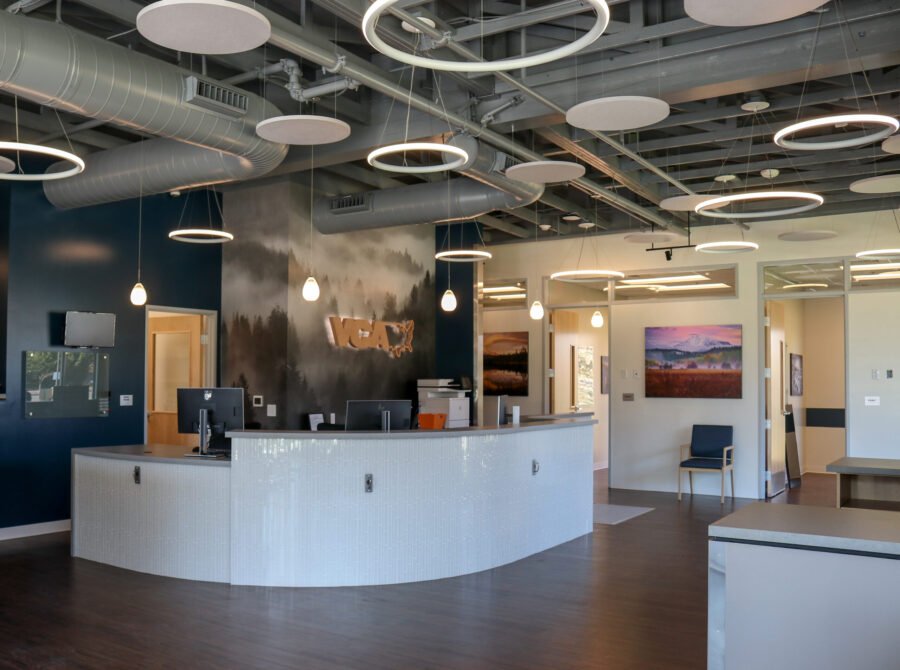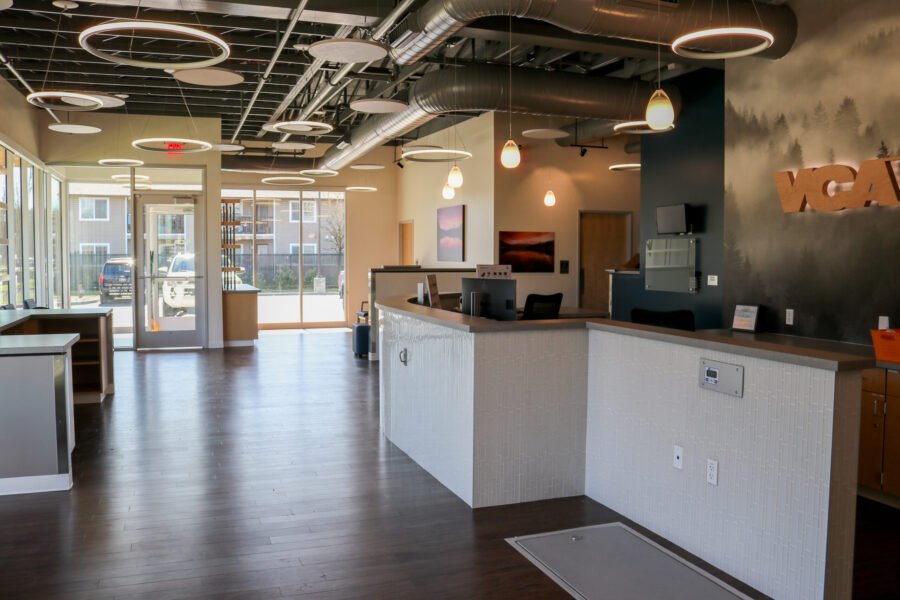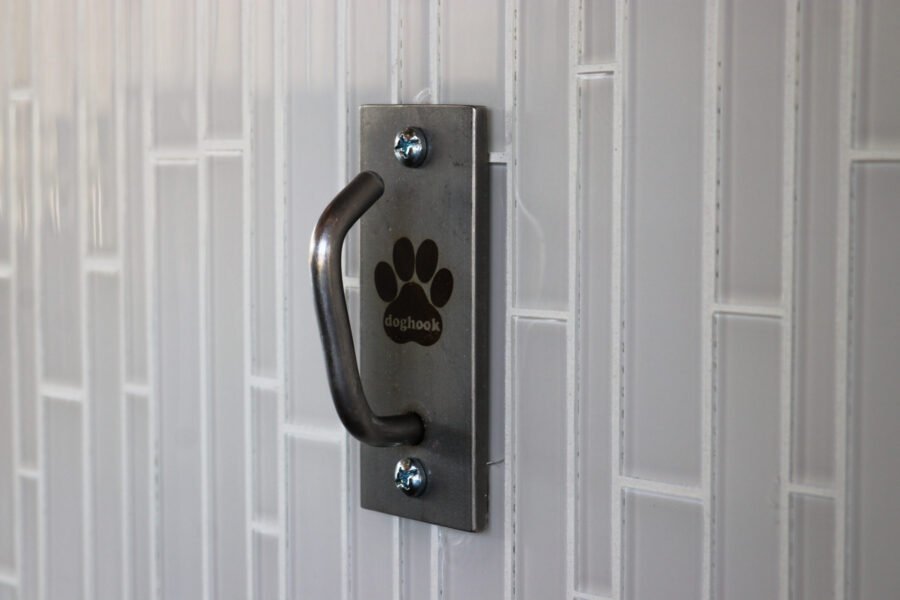 With the high ceilings, blue and gray color scheme and modern lines, one might think the interior may lean on the cooler side. This couldn't be further from the truth as the natural elements and flow lend a sense of warmth and serenity to the area. This touch of nature in the space is helped by the ceiling fixtures, namely the acoustical ceiling clouds (also called sound clouds).  These round white disks hanging from the ceiling look like cotton clouds you'd see dotting a blue sky. Not only are they aesthetically pleasing, they also serve an important purpose. The sound clouds absorb sounds waves at two different points; as sounds travel towards the ceiling and then as it bounces down to the floor. They can absorb up to 95% echoes and reverberations.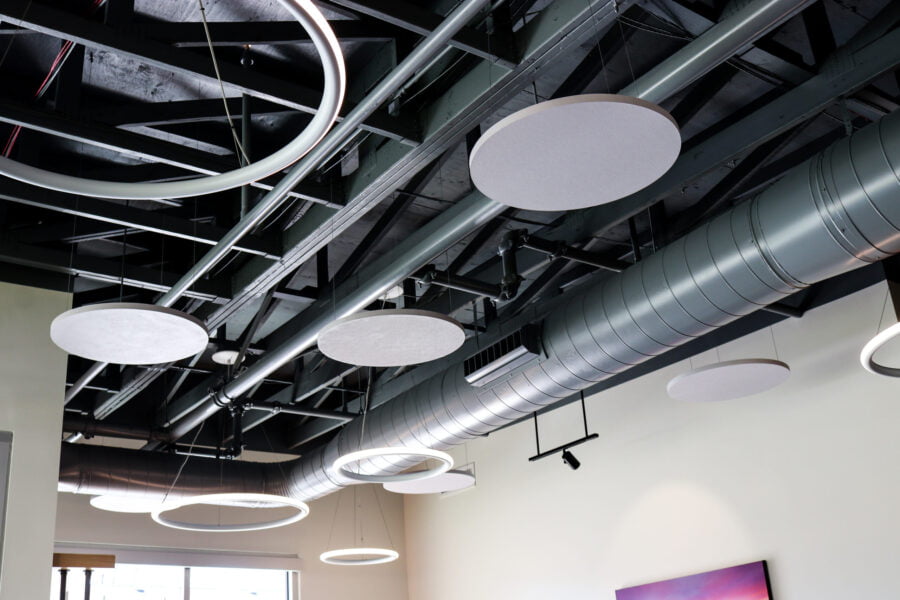 We had the pleasure of meeting with Laura, the clinic manager, who was gracious enough to offer some insights into the planning and design. She was answering questions while juggling many things as the move date was quickly approaching. She said that they knew they needed a new space 6 years ago but it wasn't until about 2 years ago a solid plan began to take shape. An outside developer built the building (floor, ceiling and walls) but VCA and their design partner Art of Animals Architecture created the interior space.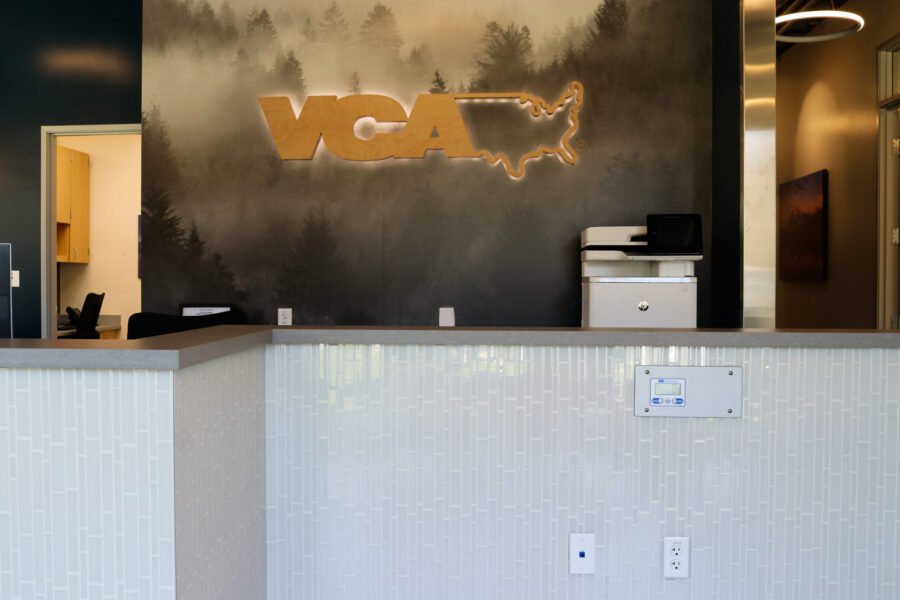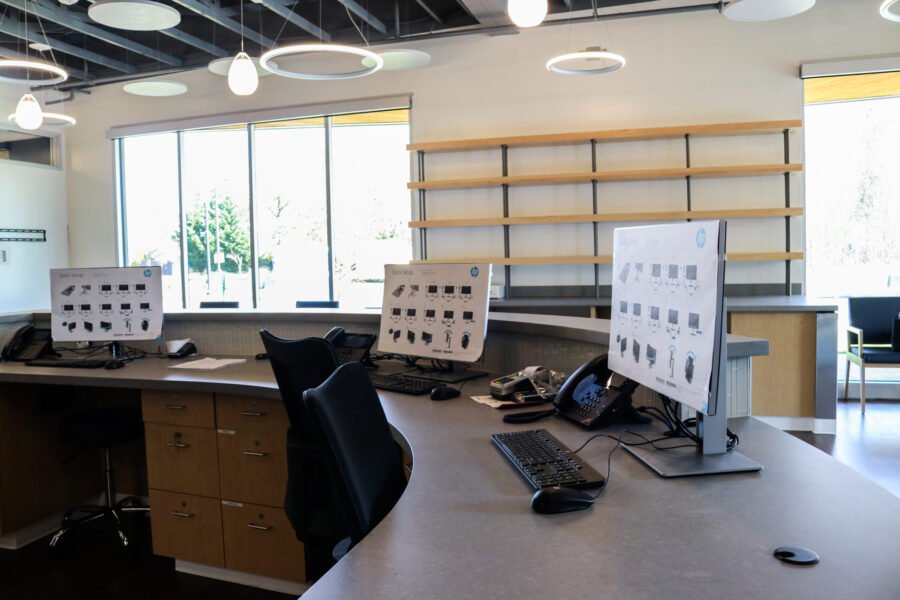 Art of Animals Architecture is an architectural design firm based in Boulder, Colorado, that has been specializing in creating animal care facilities since 1986. It is a company that takes architecture, people and animals all into consideration when creating the buildings and the interior spaces. They realize the physical environment has a big impact on animal health and well being. A well planned design reduces animal stress as well as helps the providers be more productive and efficient. Their website sums it up best, "We all want to live and work in spaces that are light, bright and comfortable. All our designs consider the benefits of sunlight, proper ventilation, ergonomics and noise reduction." Their thoughtful process is evident right away when you see their beautiful, well equipped 6 exam rooms and their attention to details such as leash hooks and double entry that keep the animal's welfare in mind.
Laura added that Animal Arts offered 4 different design options, and Laura and her team picked the "clean and classic". You can tell it was the best choice for this building and Precision's countertops fit perfectly into the scheme. The countertops were done in Dove Gray by Corian Quartz with a leathered finish. The countertop has a mitered edge, giving it a clean and modern look. The large, elliptical top sits atop beautiful tile work which offers the perfect foundation to show it off. The exam rooms are also done in the same quartz. It's a great material for use in a medical setting as it is easy to clean, durable and doesn't have any crevices that harbor harmful bacteria. This quartz is a perfect example of how design and function can make a great team.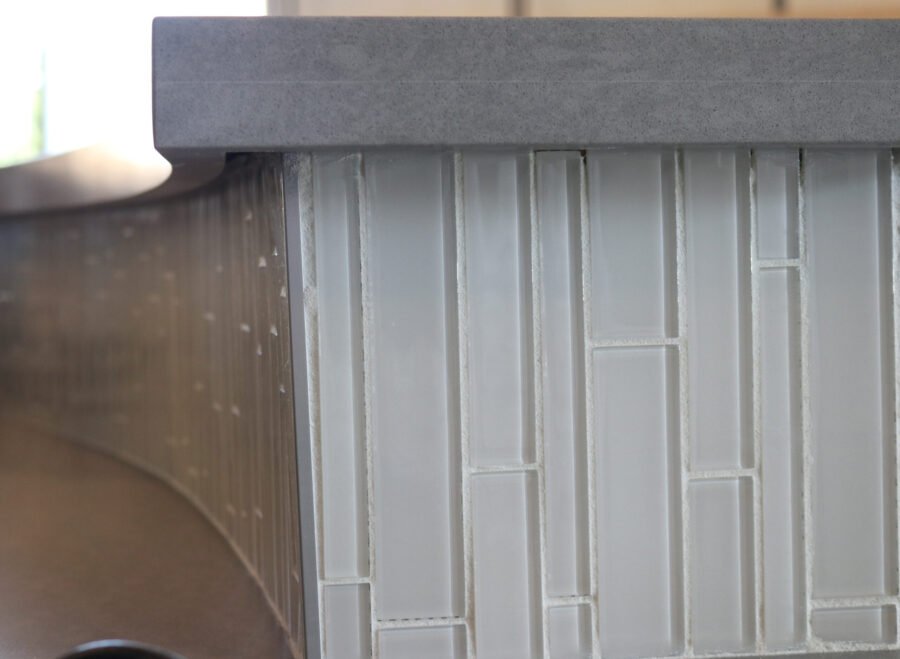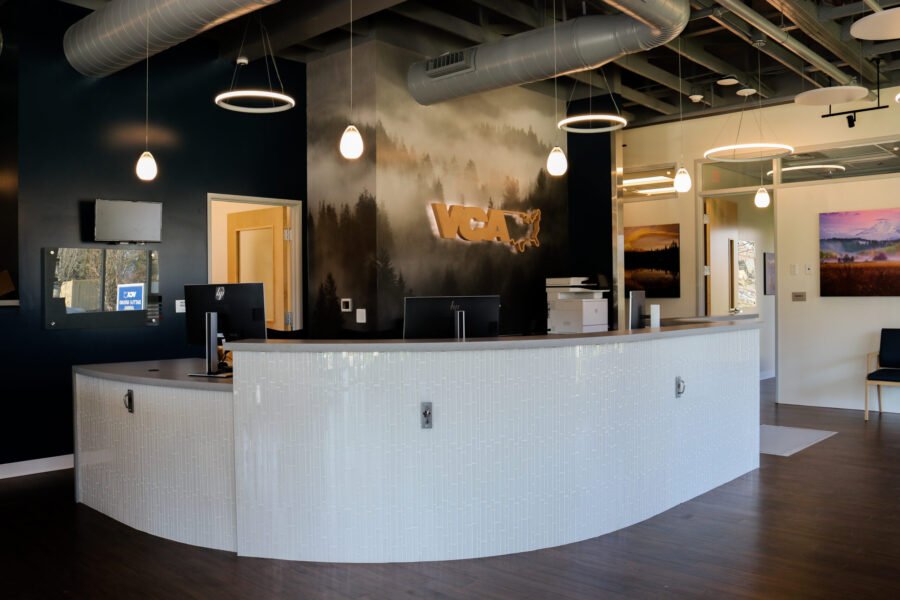 VCA Battle Ground along with their design team at Art of Animals have made great decision after great decision to create a serene and beautiful space. This team has created a gorgeous space and Precision Countertops was honored to be part of the ride!