Giving glamour to everyday spaces.
The waterfall edge is certainly having its moment on the home trends runway these days. You can see this clean and modern edge showing up on console and coffee tables everywhere. They've also hopped into our kitchens and become the hot thing to up the glam factor in your space. If this style is just a flash in the pan, that's fine if all you have to do is trade out your coffee table. But consumers are asking a more demanding question to the countertop versions of this edge. Since the average life of a kitchen renovation is around 25 years, it's much more of a commitment.  So many homeowners are now wondering…to waterfall or not to waterfall?
First of all, let's define a waterfall edge. A waterfall edge flows down vertically all the way to the floor instead of stopping at the edge of a cabinet or island. It creates a continuous flow of countertop material and makes a dramatic impact on the room.  It makes the island an artistic focal point and does a fabulous job of showcasing your countertop material.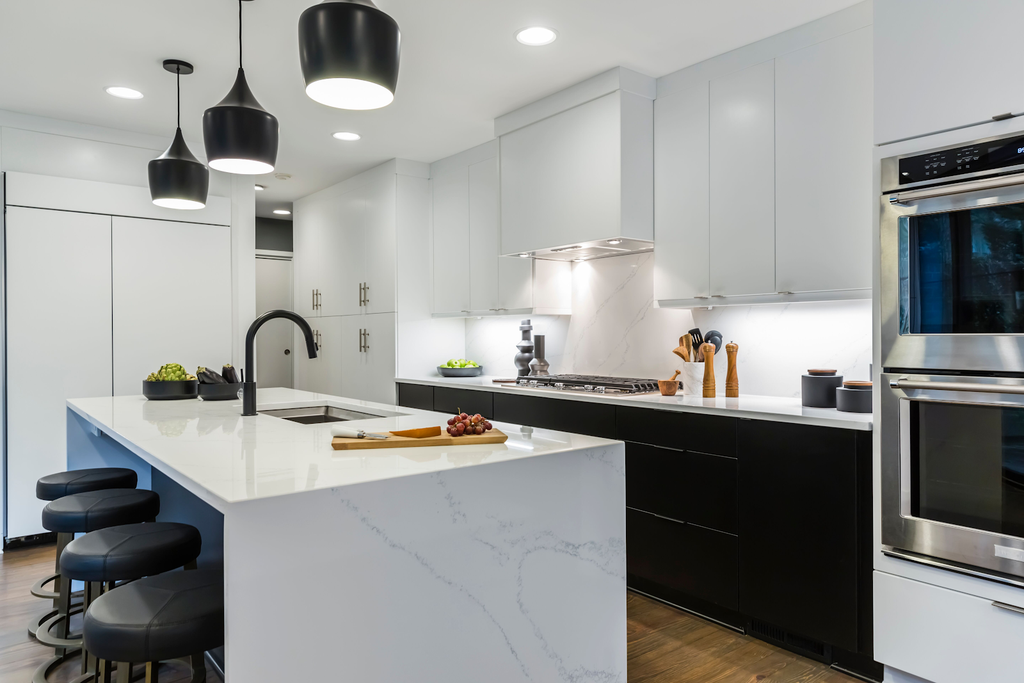 Some schools of thought believe this edge to be a classic. The waterfall edge has followed the usual 30-40 year cycle that design trends tend to go through. The waterfall edge was first seen in furniture during the Art Deco movement of the 30's and 40's. It resurfaced in benches and side tables in the 70's and 80's and now it has really hit its stride…being seen in table edges as well as countertops. The main difference in the current version are the lines are coming together at a hard ninety degree angle which is different from the softer, rounder edges of years past. 
Since these edges have simple clean lines, they have a modern feel. You won't typically find them in a traditional style kitchen, however, we are seeing them used more and more in all types of settings. They used to be in the glamorous and modern kitchens found on the pages of Architectural Digest and now you can see them tweaking farmhouse chic into a fresher look.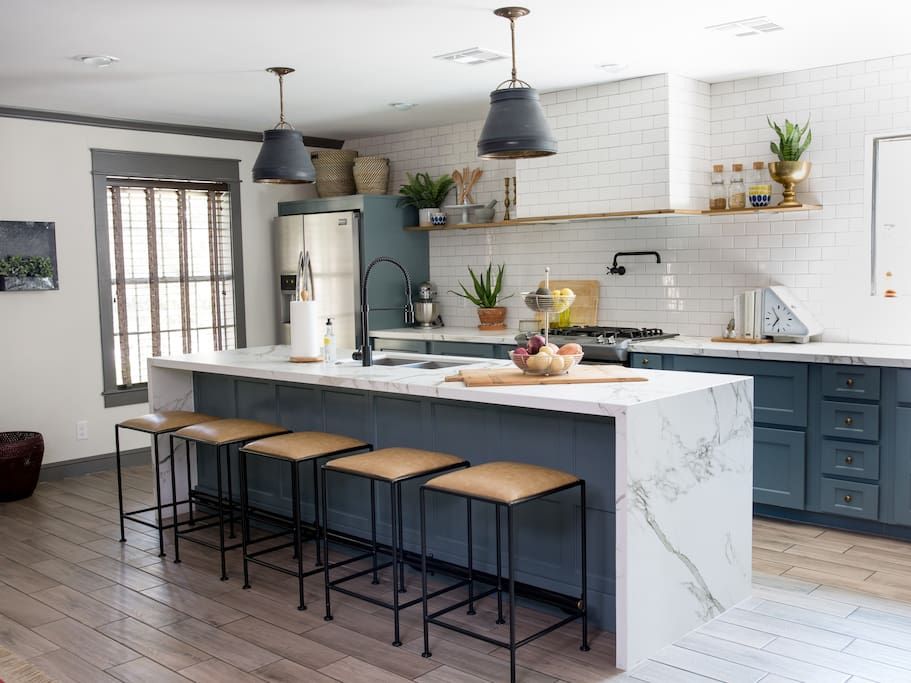 Besides creating a "wow" factor in your kitchen, these waterfall edges also lend some practicality to the equation. They end up protecting the sides of your cabinetry from dings, scratches and stains as natural stone or quartz are much more durable than wood and paint. They can also create more seating with an overhang and they can hide appliances. Form and function for the win!
The waterfall edge can carry very different looks depending on the thickness of the material and which material you choose. We recommend you use natural stone or quartz. The benefits of using a quartz product lie in whether or not you want your waterfall edge to look more seamless. It is easier to match veining and movement with quartz as it is more uniform.
Sometimes designers specify a very thick edge, up to 4 or 5 inches. This takes a little more expertise and fabrication time, so it will drive the cost up. This is a gorgeous way to really stamp the room with a beautiful material and make the island into an impactful, glamorous piece of furniture. These thicker lines work best in a very modern and clean design scheme. To create a waterfall edge you must hire an experienced fabricator and having some design input is a great idea as well.
Deciding to put a waterfall edge on your kitchen island is a commitment and an investment. So back to our original question….will this be a quick trend or a classic style?
We think this edge is going to definitely become a classic style and have some serious staying power. Not only does the actual edge have some history behind it, this current interpretation of the waterfall edge also has practicality behind it. As we have mentioned, when you implement a waterfall edge it ends up protecting your cabinetry and hiding appliances.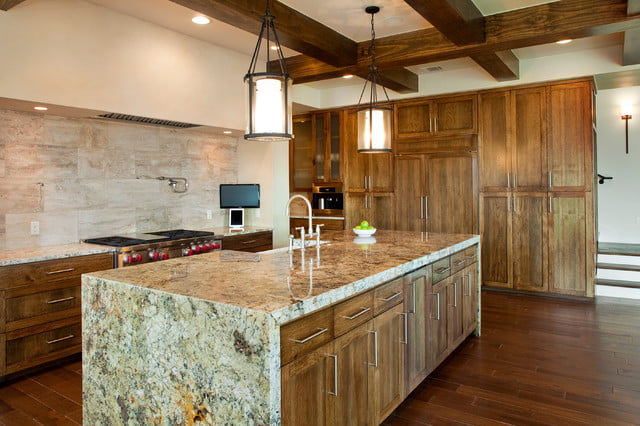 Another reason we think this look will be seen over the years is the fact that it can play in a lot of different styled spaces. Although most designers would recommend it in a more modern setting, it can bring traditional up to a more transitional look. A great example of this is in this photo below of designer and blogger, Jewel Marlowe. You can see that she has turned her once traditional cabinetry on its heels to welcome this modern and stark waterfall island.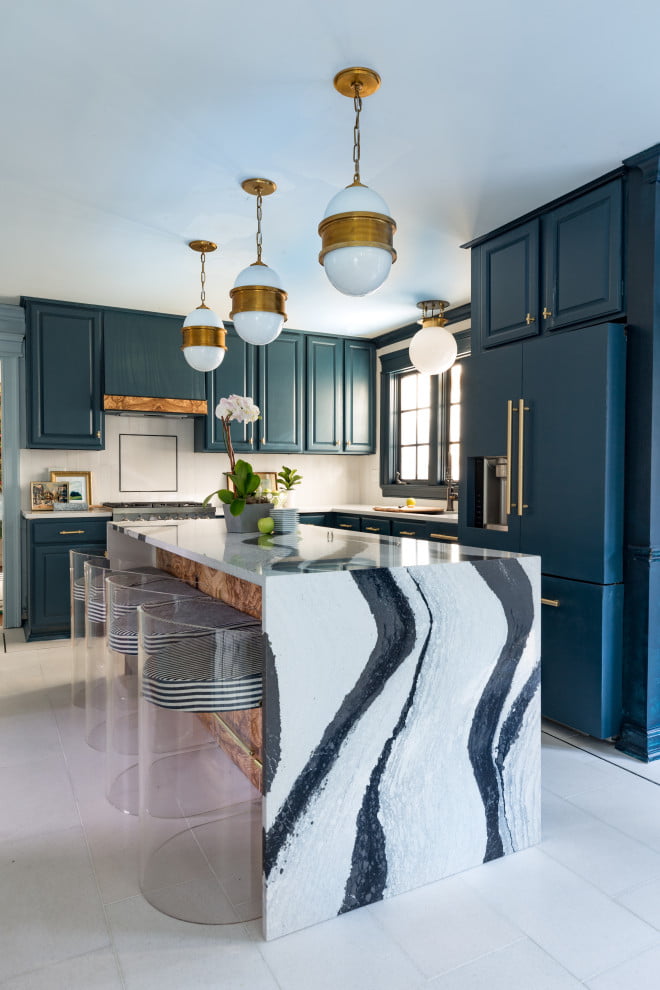 So, the verdict rests…we think this newer kid on the block is going to stick around for a while. However, there are two things to consider to weigh in on your decision. First, this type of edge is more expensive and also you must really love the material you choose. Because it is essentially taking center stage, you gotta love it! 
If you are interested in adding a waterfall edge to an existing space or looking for a total renovation, please call our showroom or stop by..we have experienced designers that can hold your hand through the process of choosing….to waterfall or not to waterfall!