Precision Countertops is always honored to be part of any project, but it's fun when we can see our work in a commercial space where it's enjoyed by the public.
This is especially true when we play just a small part in a brilliantly designed space, such as the newly renovated Tan Tan Vietnamese Deli in the heart of downtown Beaverton. The best restaurants have a personality, a welcoming feeling that invites you to come in and become part of a community. This is what you feel as you walk through the doors of Tan Tan Deli.
The modern, fresh and colorful vibe beckons you in but the owner's warmth and hospitality invites you to enjoy and stay awhile.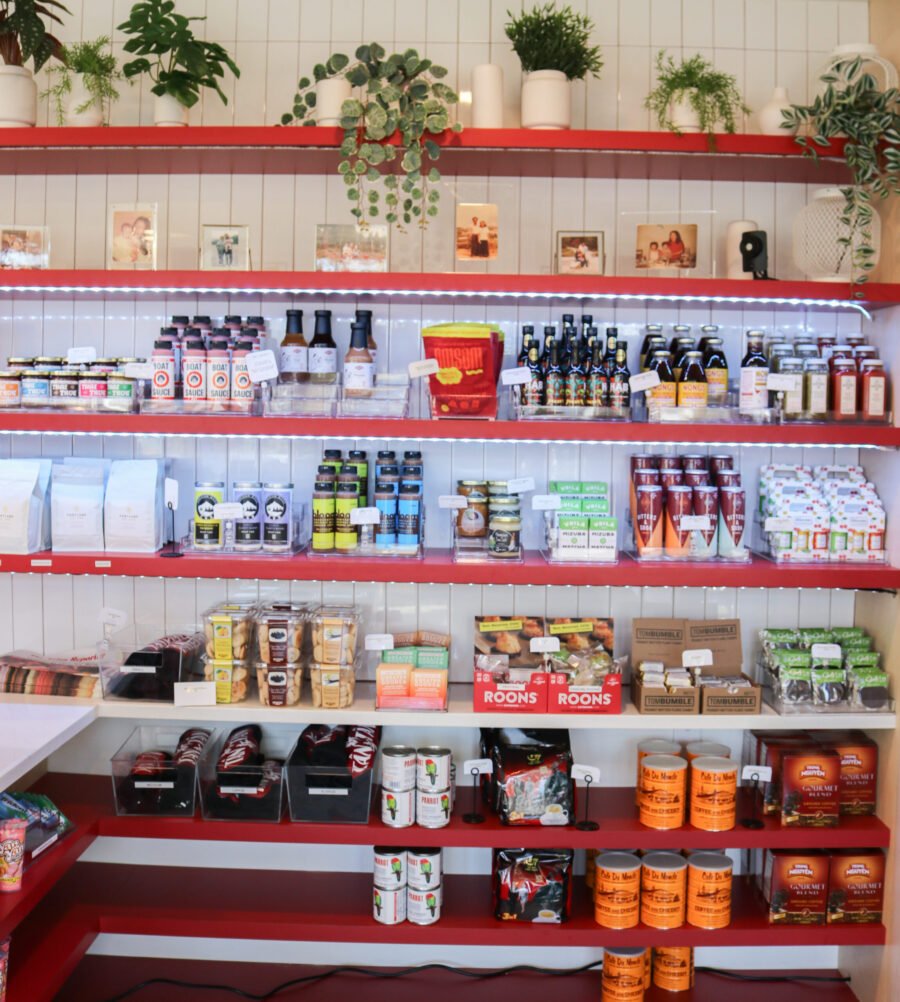 This beautiful space wasn't created by accident but by the creative forces at Portland based Skylab Architecture firm. Skylab has an impressive portfolio that encompasses a broad range of projects in retail, commercial and hospitality (even an award winning park…check it out!) Their name is on some well known, larger projects such as the new Serena Williams Building at Nike's world headquarters.
I spoke with Skylab project designer, Jeni Nguyen, about her work with Tan Tan and she said,
"This was a project that was close to my heart as I've been going to Tan Tan Deli since I was young. Tan Tan means new beginnings and this held great significance to the Vietnamese community."
After the fall of Saigon, many Vietnamese fled to escape persecution under the new communist rule. This restaurant was more than a business. It was a place to foster new beginnings for the whole community as they embarked on a fresh path in a new land.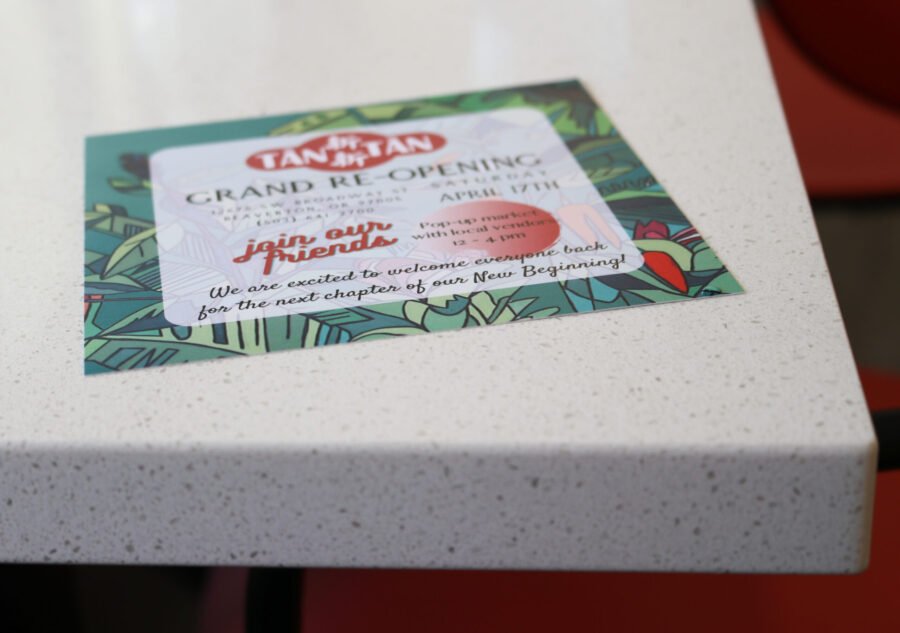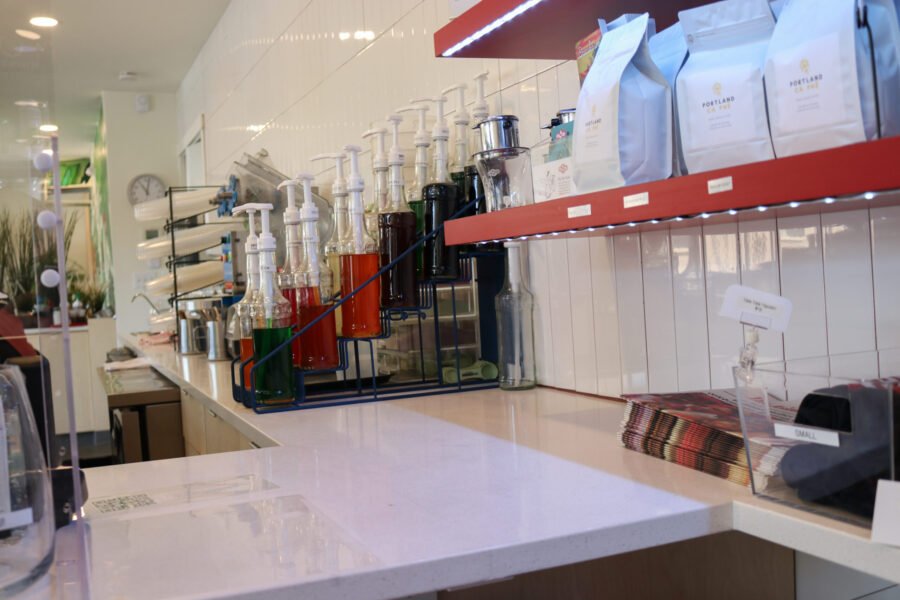 No matter what project they are part of, Skylab strives to tell compelling stories through their design. They wanted to create a space to reflect the Vietnamese heritage and tie that in with the Pacific Northwest. Color is one way they did this. Green tells stories of the lush environments of both Vietnam and Oregon. The casework is topped and filled with green plants and the accent wall is a mural filled with tropical leaves and foliage.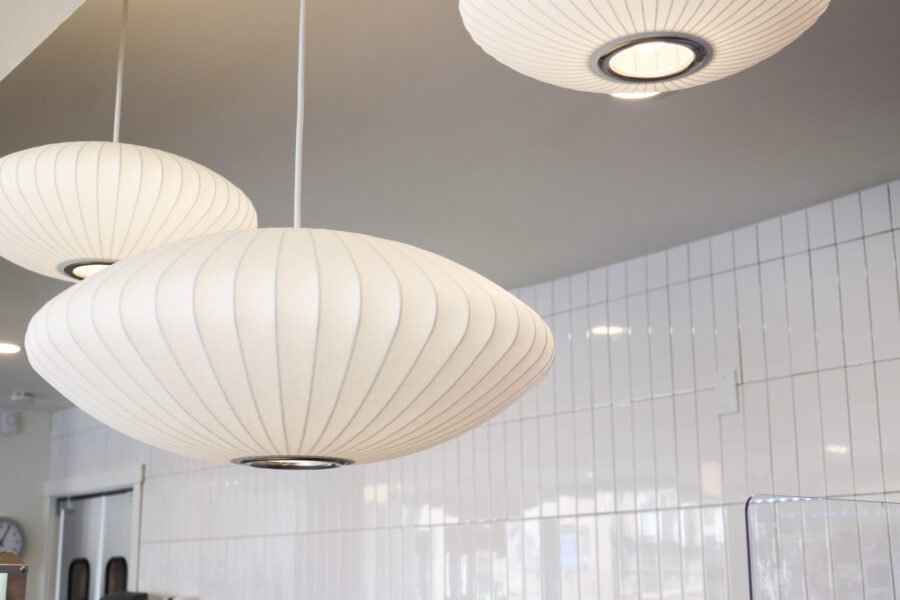 The pendant lights that anchor both ends of the deli counter are a great example of Skylab's ability to take traditional textures and shapes and apply them in a modern way. These fixtures draw inspiration from the Vietnamese lanterns that can be found throughout the country, but they carry a modern and airy feel. 
Tan Tan Deli's design has many plays of modern and organic. Although the space is white and airy, the wood casework adds a grounding element. Another earth element is the lush mural we mentioned earlier that covers an accent wall. This punch of lively green sets off the coral/salmon chairs that dot the room. Skylab definitely nailed balancing color with calm as well as balancing modern with an organic warmth.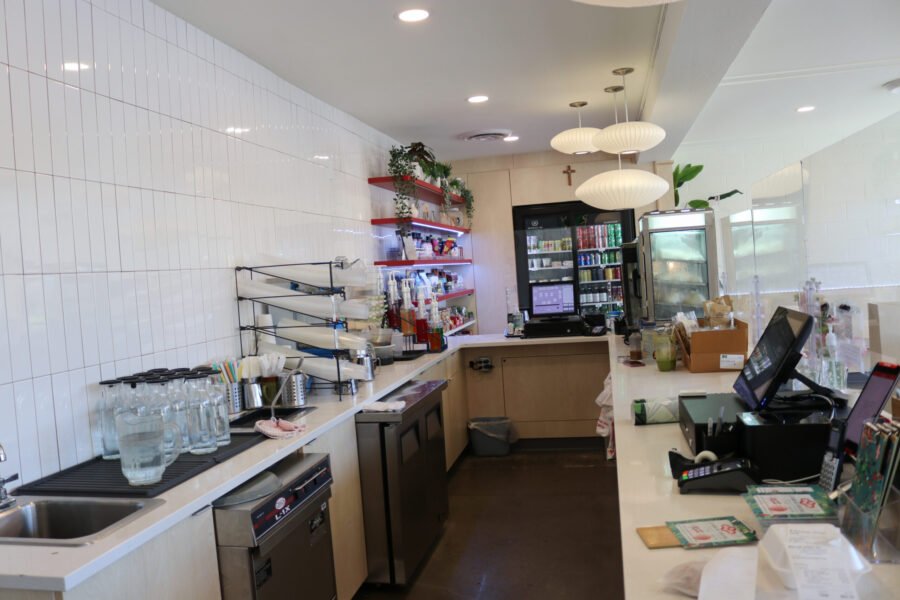 Speaking of mixed modern, they specified a white quartz for the table tops called Simply White from Dal Tile's One Quartz line. This material reads pure white from a distance, but as you approach the eye notices small gray flecks of quartz..adding a small touch of nature and grounding.  It is the perfect blank canvas for the burst of vibrant colors that are served up from Tan Tan's busy kitchen. I was lucky enough to try some of the delicious plates and as with the dining room design….the food was a feast for all the senses!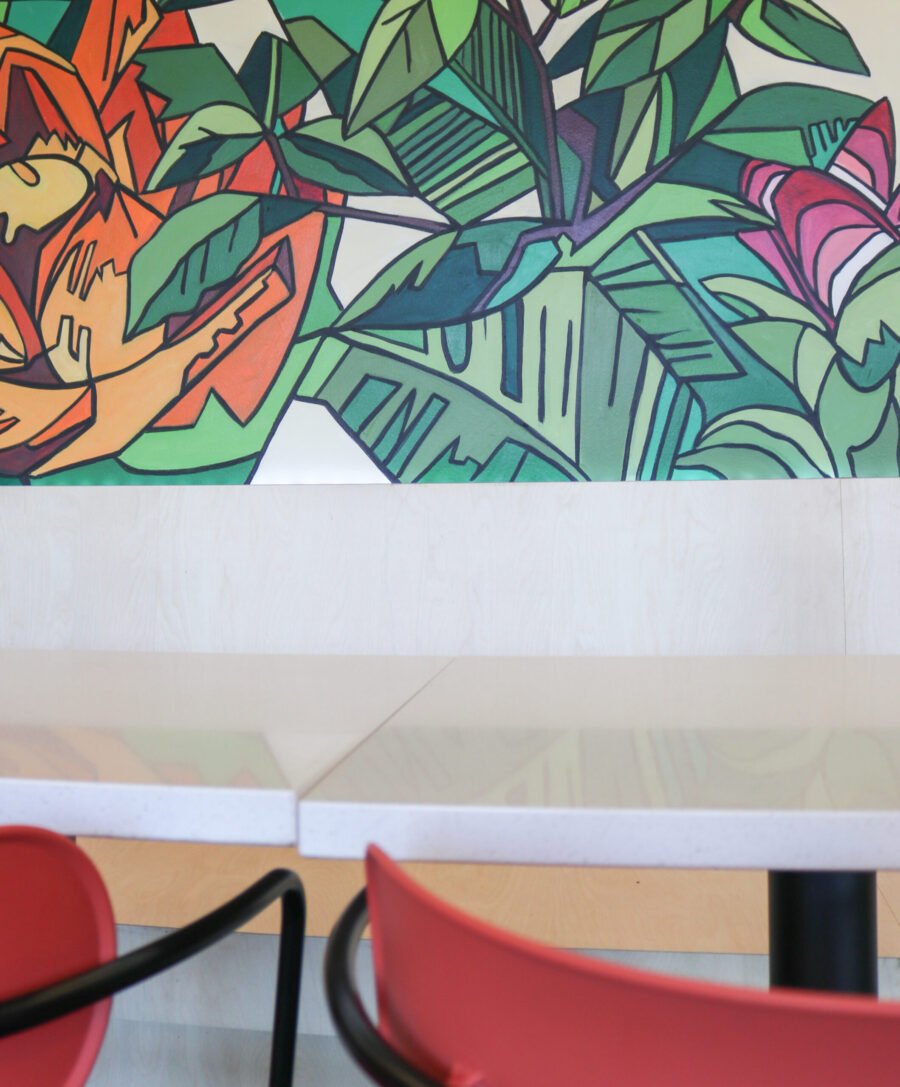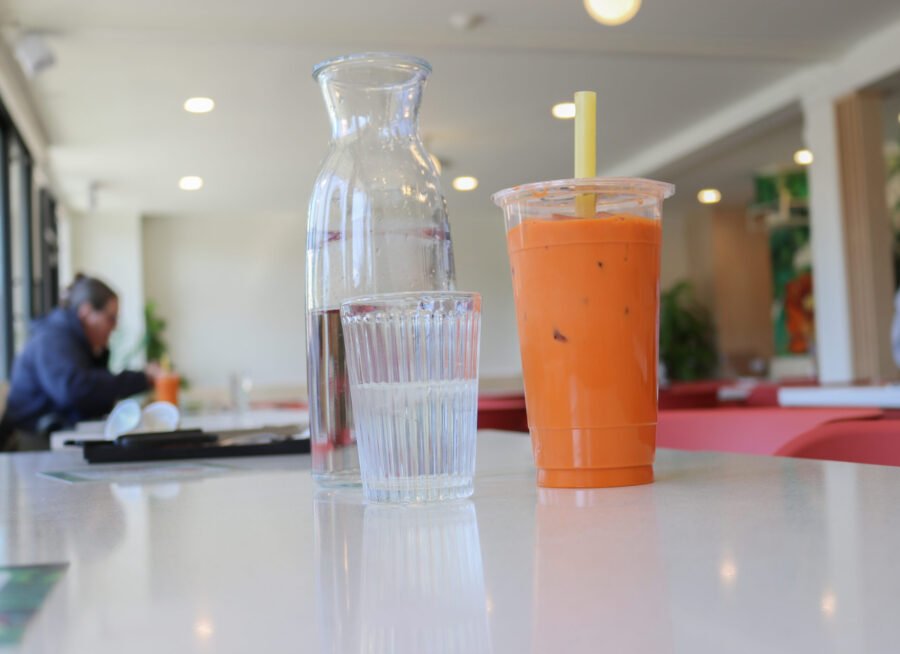 Tan Tan Deli has a bustling deli business with a case of to-go delicacies, Vietnamese desserts, drinks as well as their famous sauces for the home cook. These sauces can also be ordered online or found in popular local shops like New Seasons, Elephant's Deli, Uwajimaya and Market of Choice (just to name a few).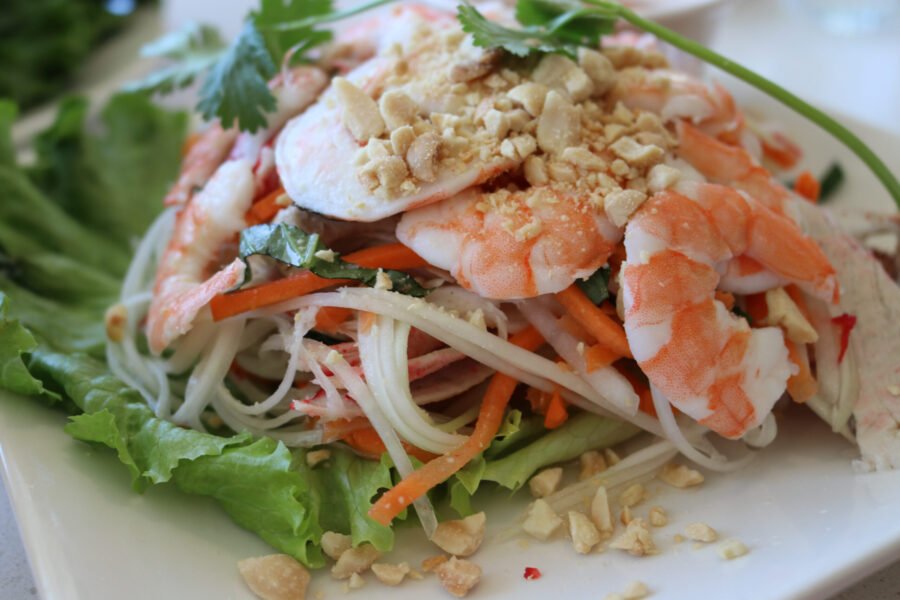 We are so proud to be a small component in this well designed space. It's so satisfying seeing all the elements come together and it's especially meaningful when our countertops are the backdrop for the vibrant food and community that Tan Tan Deli provides.
Tan Tan Deli can be found at 12675 SW Broadway Street in Beaverton and their website is tantancafedeli.com. Enjoy!