If anyone asks about the best brunch spot in Portland, Screen Door always makes the top of the list.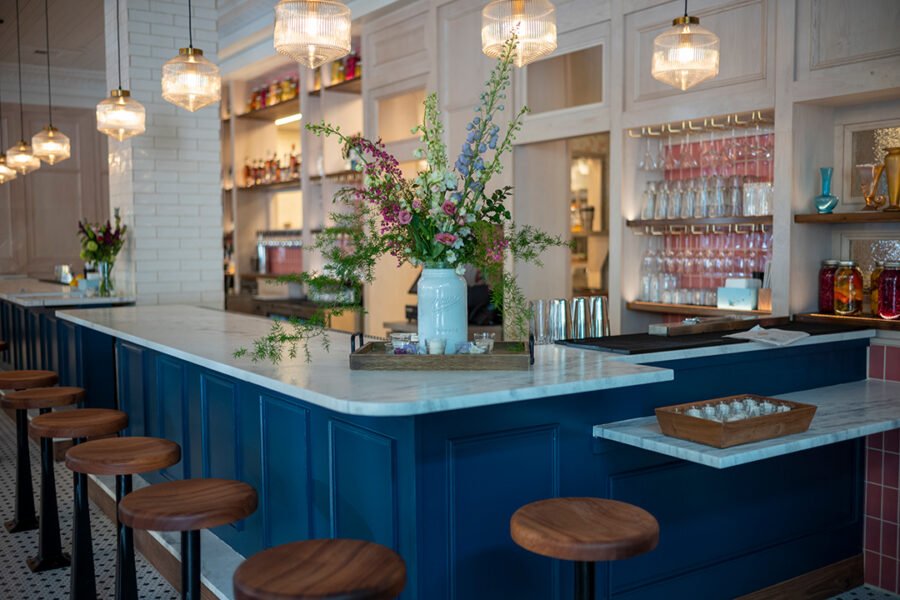 Not only do they have great food, they have great marble countertops!
The line out the door is indicative of its popularity and southern hospitality. The ambience in the newly renovated Pearl location strikes the perfect balance between cottage core and modern elegance.
We noticed the countertops in this space tell the same story….honed white marbles are a perfect balance of cozy and weathered elegance. The marble in this space is actually not from Italy as you'd expect, but a white Brazilian marble named Aspen White.
No material is more versatile than the white marbles.
The design in the Screen Door restaurant couldn't provide better proof. Only this material could carry pink tiles, green sinks, modern lights and cottage wall paper all in one space.  Many different design elements are all brought together by the classic look of grey veined marble.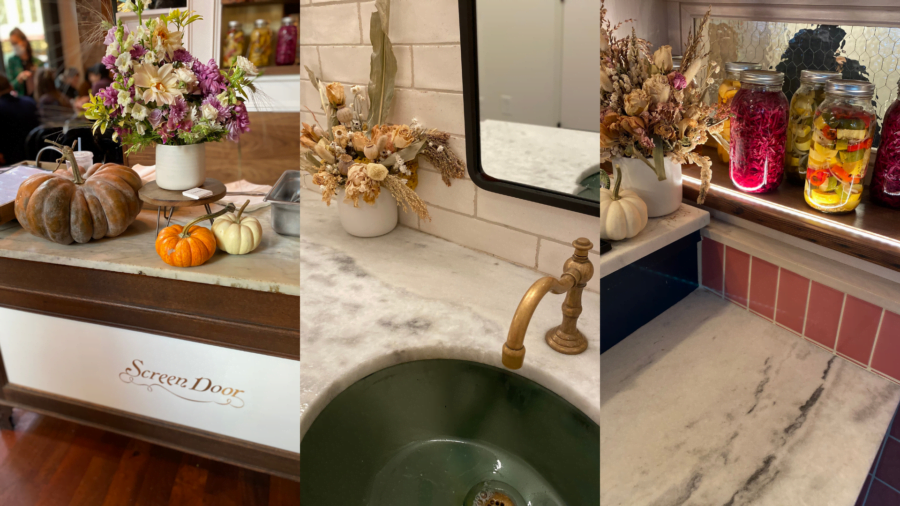 The bathroom countertops are the same honed marble as the main dining room and they serve as a backdrop for the pop of green found in the sinks, aged brass hardware and artisanal subway tile.
Don't let the lines intimidate you i
f you decide to do brunch at Screen Door (dinner here is also fabulous!).
When the line starts to move, they get you seated very quickly and efficiently. Once the dining room and outside seating become full, they will put you on a waitlist. There is no better spot to wait for a table.  The restaurant is surrounded by great shops and Powell's Books… of course you can easily kill 30 minutes getting lost in the City of Books!
We recommend you come hungry and you eat with folks who like to share so you can taste all of their "must haves". The sweet potato waffle and chicken is the perfect mix of crunchy, sweet and savory.
Don't miss the praline bacon. It's sweet, salty, spicy and crunchy…a true carnival on the palate! The bananas foster French is so satisfyingly sweet and if you sit down starving, the cream cheese cinnamon roll is the perfect thing to share as you peruse the menu. 
We certainly hope you will try this special spot, you won't regret it. And if you do go, don't forget to notice the gorgeous countertops that help create this beautifully designed space.