Love is in the air!
It's that time of year again where everything seems to have a heart shape and the grocery stores are filled with everything chocolate, February is almost here and we can hardly believe it. In the spirit of the holiday ahead, we thought it was a great time to share some quartz countertops and tile backsplash pairings! 😉
Tile is a popular choice for a backsplash, and we have a large selection to choose from in our showroom. It can be overwhelming for the average homeowner to look through tons of options, so here are a few of our designers favorites paired with some of our most popular quartz colors.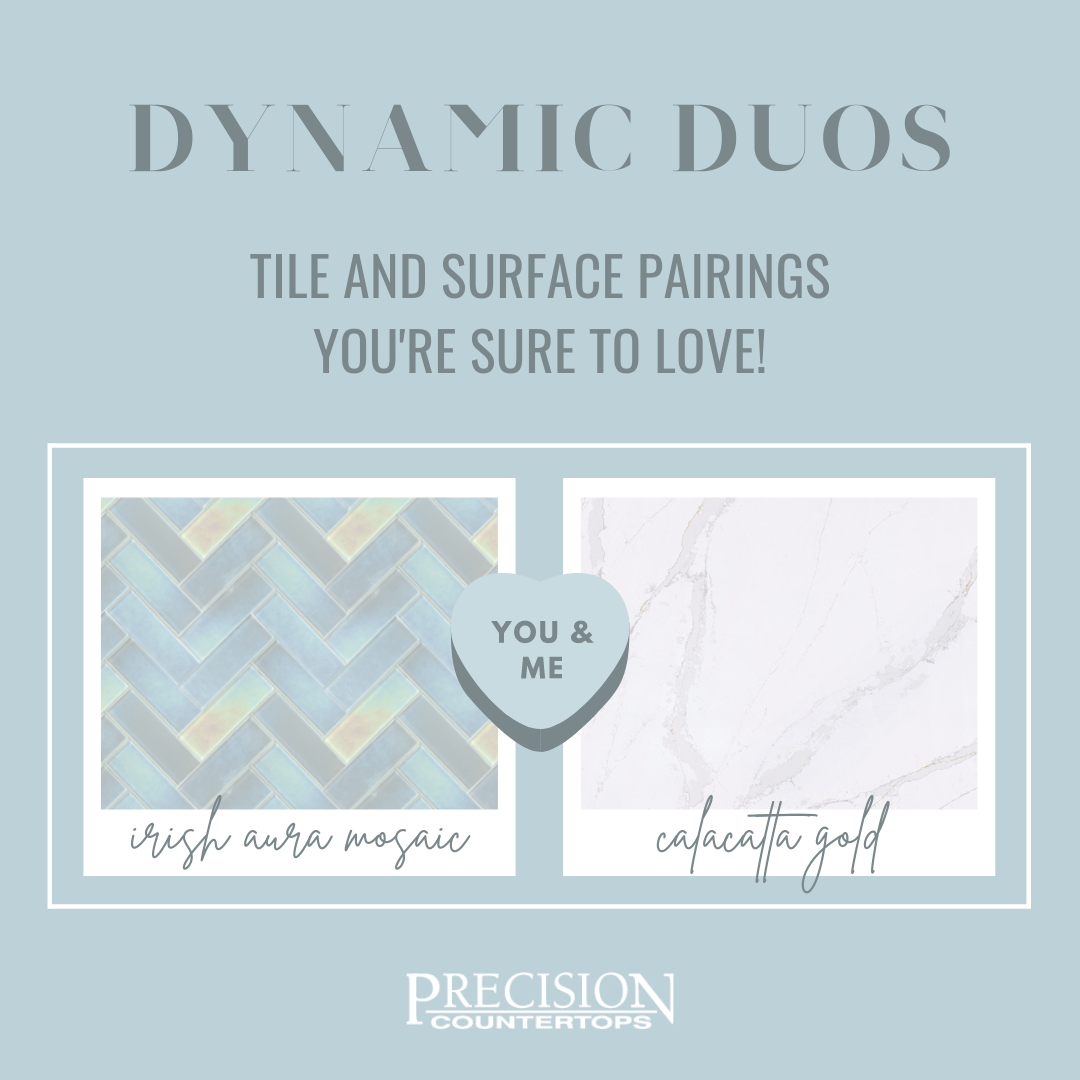 Irish Aura Mosaic Tile and Calacatta Gold Quartz
Calacatta Gold is patterned with a blueish and grey vein plus golden shades, making it one of the most desired stones we fabricate due to its elegance. We paired it with this fabulous iridescent tile from Emser, in the shade Irish Aura.  This tile is a striking glass mosaic in a fashion forward, large-scale herringbone pattern. The glossy finish and cool color palette enable elegant design opportunities and pair perfectly with the blue tones in Calacatta Gold.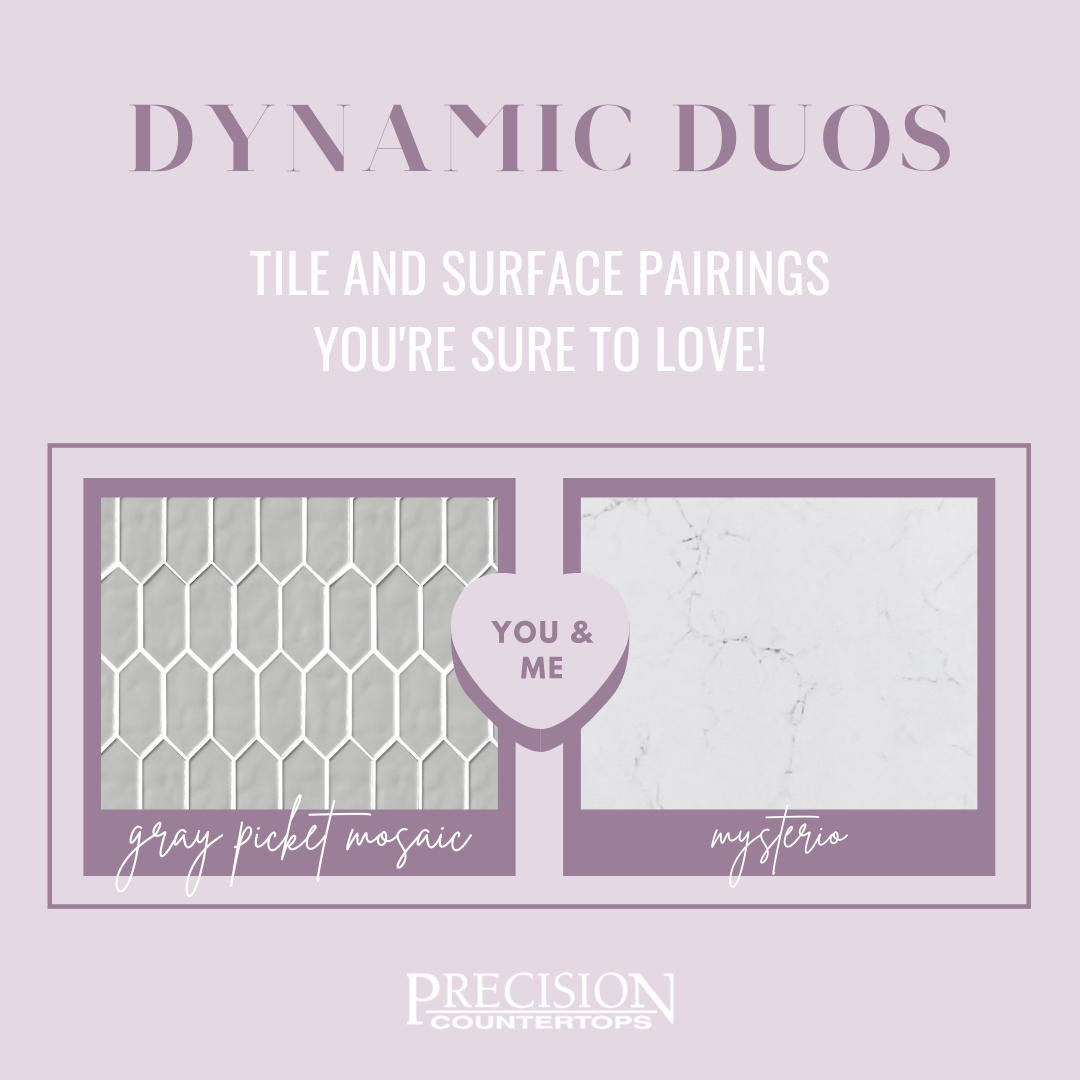 Gray Picket Mosaic Tile and Mysterio Quartz
A brighter alternative to other gray tones with soft movement and delicate veining, we love Mysterio for it's natural appearance. Our design team paired it with this gray picket style mosaic for a modern yet classic look.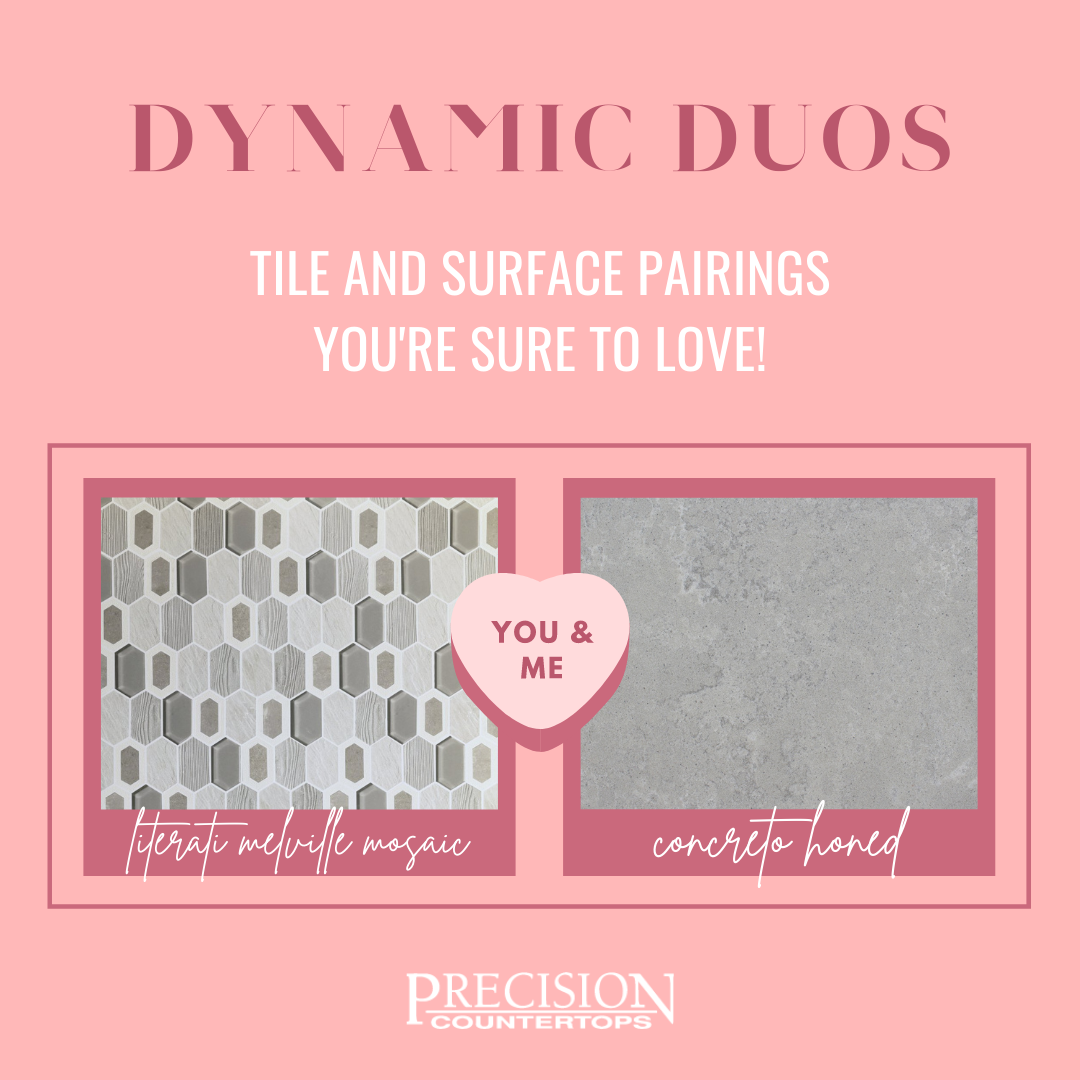 Literati Melville Mosaic Tile and Concreto Honed Quartz
Honed quartz have a soft sheen and a more natural, less formal aesthetic. Honed quartz countertops are ground to create smooth, flat, and consistent surfaces with no bumps or ridges and have little to no reflection. Many homeowners prefer a matte finish to reduce the reflection of overhead lighting elements on their countertops and evoke a more relaxed, casual vibe.
This is the case with Concreto Honed by Pental, which is a light grey shade with some limestone movement. This industrial yet simple stone allows for an exciting backsplash choice, which is exactly the case with this literati hexagon mosaic tile!
Passion Crema Gloss Subway Tile and Clarino Quartz
Clarino is regal and polished, sharp and sophisticated. A warm white background is elegantly contrasted with a chorus of gold toned veins, making for a concerto of subtle shades. This color exhibits increased movement and variation of color and pattern and is the perfect match for a simple and handcrafted subway tile to compliment it's veining. 
We hope a few of these "couples" gave you some inspiration to refresh a kitchen or bathroom this spring! Something as simple as a new backsplash or surface can breathe new life to an otherwise dated kitchen (for more on that, click here) and create a space you love. You can browse our tile selection in our showroom, or with the help of a complimentary digital design appointment.