Although the powder room is technically listed on the realtor specs as a half bath… it's really so much more.
It's not only a bathroom for company, it's a spot you can unapologetically stamp with your personal style.
No matter it's diminutive size, this room can pack a big design punch. It also offers the perfect place to stretch outside your design comfort zone.
Here are five powder room design tips that will have your guests buzzing about the great party and the bathroom!
Powder Room Design Tip #1: Choose One Dominant Element
Choose one dominant element. The powder room is where you want to to implement bold patterns, get brave with color or go for graphic floors…but not all at the same time. Choose one star and build the rest of the room around it. 
Remember that you can choose higher end finishes for your powder room since you aren't covering a lot of real estate. Can't afford to use silk wallpaper for your whole dining room but fell in love with the pattern? This is a great place to install it since it will be easier on your budget.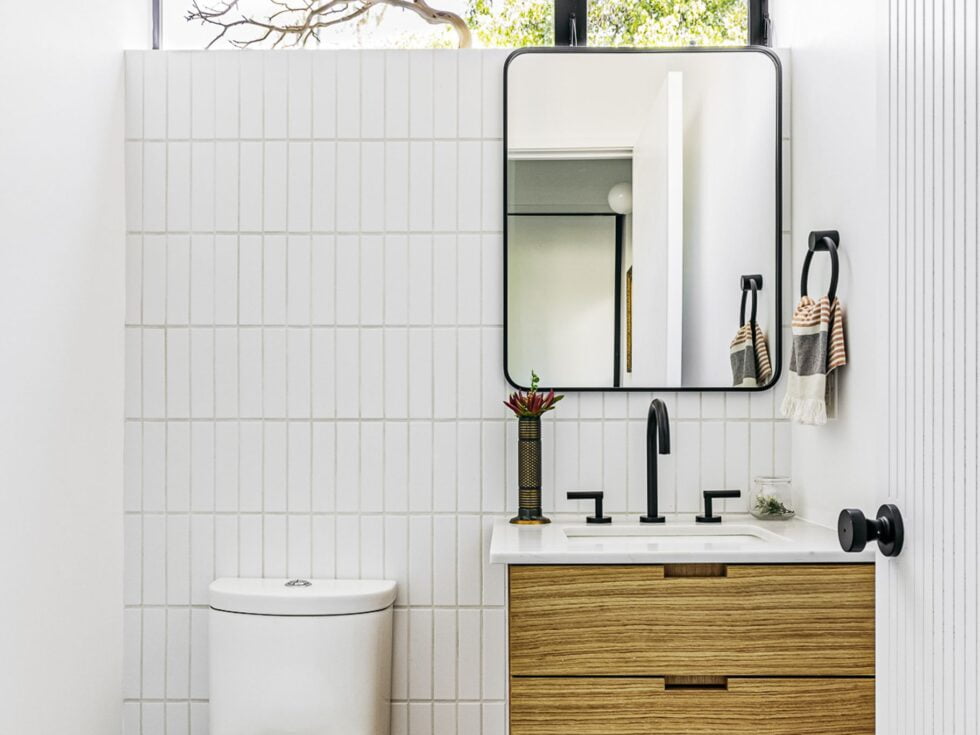 Powder Room Design Tip #2: Use One Metal Finish
Of all the times we've mentioned that mixing metals is ok, this small space really can't take more than one finish. They don't have to match perfectly, but they should blend enough that they won't bother the eye.  Brass finishes that have a slightly different patina will pass but certainly don't use chrome light fixtures with an aged bronze faucet.
Also Read: White Countertops Pop In This Modern Bathroom Remodel!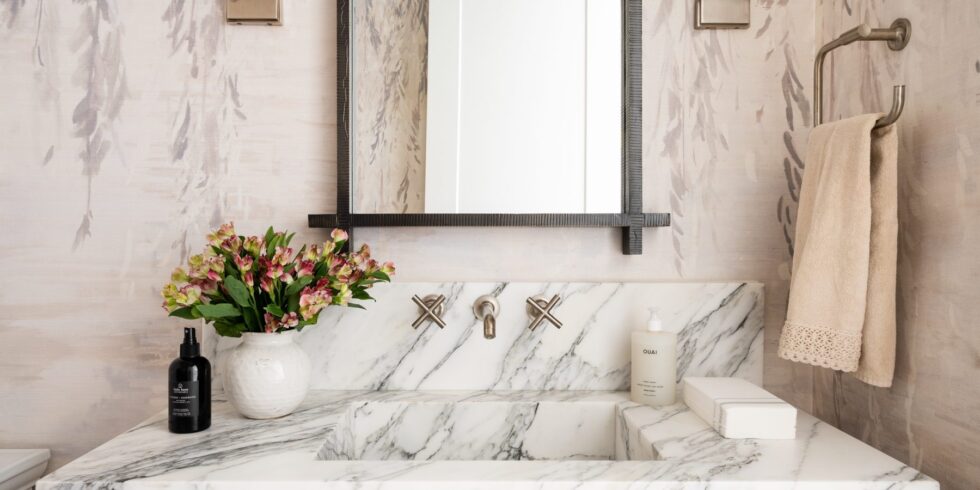 Powder Room Design Tip #3: Use a Large Mirror
No dinky mirrors allowed! The larger mirror will amplify the space, making it feel roomier.
There are so many fun mirrors out there and this is where to use them. Some of our favorite sources are Serena and Lily, Wayfair, Lulu and Georgia, and don't forget Home Goods – always a treasure to be found there!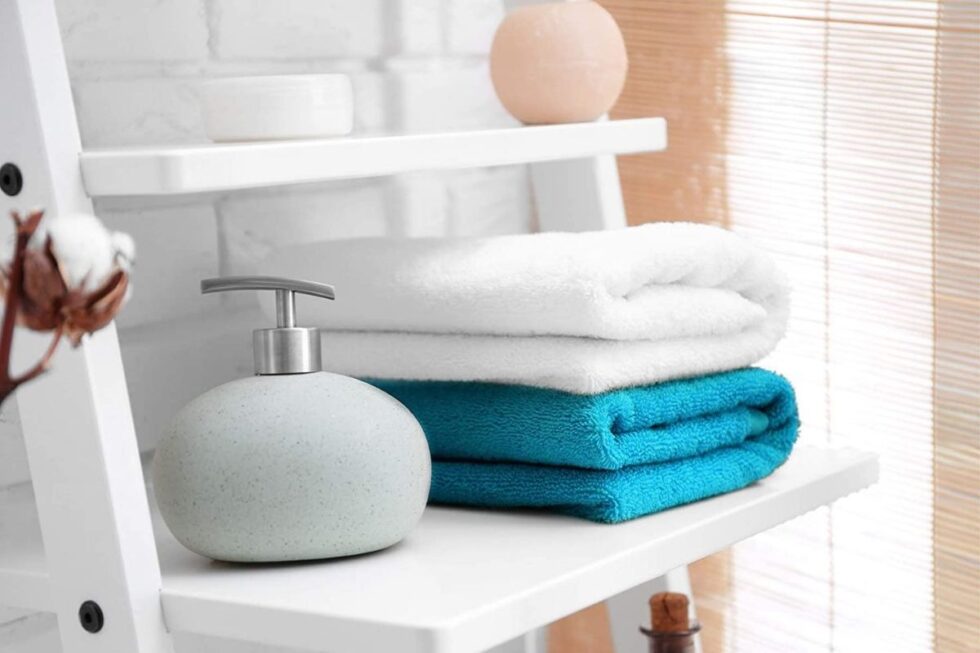 Powder Room Design Tip #4: Ditch the Single Hand Towel
Ditch the single hand towel when you are entertaining guests. No one wants to use the same towel as everyone else.  Towards the end of the evening, it can be hard to find a clean spot to dry your fingertips on. We recommend offering separate washrags rolled up on a tray or basket for guests to use one time. There are also beautiful disposable hand napkins available that can match your powder room decor.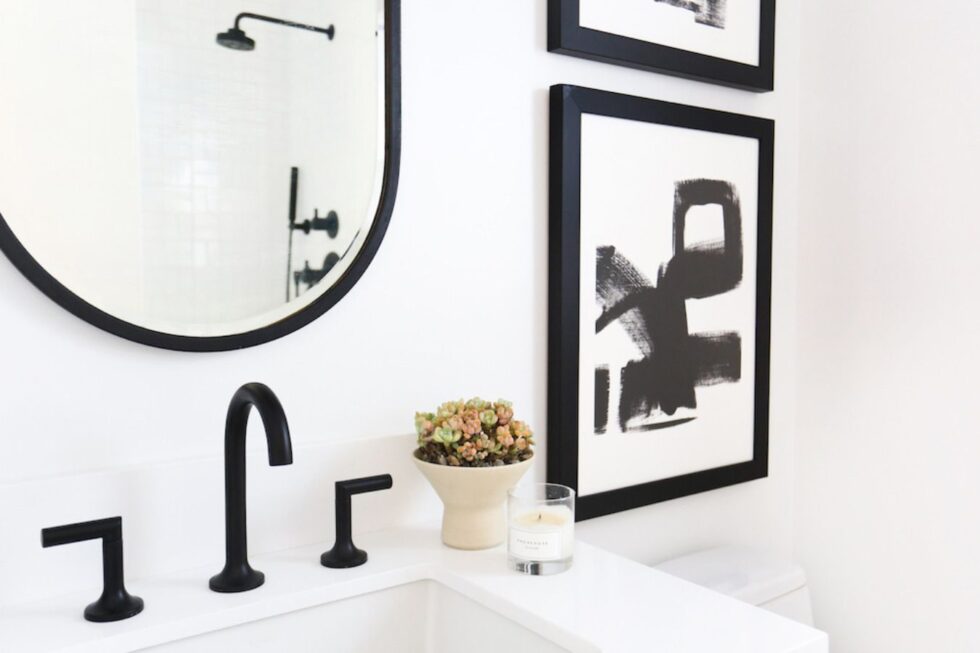 Powder Room Design Tip #5: Proper Lighting
This room needs extra attention to detail when it comes to lighting. Lighting is key in this small space as no one wants to powder their nose in bright white light. Be sure and purchase the right type of light bulb that will offer a warm glow for your guests. 
Let's Talk About Your Powder Room Project
Powder rooms are so much fun to decorate and our showroom designers love helping clients pick out dynamic finishes. Visit our showroom and browse our remanent area… smaller pieces at a discount!