Laminate has had many transformations in American homes, and it's an essential part of our company's history in the Pacific Northwest! Here is a brief history of this durable and once top-of-the-line surface!
What Is Laminate Made Of?
When we think of laminate, why do we think of America in the mid-20th century?
Initially, laminate was made purely with phenolic, which could only produce a caramel brown-colored finish.
It wasn't until 1938 — following the invention of a new kind of resin, melamine — was laminate engineered with a top layer of colored paper.
Melamine bakes or "flows" to create a hard, clear topcoat finish. It also bonds and protects the decorative paper layer beneath.
This important invention made the brightly colored laminates we associate with kitchen countertops of the 1950s possible. It also opened up a new world of design possibilities for American kitchens and bathrooms.
Laminate Becomes Available to the Public
Laminates were not marketed to consumers until the end of the 1940s, after the Second World War. Partly due to the state of the American economy in the late 30s.
Consumers ate this new "modern" material up. Laminate became popular in commercial settings, such as diners and bars, and in the home as dinette tables, cabinetry, and countertops.
However, the popular "boomerang" Formica pattern marked the company's pinnacle. It was originally called Skylark.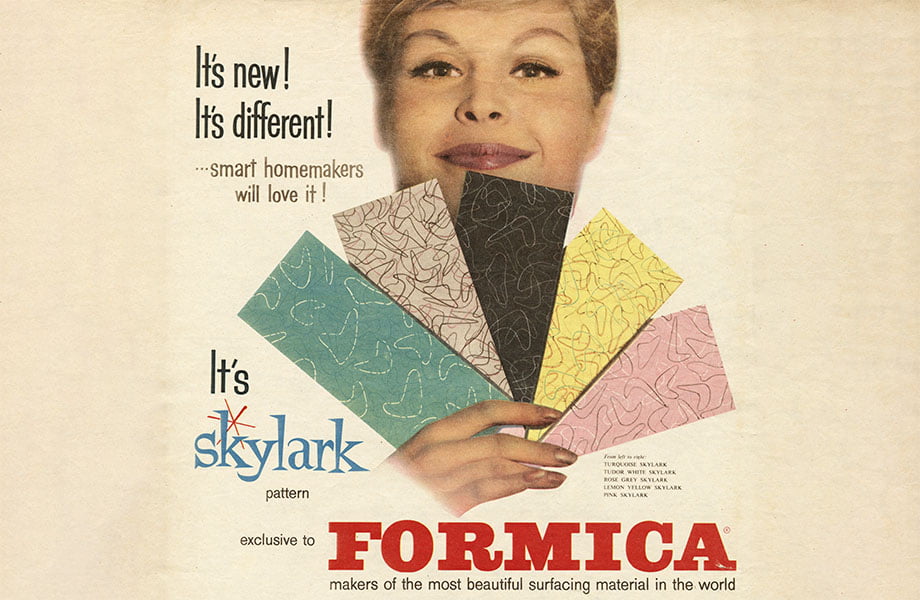 Laminate Became a Modern Marvel
Laminate was bright and cheerful, impervious to stains, easy to clean, and never required polishing. 
Think about the other materials used for the same purposes: 
Marble was porous, stained, and cold to the touch. 

Wood scratched, stained, and required polishing. 

Linoleum scored, stained, and yellowed with time and sunlight.
Also Read: Countertops 101: A Breakdown of What's What in Surfacing
Laminate Today Compared to Laminate in the 1950s
Laminate today is produced in the same way as in the 1950s, with some differences.
In the 1950s, laminate had a higher percentage of polymer (phenolic and melamine) resin. The exact percentage is unknown, but the mid-century laminate was around 40% to 50% polymer depending on the grade.
Mid-century laminate also has a different feel than today's laminate. It is more oily and slippery. Part of this texture is due to the finishing technique.
In today's laminate, the paper-to-polymer ratio makes for a stronger material. Some say gram per gram laminate may be as strong as steel.
Transform Your Kitchen with Laminate
If you want your new kitchen to look like a diner, Boomerang is still available (though Formica itself only offers a charcoal color!)
However, if you want something more modern for your space, browse our selection of modern day laminates.