We have a perfect way for you to embrace the cozy flavors of fall with this simple one-pan meal that will leave everyone in your family asking for seconds. This meal couldn't be more simple to whip up during a busy weeknight and the clean-up is a cinch!
This fall-inspired recipe is not just a time-saver (thank you Trader Joe's!)— it's a celebration of the vibrant colors and flavors that define this magical season. With the nutty sweetness of sweet potato gnocchi, the robust taste of chicken sausage, and the delightful crunch of roasted Brussels sprouts, this one-pan meal offers a delightful medley of textures and tastes that evoke the essence of autumn. Enjoy!!!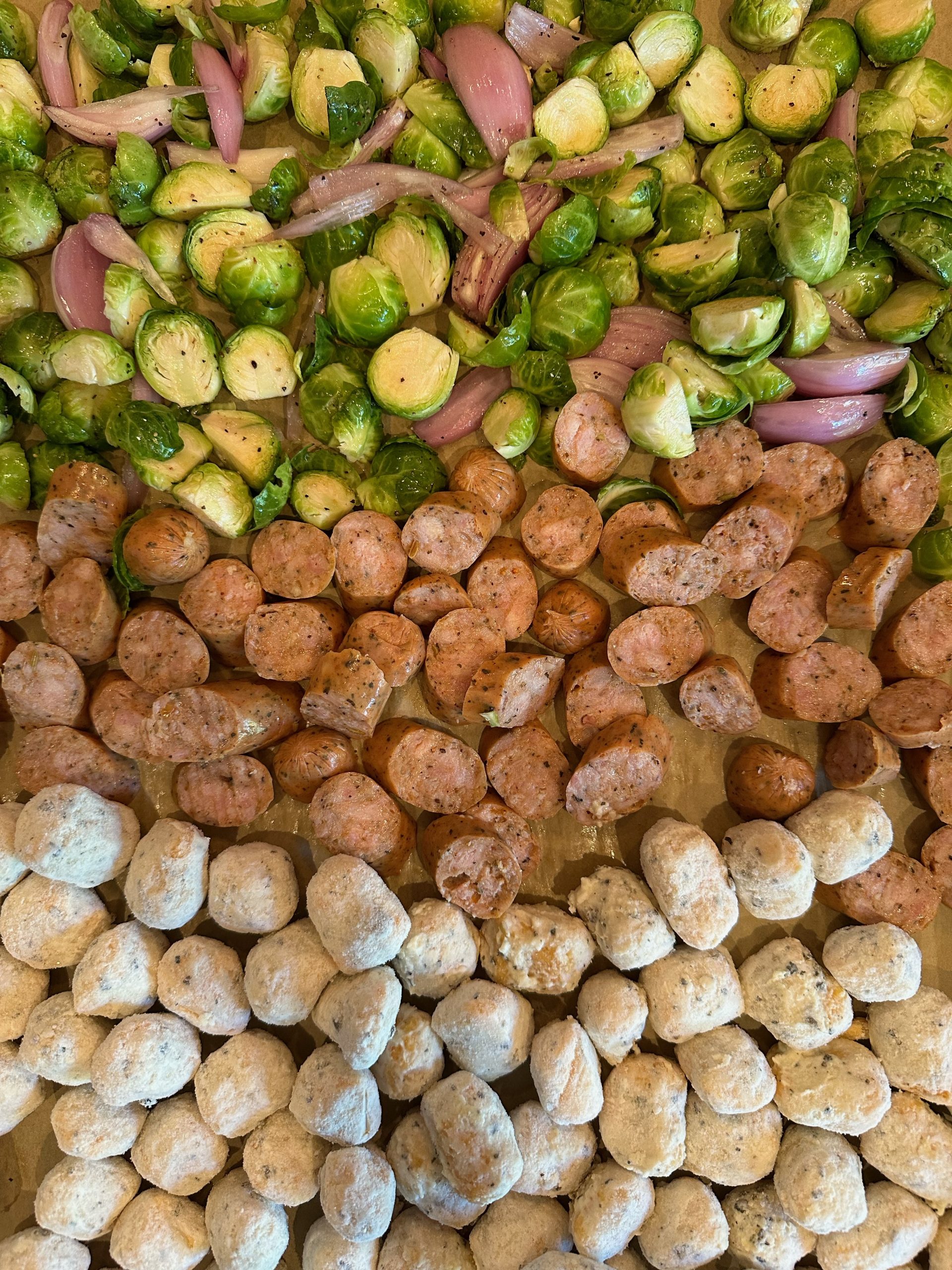 INGREDIENTS
1 lb. bag of Brussel sprouts, trimmed and halved
1 tbsp + 2 tsp olive oil, divided
1/4 tsp garlic powder
2 tsp maple syrup
3 shallots peeled and diced.
salt and pepper to taste
1 (12 oz.) package Trader Joe's Sweet Italian Chicken Sausage, sliced
2 bags Trader Joe's Sweet Potato Gnocchi
1 cup Trader Joe's Quattro Formaggi (Italian blend of Parmesan, Asiago, Fontina and Provolone cheeses….sooo delicious!)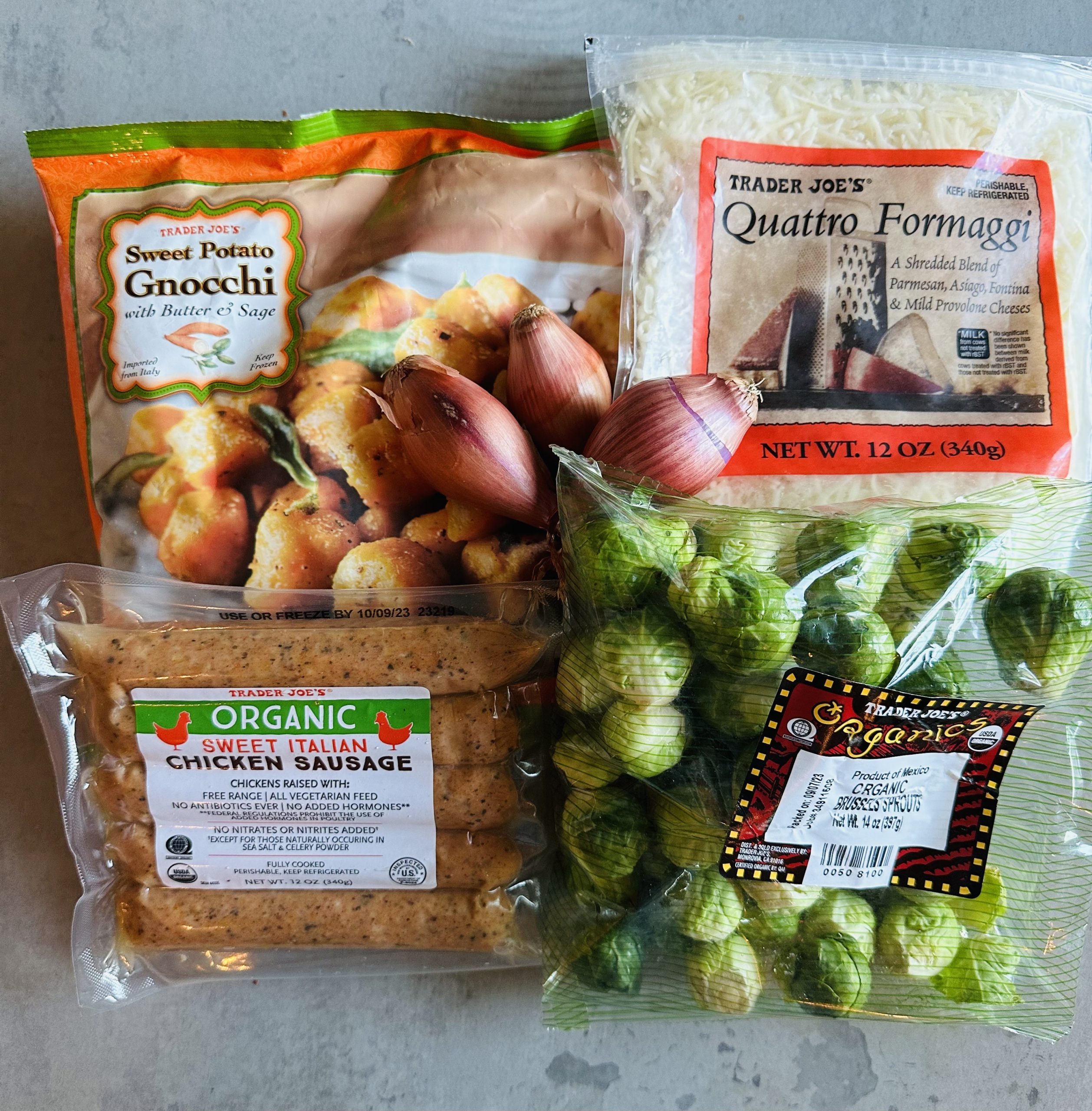 INSTRUCTIONS
Preheat the oven to 425 degrees Fahrenheit.
Line a large baking sheet with parchment paper or foil.
In a mixing bowl, toss the Brussels sprouts and diced shallots with 1 tbsp of the olive oil, garlic powder, maple syrup and salt and pepper. Mix up well. Arrange on one side of the baking sheet in a single layer.
Add the sliced chicken sausage to the baking sheet in a single layer.
Next, empty the bags of sweet potato gnocchi in the remaining portion of the baking sheet. Drizzle the gnocchi with the remaining 2 tsp of olive oil.
Bake for 22-24 minutes.
Remove from oven and quickly toss and then sprinkle Italian cheese evenly on top of mixture. Put back in the oven for another two minutes or until the cheese is melted.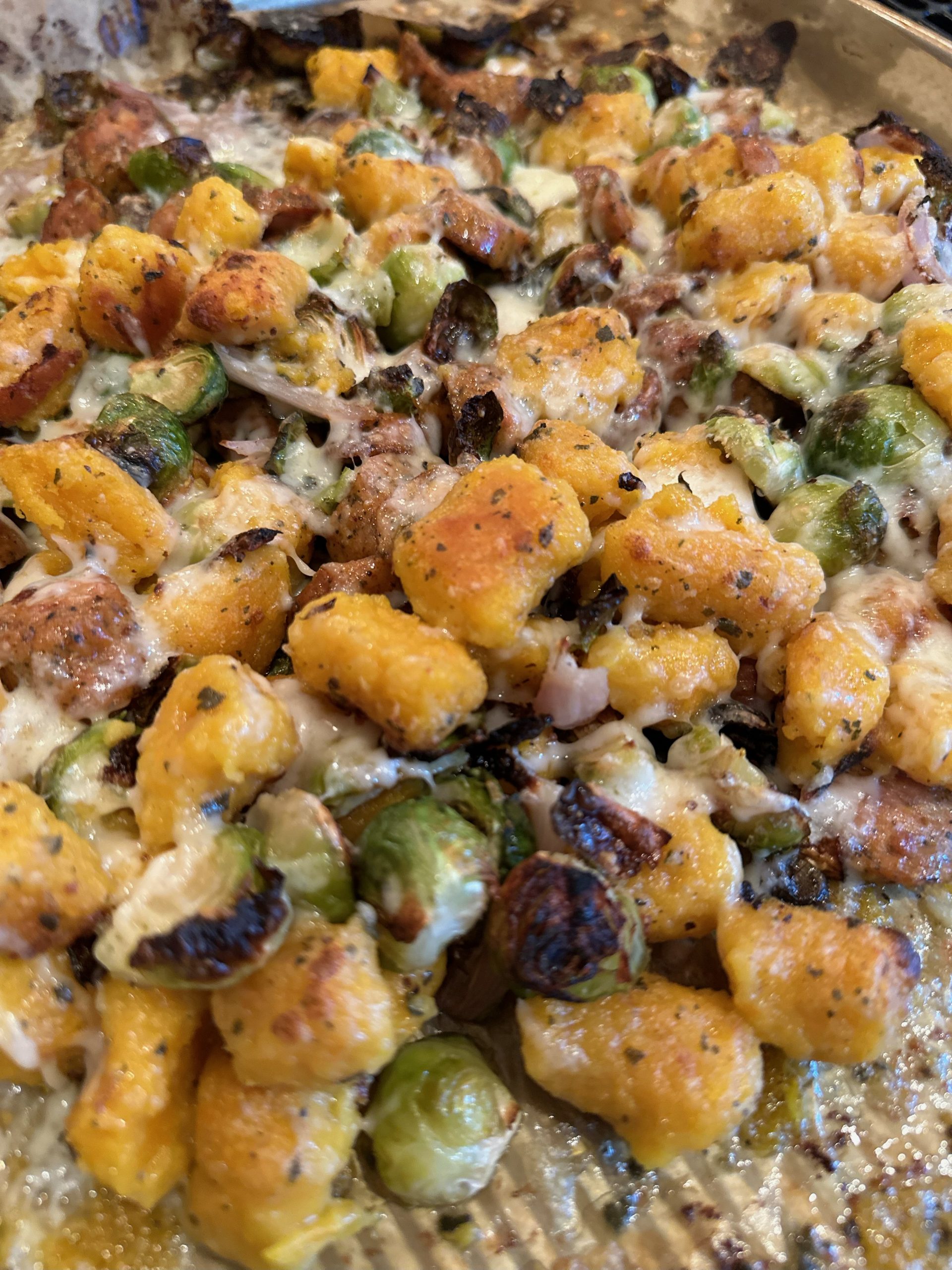 Don't be afraid to make this your own…it's a very forgiving recipe.
Don't love it so cheesy? Cut the cheese down to a half cup.
Don't want as much starch? Just throw one bag of sweet potato gnocchi on the pan instead of two!
Also, be sure and use the largest sheet pan you own, the more space the ingredients have the more evenly they will cook and crisp up!
We promise…this is the ultimate weeknight sheet pan meal the whole family will love!