Building a dog wash station? Here's what you need to know!
Dogs are wonderful. Not only are they loyal companions, they fill our homes with unconditional love and unfortunately….. a whole lot of dirt.
If you own a dog, chances are you have dreamt of having your own dog wash station in your home.  We are seeing an upwards trend in these stations and they are now common place in new construction projects.
What is a dog washing station?
A dog washing station is designed to elevate your dog so you can quickly and easily soap and rinse them which makes bathing much faster and easier. They are particularly practical in the Portland area. Not only are we living in the land of mud, we were also recently named the nation's most dog friendly city.  How nice would it be to bring your pooch directly in from a muddy walk right into a dedicated shower to rinse them off? 
Basics of a good dog washing station.
Splash Control – As all dog owners know that dogs shake, so you will want to be sure your dog wash station has waterproof surroundings.
Hot and Cold Water Supply – Dogs like warm water better than cold and it cleans better so you'll need a faucet with a hot and cold water supply.
Drainage and Plumbing – You will need to connect your dog wash station to your main drainage line. Also, it's recommended to use a larger drain than a standard shower drain to handle more dirt and hair.
What to know before you build a dog wash station.
As you start dreaming about adding a dog wash station to your home, there are a few important things to consider before designing this new space.  
Choose the dog wash station location
Where is the best place in your home to place the dog wash station? The best spots in your home are usually in a laundry or a mud room, especially if your new shower will be used for other purposes like washing off muddy boots or clothes. Be sure the location has waterproof surroundings. If your dog shakes, you don't want to compromise the grasscloth wallpaper you've just splurged on! 
If you don't have enough space to add a shower in the mudroom or laundry, you can also consider the garage as another option. One benefit of using your garage is keeping all the dirt and grime out of your main living space. 
Determine the elevation of your dog wash station
To elevate or not to elevate? You have a choice at the height of your station. If it's elevated to hip-level, it will be easier on your back and shoulders. If you are using this space as a dual purpose, such as watering flowers or rinsing clothes, this height would be ideal. This would be exclusively for smaller breeds that can easily be lifted, unless you have a large dog that is comfortable walking up a ramp. 
A floor shower also has some benefits. If the design is a walk-in plan, it can double as a human shower. Another bonus of a floor level shower would be placing their feeding bowls in the shower area to keep spills off of the floors in your home. If you have a large dog, this choice would be ideal for their safety as well as yours.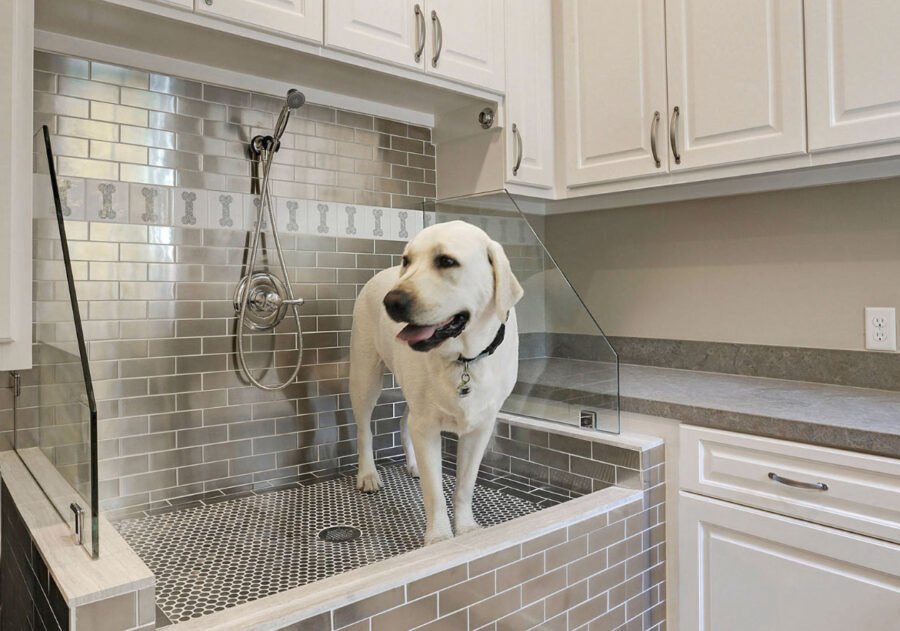 Consider the cost and value of adding a dog wash station
Before we talk about the cost of adding a dog washing station to your home, let's talk about how much value it adds! According to a study done by Zillow in the Denver area, it can increase your home's value up to 19%. If you are looking to sell in a tough housing market, a dog wash station will definitely set your home apart from the rest. 
According to our research, a dog wash station can cost anywhere between $2,500-$5,000 depending on the plumbing needs of the space as well as the materials you choose. If you decide to go the DIY route, the cost can be as low as $1,700.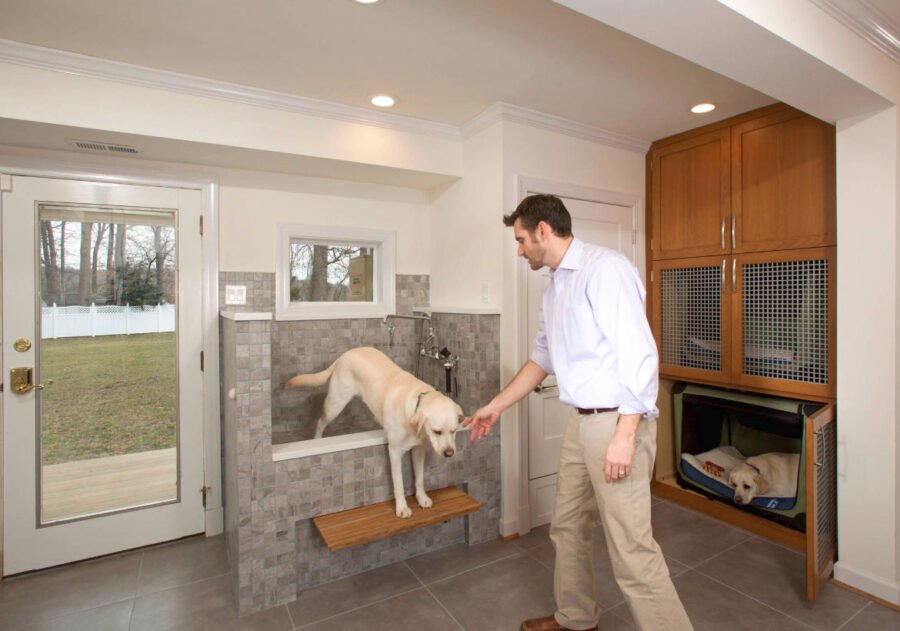 Plan the dog wash station design & set up
There are some elements that are helpful to incorporate into your dog washing station design.  Be sure and invest in a hand held shower that's comfortable to use as well as having different pressures and streams. Have a towel bar nearby as well as shampoo shelves built into the space. You will have your hands full, so a pump action shampoo dispenser hung on the shower wall would be ideal. Also, don't forget to add an eye hook to the wall of your shower to tie your dog to if he or she is prone to bolting when the water turns on. 
If you are already investing in this new area, it would be a great idea to also add storage space for dog toys, medicine, food and leashes. So convenient to have all of these items in one place.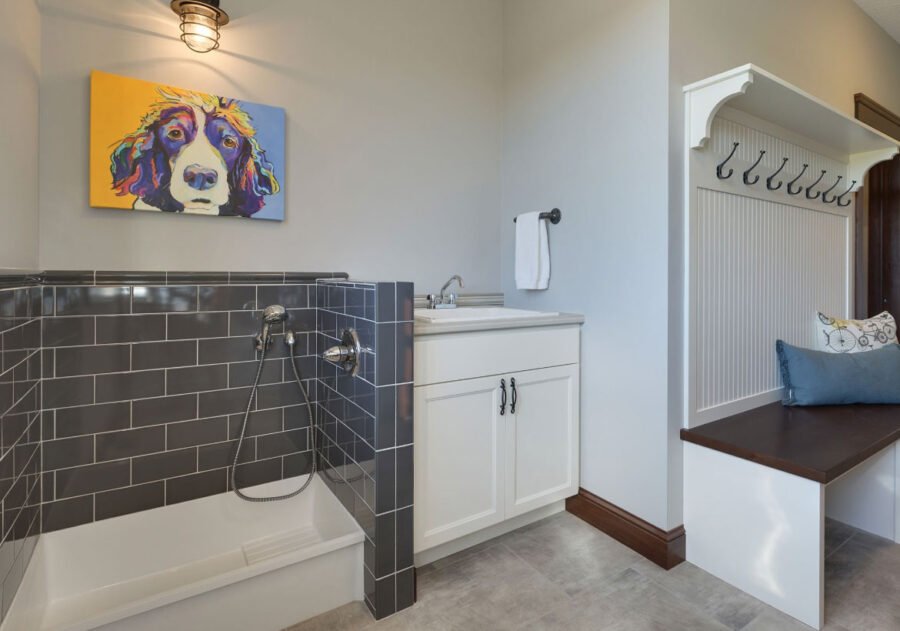 Practical things aside…let's talk tile! There are so many fun elements you can add here. Tile can be set to incorporate dog paw designs, their names or simply, "woof". Much like a powder room wall, the tile that surrounds the dog washing station can be fun. Instead of stark white tile, consider color or patterned tile…better to hide the dirt!
Houzz and Pinterest are full of inspiration…get creative dreaming about this dog wash station that will add so much ease, fun and value to our home.