Carrara vs Calacatta Marble
Marble has a timeless appeal, providing an elegant and sophisticated feel.  Available in a polished or honed finish, it is many people's choice for a high-end look. Marble also has two popular variations, Carrara and Calacatta. Both are beautiful, and unique in their own ways. Want to know the difference? We're breaking it down so you can find the perfect marble for your countertops.
History of Marble:
Marble is generally formed from limestone undergoing metamorphism. When exposed to extremes of pressure or heat, limestone turns into calcite or dolomite crystals, which are the primary materials in marble. Marble has a famous history. The ancient Greeks built their architecture, cities, and sculptures often from Pentelic and Parian Marbles, quarried in Greece. The Romans later used marble in their buildings as well, quarrying in the Greek spots and finding Roman marble quarries of their own. Marble is, in a lot of ways, what the classical and Hellenistic age was built from. This is one of the reasons people are drawn to marble for countertops and flooring.
Carrara Marble:
The easiest way to tell the two apart is to look at the veining. White Carrera marble tends to have "softer" veining. Another factor that differs between the two stones is the base color. Carrara marble tends to look less "true white" compared to Calacatta. In fact, White Carrara can be greyish when compared to Calacatta.
Calacatta Marble: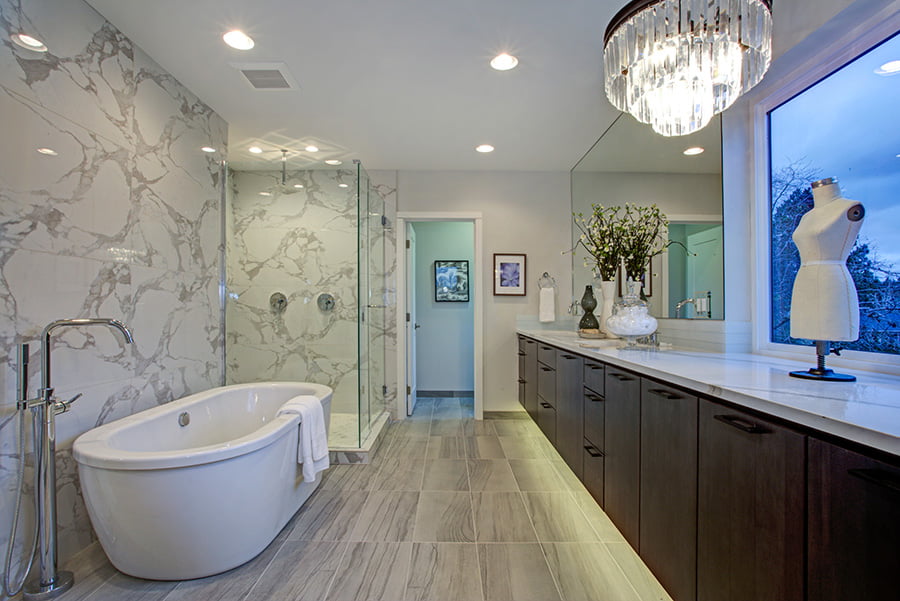 Where Carrara has soft veining, Calacatta marble contains very sharp and thick veins. Calacatta marble also tends to be whiter than Carrara marble. This is an important factor to note, because the whiter the marble the more valuable it is, which also means the more it may cost. Nevertheless, a great choice for countertops, flooring, and backsplash.
In conclusion, depending on your budget and style preferences both variations of marble will make an excellent statement to your home.