After Pantone proclaimed Classic Blue as its color of the year for 2020, this family of color continues to dominate design trends.
Blue is found throughout nature, and as you can see from this previous blog, nature herself is steering the wave of design these days. Blues bring peace, calm and serenity to a space. From the icy blue frost on a glacier, to the deep blue green sea to the dark navy in a star filled sky, all hues of the color blue delight us throughout the natural world. 
Popular Blue Cabinetry Options
Cabinetry is a great way to showcase a large pop of color. Although all shades of blue are being used in all sorts of different spaces, earthy tones are more popular for cabinetry. Navy blue, gray blue to sky blue..all shades have a place in today's modern kitchen. I looked through many sources for kitchen cabinetry paint color ideas, and I am loving every single hue this ensemble Domino magazine compiled in this article.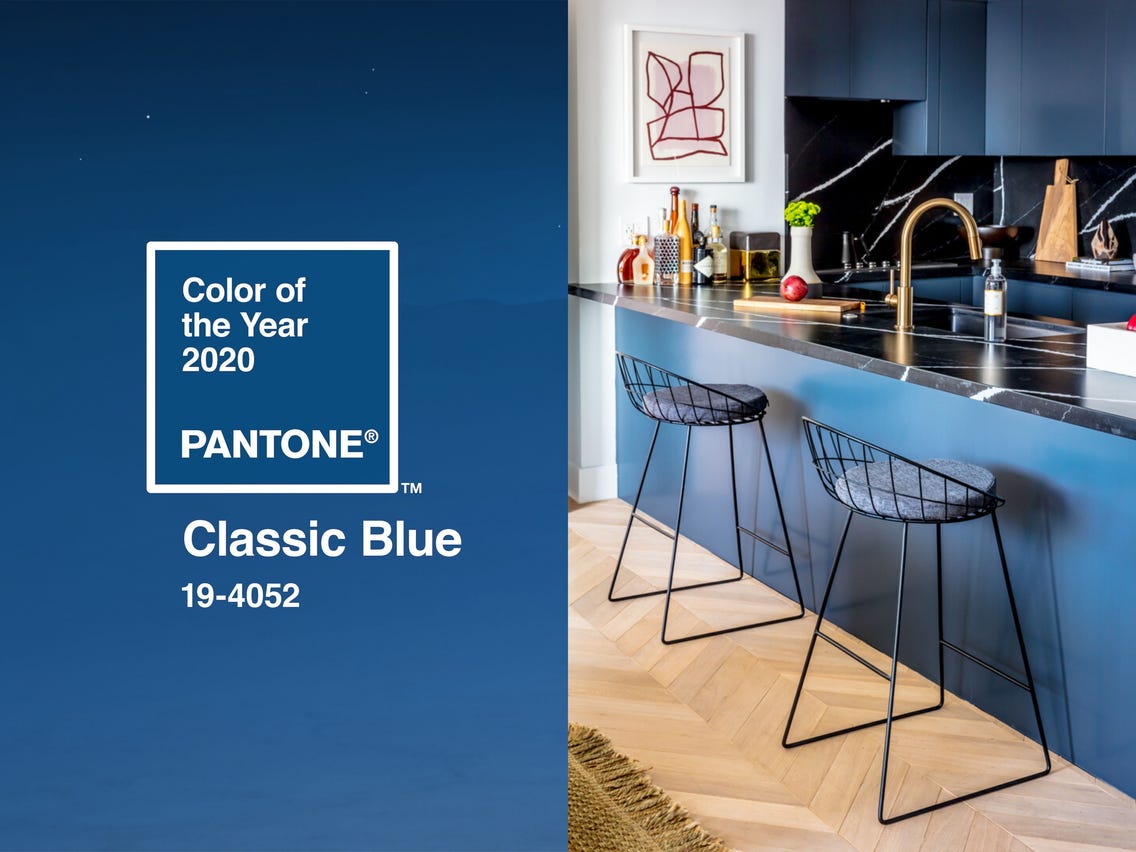 Countertops To Match Blue Cabinetry
Our designers are getting more and more clients coming through our showroom doors asking for materials that match these various hues of blues. We have some beautiful go to choices that help showcase the blues as well as blend in with them. 
First up is one of our top sellers, Rugged Concrete by Caesarstone. When placed against most any blue, the smaller flecks come alive. Rugged Concrete can play alongside cool and warm tones and even the trending darker, navy blues. It will bring weight and depth to the buoyant, airy blues and will lighten up the deeper navy tones. 
Besides making a great marriage with your cabinetry, it is nonporous and incredibly dense and hard. This makes it both stain and scratch resistant. 
Another popular option worth considering are the white Italian marbles and their quartz look-alikes.  They pair very well with the whole spectrum of blues. I had our designers pick out materials that are their top quartz suggestions. 
Viatera Encore is a "light cool gray with charcoal and white throughout the pattern" according to LG's website. This color can take warm or cool blues on and we love it in the brushed finish.
MSI Mara Blanca is another go to for our designers that compliments a blue palette. It has a lot of depth and movement with light grays and bluish/gray veining. The veining is smaller and random and wraps around gray negative space. 
Viatera Muse has an alabaster white background that's intertwined with dark hued veins. The vein pattern is more pronounced than Mara Blanca and reads slightly more blue. 
Viatera Ribera is an outright blueish gray quartz. While all of the above colors have gray or white backgrounds, this background is "a serene color that emulates the sea". It has short and long white veins.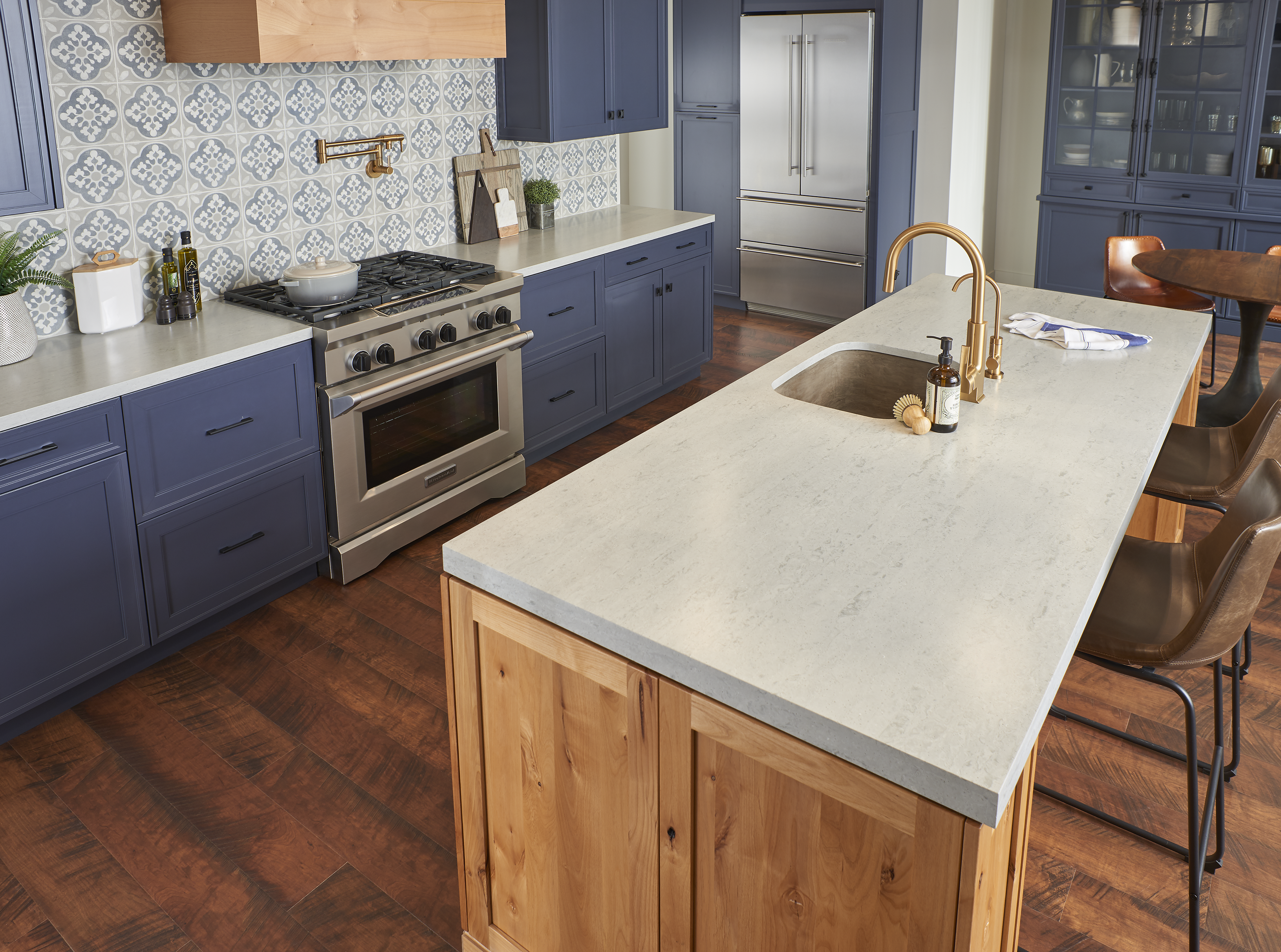 Blue Tile Backsplash
The blue tile we are offering in our showroom right now is absolutely beautiful. There are gorgeous selections that speak to any design dream you may have. There are icy blue glass tiles, deep toned earthy blue tiles and fun sea blue tiles…all in different shapes, sizes and materials. 
Depending on the mood you want to evoke in your space, the backsplash can either be the showstopper or take a subdued backseat. Here is where you can take more risks, as tile backsplash is much easier to trade out and compared to countertops or cabinetry, it's a less expensive investment. 
Here is a small sampling of colors and materials we have in our tile center.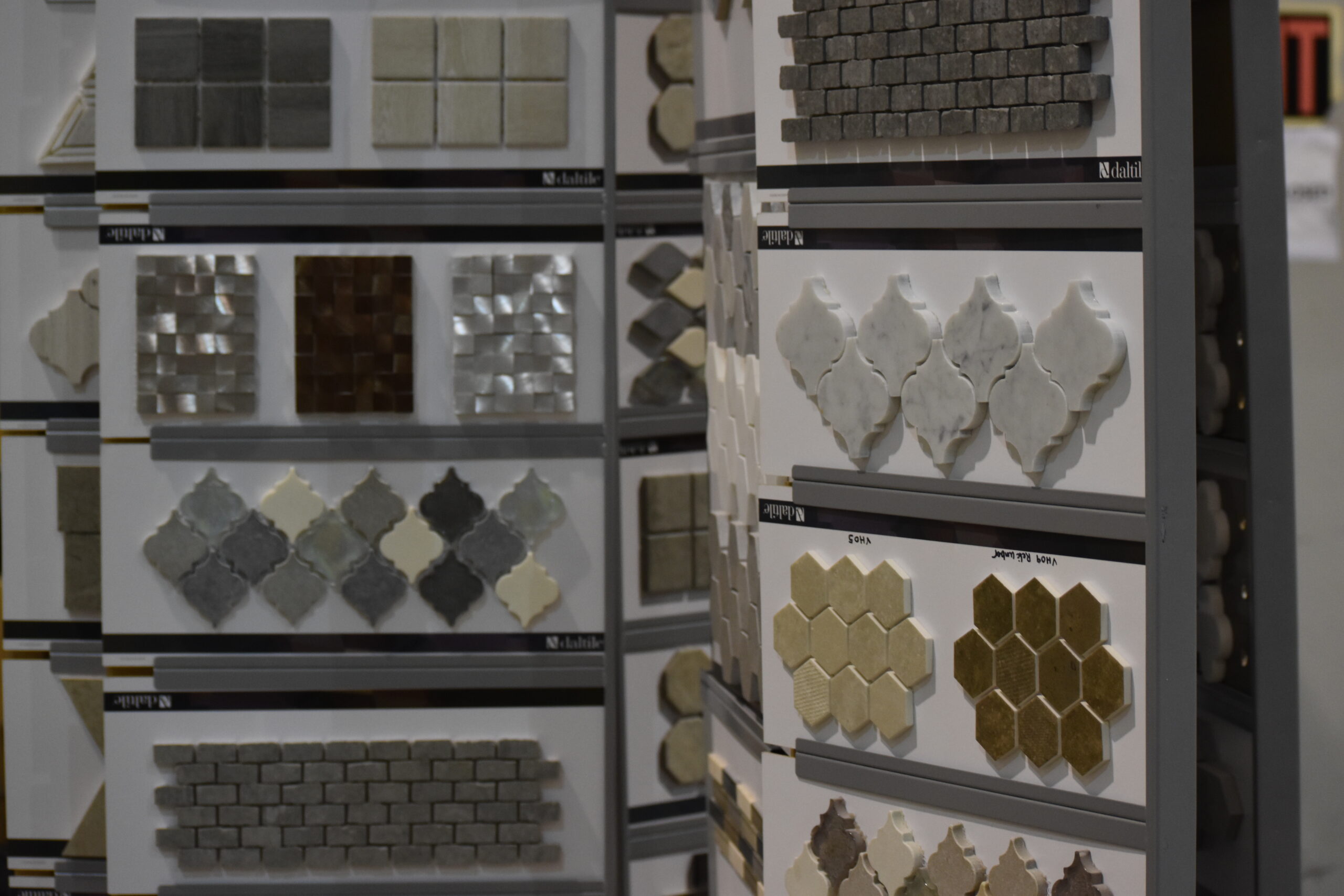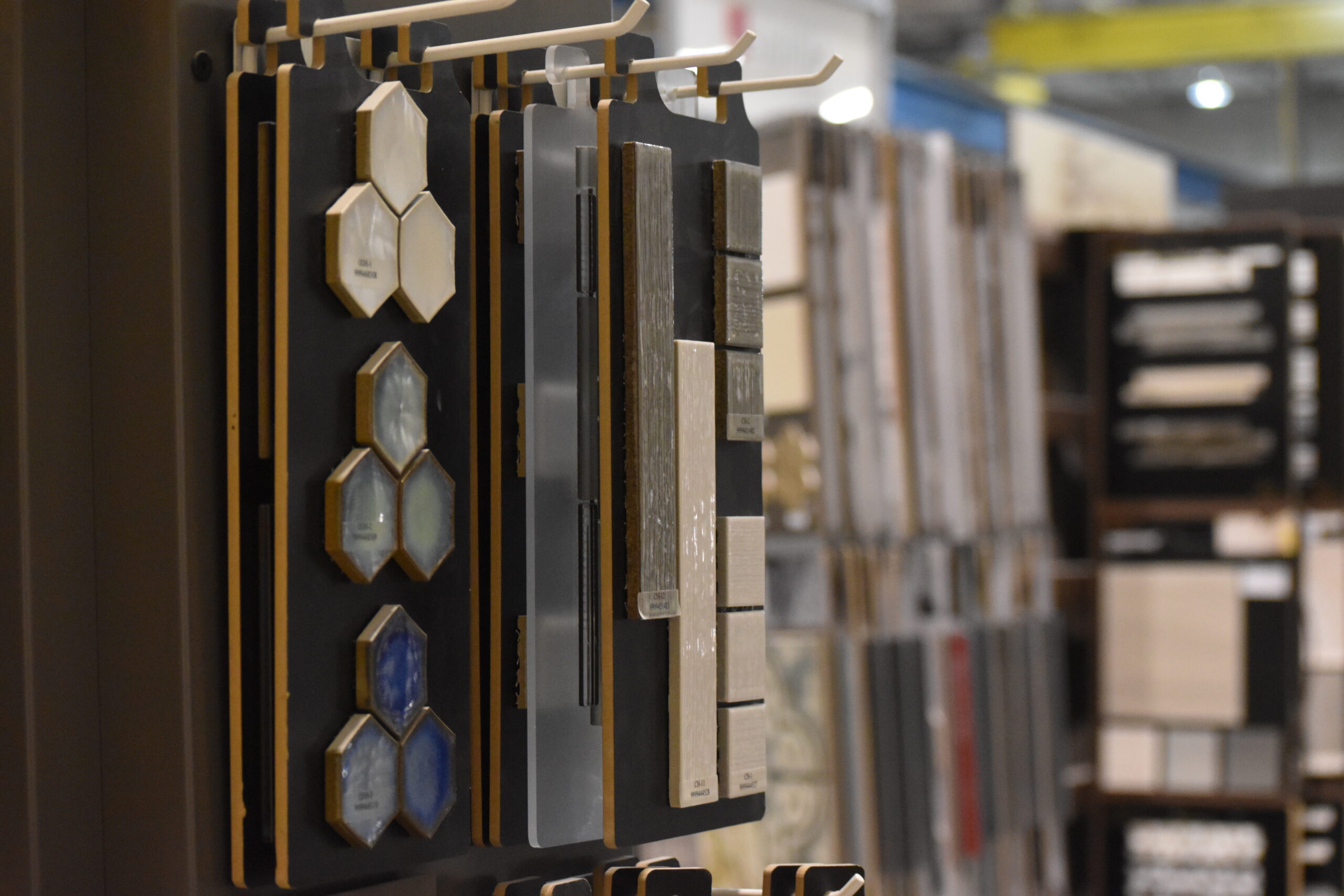 As you can see, there is a wide variety of different hues that all tell a different story. Some of the tiles are grounding and others are energetic. Some offer a quiet whisper of blue while others loudly proclaim themselves.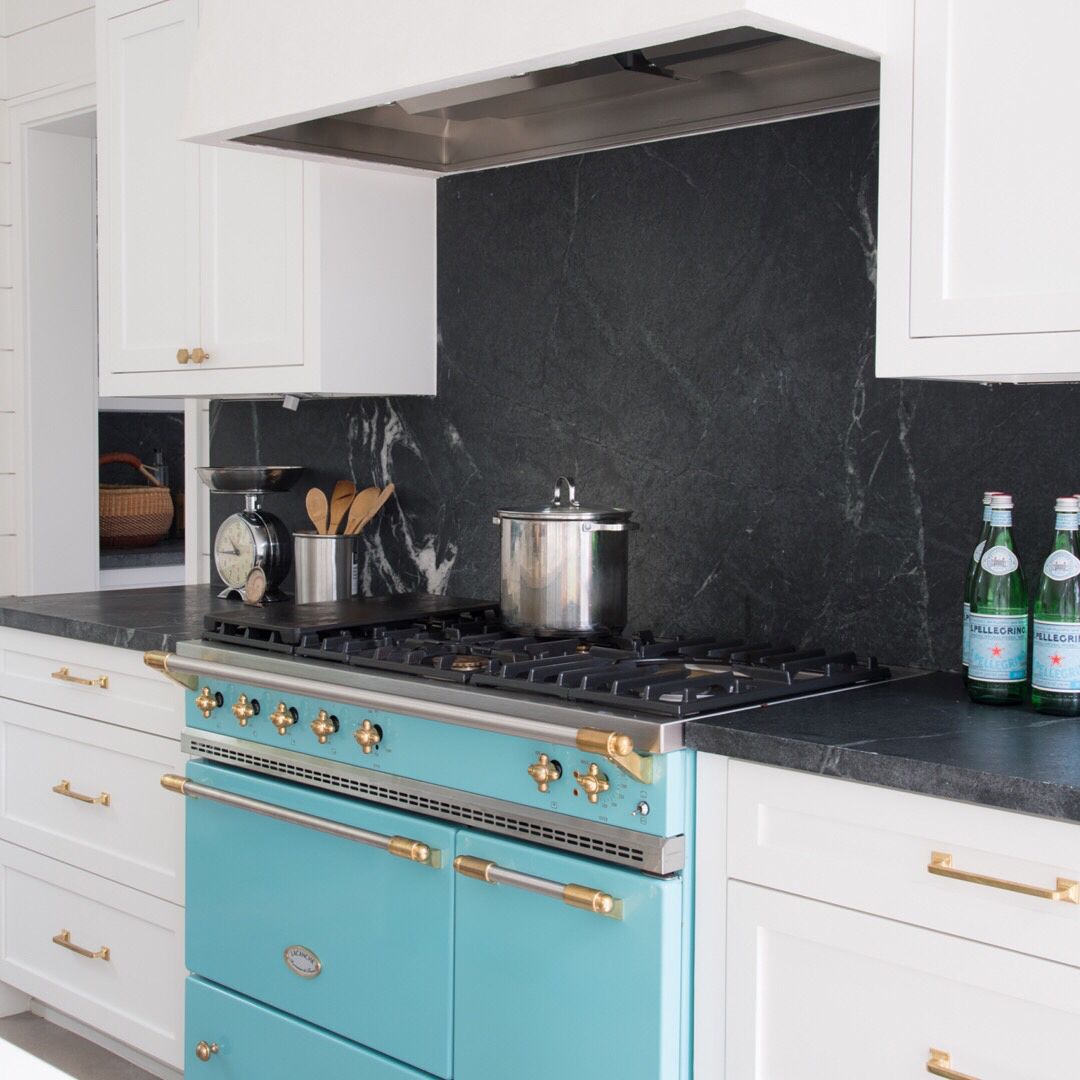 Other Ways to Bring in the Blues
If the thought of committing a big part of your project to one color makes you weak in the knees, there are other ways to add a pop of blue that's easier to change out. You could paint an accent wall or just the kitchen island blue. You also can add blue through a large vase (think blue and white Chinese pottery or a glazed blue cobalt vase) on the counter or even blue appliances.
Emily Holle of Pantone describes blue as "a sense of peace and tranquility to the human spirit, offering refuge. Aiding concentration and bringing laser like clarity. Classic Blue re-centers our thoughts." Blue certainly anchors us in these uncertain times but also adds a sense of fun and energy.  
Come visit us in our showroom to see for yourself the beauty of blue!