We say no…but adopt these tips to make any black and white design truly timeless.
Will black and white kitchens go out of style? This is the most common question that gets posed to kitchen designers from all over the world. The answer is definitively "no." However, there are tricks to making a black and white color palette feel timeless and relevant no matter what the hottest trends in kitchen design may be. 
Before we tell you our three ways to keep that palette timeless, let's discuss what not to do with a black and white palette:
First, limit the amount of shiny surfaces. High gloss black countertops with shiny white cabinetry will surely date a kitchen. If you layer this with even more shiny hardware like silver chrome, it will pick up an eighties movie set vibe. It's essential to balance the starkness of black and white with some softness and different levels of sheen. 

Another way to date an otherwise classic kitchen pallet is to overuse the black and white theme. Steer clear from using black appliances or infusing extra black and white decor or artwork. The use of black and white should be a subtle backdrop to show off other great design features of your kitchen. 
3 Black and White Kitchen Ideas
Here are three tips to keep your black and white kitchen a classic.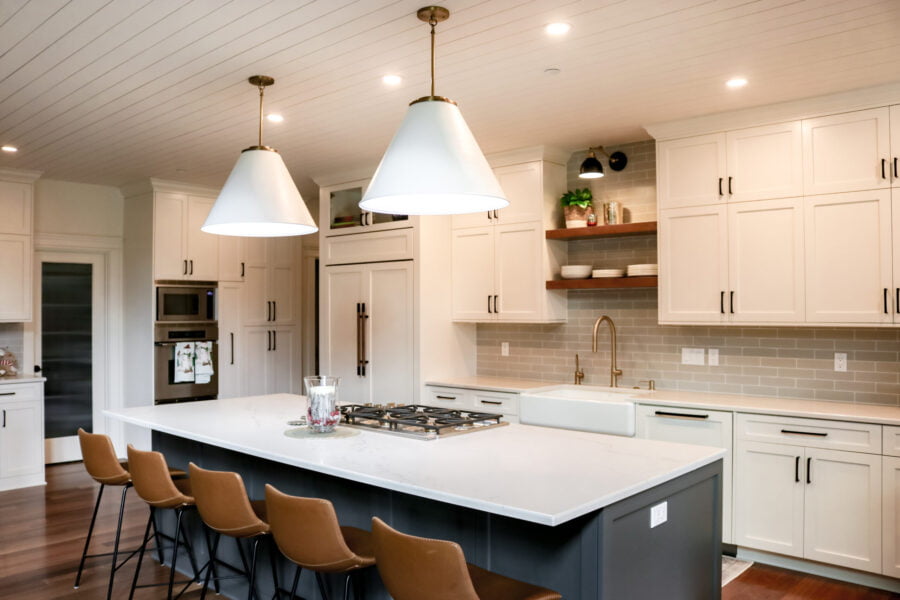 1. Don't Take Black and White Too Literally
A sure way to soften the contrast of your black and white kitchen is to mute the black and white hues. We have seen a lot of grays being used in kitchen design where you still get the contrast of black and white, but it's more subtle.
A popular gray we love is Concerto by MSI. If you are looking for a concrete look alike we always suggest Rugged Concrete by Caesarstone. This is a popular material that has the earthiness and texture of real concrete with the durability of quartz.
We've seen a lot of white cabinetry in the last decade. It looks modern and clean but to make it feel a bit more warm, try a soft or off white. Benjamin Moore has a large selection of whites with yellow, gray, brown or even pink undertones. Two beautifully muted whites are White Dove and Swiss Coffee.  Alabaster and Classic Light Buff by Sherwin Williams are also popular colors that are used frequently to replace bright white.
Our top 3 most popular quartz colors are all softened versions of black and white. They also mimic the Italian marbles that are the very definition of timeless. You can use the countertop to blend and balance the two colors.
These beautiful quartz countertops are a fabulous way to bring the colors together in an organic fashion: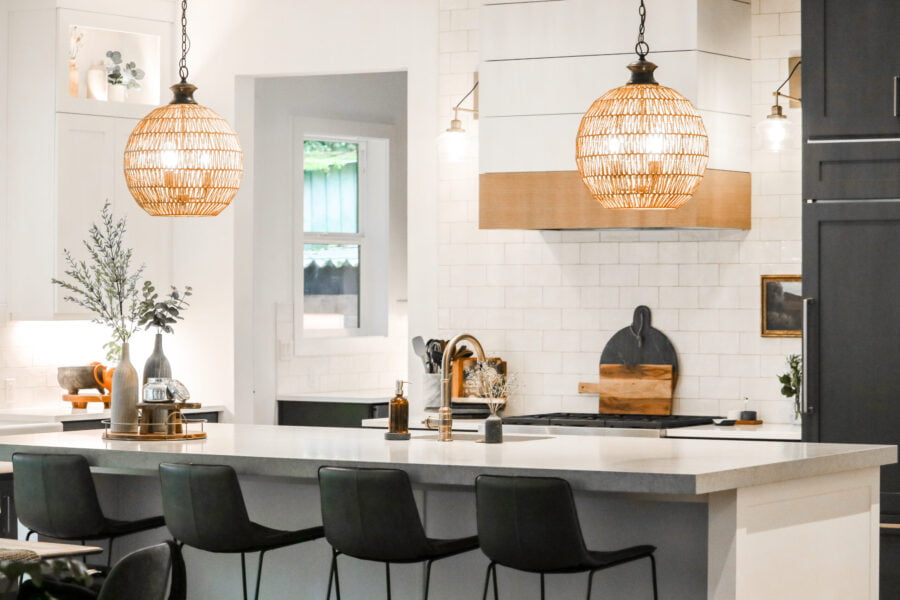 2. Warm Up Your Black and White Kitchen
The major downfall of a predominately black and white kitchen is it can feel too cold. When wood enters the equation, things instantly warm up!
If you don't want to commit to wood cabinetry, think of wooden beams on the ceiling or wood floors. Even a wood dining nook table will cozy up a corner of the kitchen. If you had white cabinetry with honed black tops, consider an island in our beautiful butcher block. It adds an organic and textural element that is truly timeless. 
Another way to warm up the space is to add texture. Instead of a shiny black granite, opt for a leathered or honed black or gray material. Also, you can add texture and softness with window treatments or pillows around your dining nook. 
Be sure to steer away from shiny hardware, as we mentioned before. Think of off white cabinetry, with a honed black countertops with warm brass handles that have an aged patina. Black hardware is also trending right now. Use powder coated, high quality black pulls that will stand out on a muted white backdrop.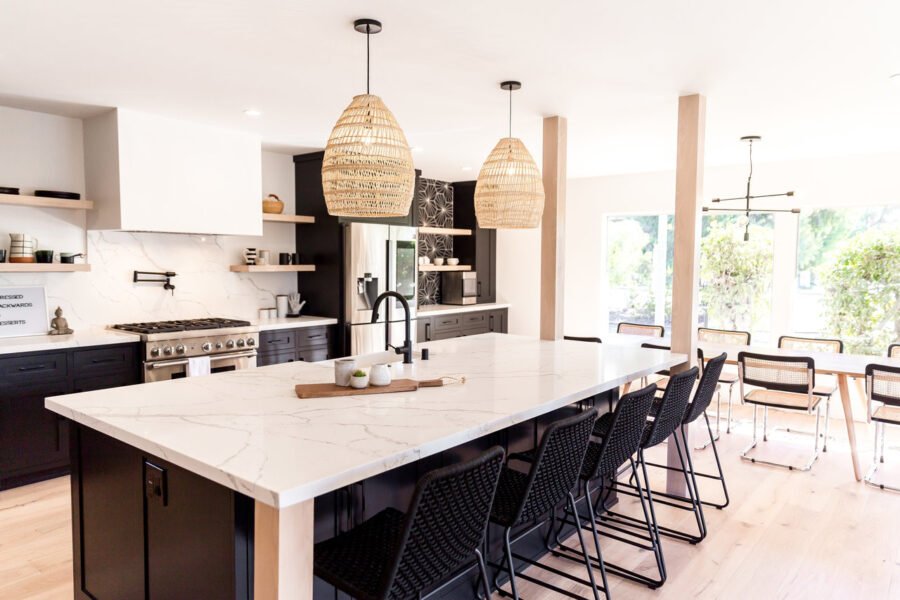 3. Make your Black and White Kitchen Pop!
A black and white kitchen is the perfect backdrop to let other design elements really stand out. It also is a great way to make a statement with other colors. If you love green but don't want all of your cabinets painted in your favorite shade, nothing can make color pop like a black and white kitchen. If you choose an accent color that's your favorite instead of the whole kitchen it's much easier to change out if your taste or trends shift. 
Your wow factor may not have anything to do with color. Your focal point could be special light fixtures or a vintage island. The fabulous thing about white and black kitchens are you get to choose the star and you can change it out as your taste and trends shift. 
Precision Countertops Can Help Renovate Your Kitchen
We are bursting at the seams with fun ideas for your dream kitchen. From countertops, to tile to sinks and faucets, we have you covered! Please book an appointment today to get started on your renovation journey!