Big Announcement…
We are so happy to officially announce the arrival of butcher block countertops to our family of products!
I remember watching Julia Child's cooking shows years ago and wanting to be sitting at her kitchen counter. Not only to eat her delectable food, but her kitchen felt so cozy and inviting as she sliced away at her onions and carrots. No doubt, her beautiful butcher block counters added to the warmth and ambiance of her space. 
Butcher block countertops were popular in the eighties and nineties, usually as a stand alone island for food prep. As the current trends keep asking that more nature come inside, wood countertops are becoming more and more popular. The inquiry and questions our design team has fielded over the last few years is also evidence that the popularity of butcher block countertops are on the rise.
Butcher block counters bring a premium look which also will stand up to culinary rigors. Recently, stone and quartz have seized the spotlight..but here you can see 5 things we are loving about our new line of butcher block tops.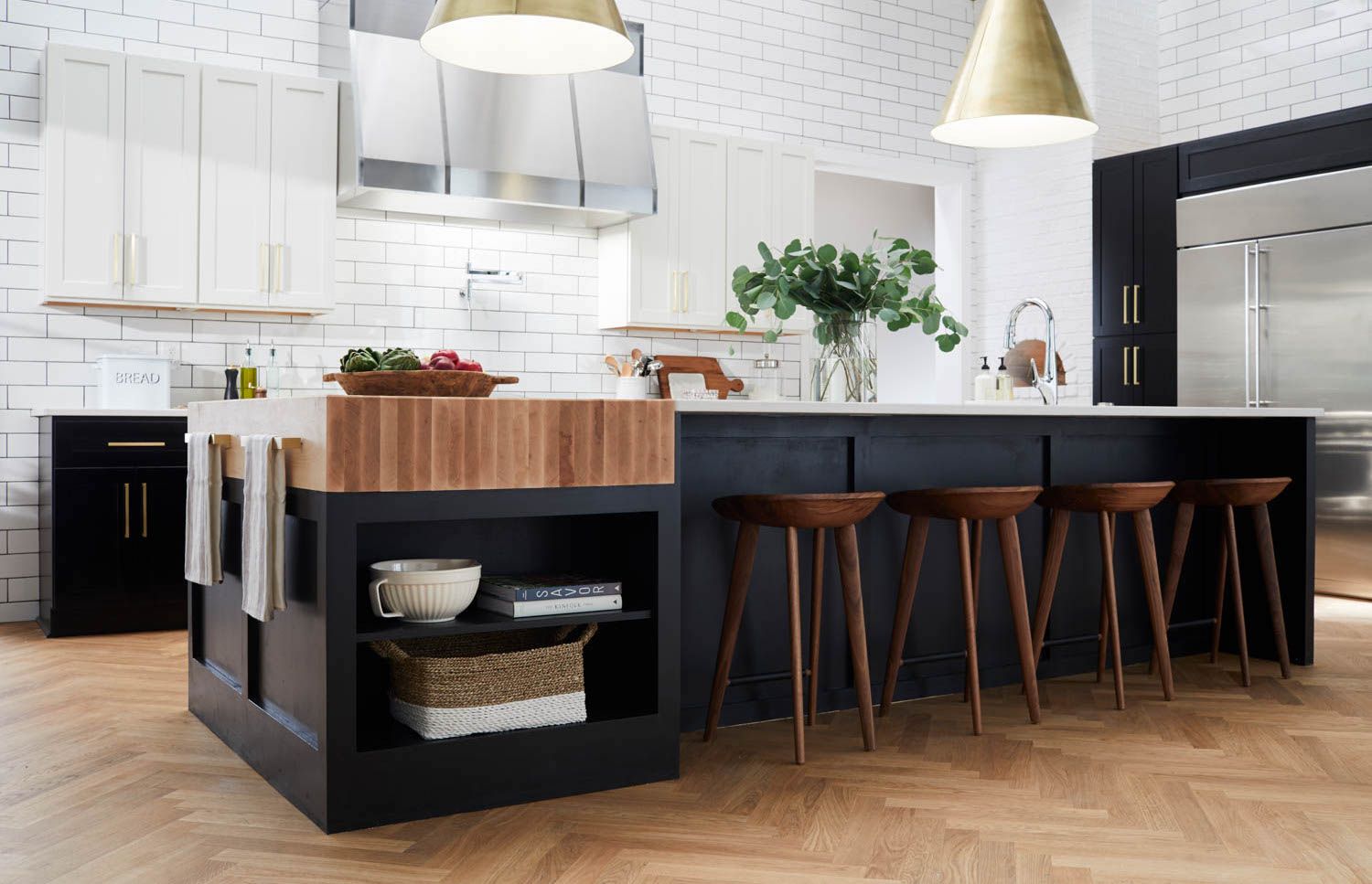 A Long History
Butcher block got its name because of its history of being used as a cutting surface for butchers. According to the website, This Old House, up until the late 1800's, butchers primarily used thick rounds of Sycamore, which was prone to splitting. In the early 1900's, they discovered that pieces of hard maple glued together in large blocks were much stronger.  
The idea that butchers have used these surfaces to cut on for so many years, and trusted them with their knives, speaks to its durability and longevity.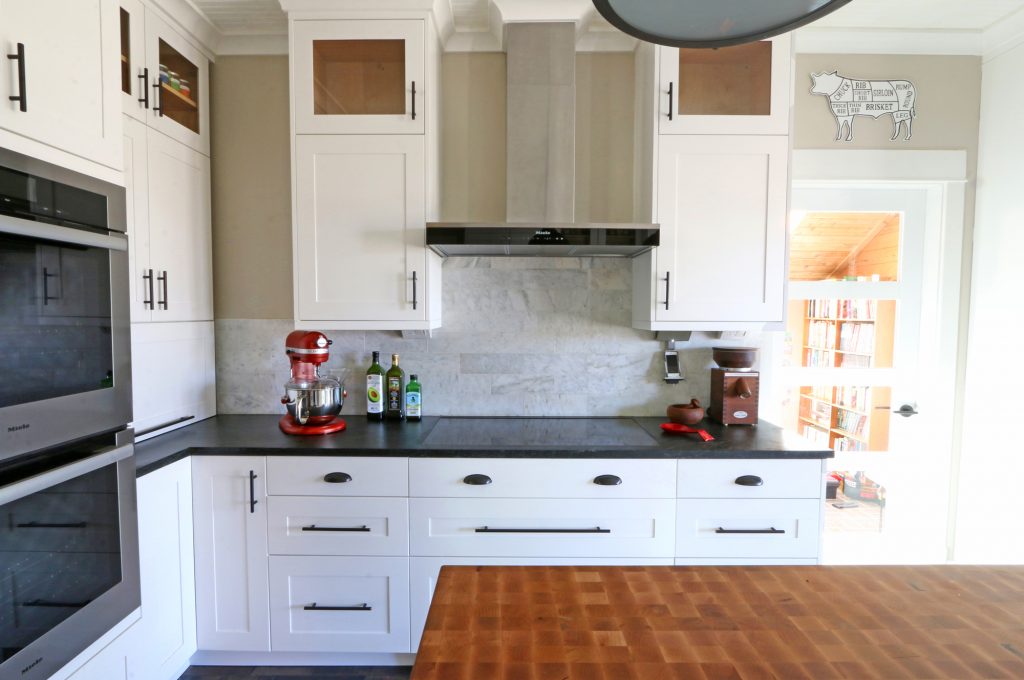 It's Hard and Soft
Butcher block is hard enough to withstand years of cutting and chopping, yet it is much easier on your knives than stone or quartz. That being said, if you want your tops to remain with no nicks or dings, it's best to use an additional cutting surface on top of your butcher block tops. The good news—when your counters do get marks from cutting you can easily restore them back to their original state with a light sanding and mineral oil application. 
There are upsides of having a soft material gracing your tops. They soften sounds and absorb noise, while stone actually amplifies sound. Your dishes are less apt to break or shatter if you happen to drop them. They are also warmer and softer to the touch. 
Easy to Restore 
Although these tops can show more evidence of use, they are the easiest surfaces to fix. There are two trains of thought on whether wear and tear adds to the depth and charm of a surface. Some love the worn patina, while others want their surfaces looking exactly like they did the day they were installed. With butcher block, you can have both actually…your choice!
We know of a family who had a small island in butcher block and when they decided to remodel the kitchen, the thought of getting rid of the memories of this worn wood was too overwhelming for the mother. Her husband creatively decided to incorporate the old butcher block into an end cutting surface so the original butcher block tops were spared, along with the years of memories etched into its surface.
But if you don't want your tops to have too much "character" it is very easy to lightly sand down the surface with a fine grain sand paper and apply mineral oil to blend in with the rest of the surface.Mineral oil is also recommended every few weeks to protect the wood and keep it from drying out.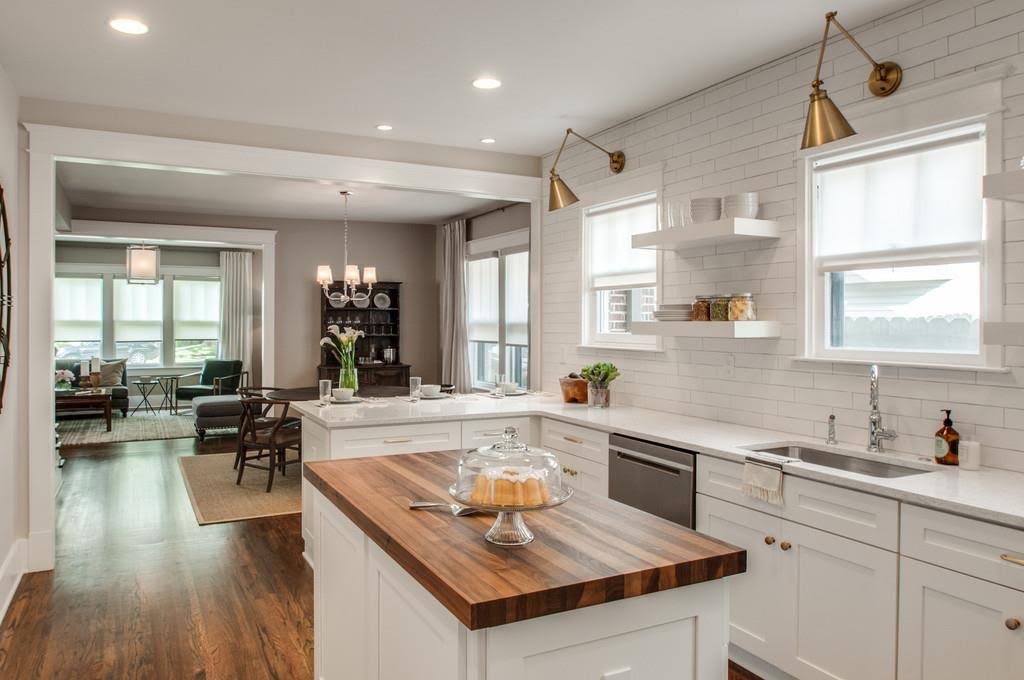 Why So Popular?
There are a few reasons butcher block has come rushing back onto the kitchen design scene. No doubt it adds beauty and warmth to any space, but it also infuses a touch of nature which is really trending now. 
Butcher block's ability to be both hard and soft is also a big selling point. It is highly durable, yet offers a warm, natural look. This sophisticated feeling that butcher block brings to your kitchen is also not as expensive as a high end quartz or marble. 
Many new kitchens have stark looks with white quartz countertops covering much of the kitchen.  Butcher block gives the eyes an organic place to rest.  It's very popular to just use butcher block on an island or part of a countertop for a cutting service. It offers a pop of the natural world within a space. 
Also, as green products are becoming more important to consumers, butcher block countertops are very eco-friendly. They not only last forever, they also can be recycled and up cycled very easily.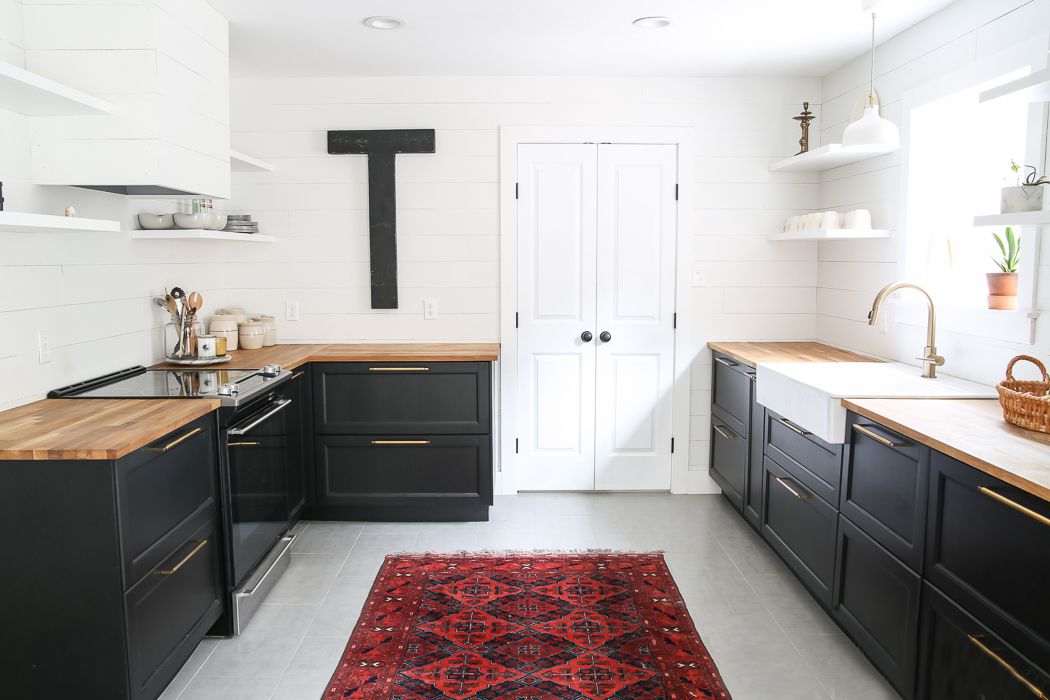 Precision Countertops Products
There are many types of wood countertops that vary in durability and price. We decide to partner with Forest Products Distributors which has been in business for over 35 years.  They use 100% hardwood with zero fillers and the lumber is sustainably harvested. 
We are offering two species of wood, Walnut and Birch. Walnut has a darker look and has a wider grain with more movement. Birch is the classic color of butcher block. It's on the lighter side and is made of finer grained wood. Both materials come in the edge grain style, meaning the grain runs lengthwise along the surface.
We have three different edges to choose from. 
Eased Edge—The square profile that has a more clean and modern look. 

Ogee Edge—This is a very traditional edge with a sort of waterfall profile. You see this edge commonly on marble tabletops.

Bevel Edge—This too is a clean look, but has an angled upper edge. The edge has a softer transition than the eased edge. 
We are so excited about launching this new material. Designers and homeowners have been asking about it for quite a while, and we finally are able to add it to our wide product offering. Please come in and visit our showroom and see for yourself…these tops are sure to be the humble and long-reigning star in any kitchen!