Happy May Day from Precision Countertops!
We love this holiday, as nothing sets off a beautiful countertop better than a gorgeous bouquet of fresh flowers! 
May Day celebrations date back to Roman Times, but the more modern day traditions include May Day dances and dancing around the Maypole. More often, it's a delightful time for young children to create bouquets and hang them on unsuspecting neighbors' doors as a nice spring surprise.
We'd like to offer you this virtual bouquet of hydrangeas and pink roses. According to several floral websites, hydrangeas and pink/peach roses symbolize gratitude. Precision Countertops would like to express our gratitude to you for following our stories, trusting us with your homes and for being part of our community!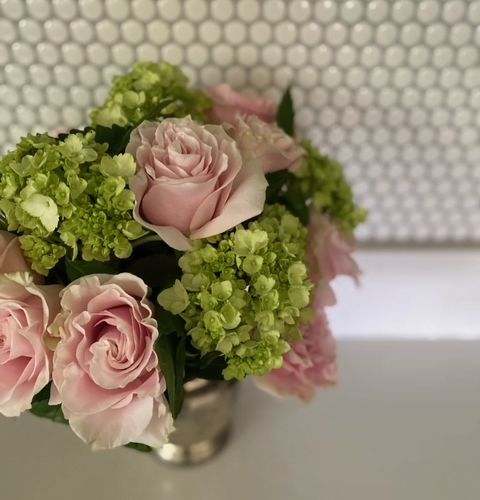 Like this tile? It was installed by our amazing tile team and it's called penny tile. This tile is budget friendly and can be be both fun and sophisticated. Come visit our showroom to see the new addition to our tile area…so many beautiful materials to choose from!